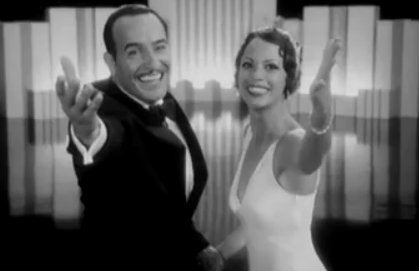 "The Artist" has danced away with the 2012 Golden Globe Award for Best Picture, Comedy or Musical.
A black and white, silent film may seem an unlikely choice in this era of CGI-filled blockbusters, but the Globe is just the latest prize for this charming throwback. Directed by French filmmaker Michel Hazanavicius, "The Artist" has cleaned up at awards shows this year -- including a Critics' Choice Award for Best Picture late last week -- and is tipped as the leader for Best Picture at next month's Academy Awards.
The film stars Jean Dujardin, who won the Globe for Best Actor in a Motion Picture Comedy or Musical, as George Valentin, a top notch silent film actor who refuses to accept the onset of the talkies in the late 1920s. His failing career and the stock market's crash marry to send him into poverty, while a young actress named Peppy Miller, who once appeared as bit player in one of his final silent films, sees her career reach new heights in the new era of Hollywood.
The actress, portrayed by Globe nominee Berenice Bejo, longs to help the stubborn Valentin, putting her career on the line to convince the powerful studio head, played by John Goodman, to give him one last chance.

Popular in the Community