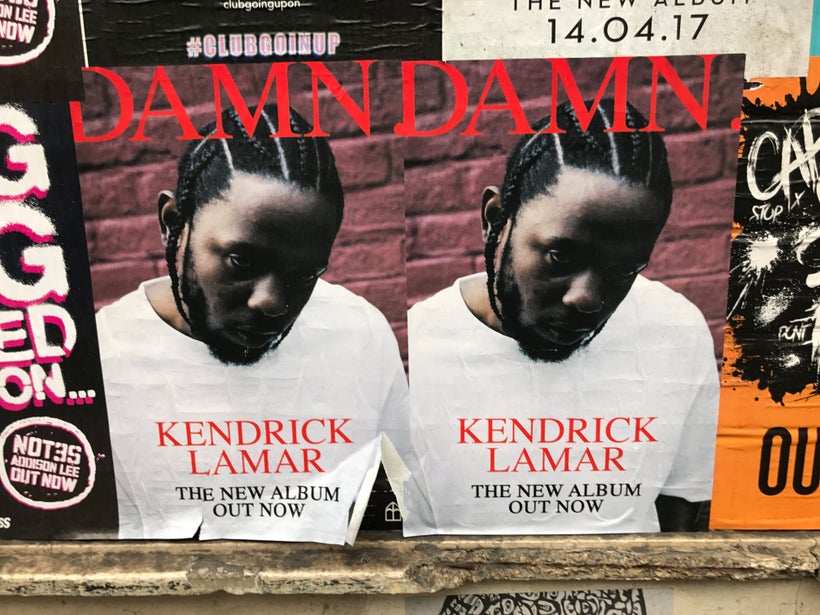 Top Dawg Entertainment started as a label but like any truly successful music conglomerate, it became something much more; TDE became a brand, a movement of musical misfits that launched a prodigious starting lineup of unique artists like Kendrick Lamar, Schoolboy Q, Ab-Soul and Jay Rock into the spotlight. And as is the case with any good team, a franchise player emerged and began changing the game forever.
Kendrick Lamar's 'DAMN.' has just become his third album to reach number one on the Billboard 200 chart, moving over 600,000 units and cementing him as this generation's luminary of lyricism. Needless to say, TDE's signing of the talented 15-year-old "K-Dot" from Compton years ago proved to be a prophetic decision by founder and CEO Anthony Tiffith, who gained a Kawhi Leonard-level steal while the major labels would continue to put their money on Chief Keef..er…Greg Oden-level busts. In the years that have followed, Kendrick Lamar has singlehandedly propelled the Black Hippy collective to be a widely respected force for creative expression, individuality, and consciousness.
Starting with 'good kid, m.A.A.d. city'—Kendrick's major label debut which served as a powerful ode to his Compton roots—the artist formerly known as K-Dot has been rewriting the history books ever since, putting together bodies of work that somehow manage to outdo the creative genius of the previous. Kendrick's latest offering, 'DAMN.', has not only exceeded expectations once again, it has officially exalted him as rap deity.
Forget the Grammy awards and the top 40 singles, the artistic merit of 'DAMN.' alone is enough to comfortably place Kendrick's name next to Tupac, Biggie, Jay Z, Eminem, and Nas on the golden pedestal of Hip Hop Holiness. The overwhelming respect and critical reception the album has received also makes Kendrick the only artist in the game right now who can be seriously mentioned in G.O.A.T. conversations and not have a hellfire of social media outrage come as a result. It is clear that K. Dot has officially separated himself from the rest of his peers with this beautifully crafted masterpiece that does exactly what art is supposed to do: capture the beauty and complexity of human emotion.
The greatness of Kendrick Lamar is readily apparent in his attitude toward his responsibility as an artist. In a recent interview with Beats 1 Radio's Zane Lowe to talk about the album, Kendrick spoke frankly about his creative calling.
"This is culture. This is not something you just play with, you know, get some few dollars and get out. People live their lives to this music. Period. My partners in the hood right now, they listen to rap everyday because it's the only thing that can relate to their stories and their tribulations. They live and breathe it. You can't play with it, and you have to take in consideration what you write down on that paper, and if you not doing it to say the most impactful shit or doing it to be the best you can be, for the listener to live their daily lives, well then, what are we doing here?"
The statement shows the depth of Kendrick Lamar's artistry, and restores faith in the state of hip hop, which lately it seems has been characterized by the dregs of mumble rap and Twitter beef.
In ELEMENT., the fourth track on 'DAMN.', Kendrick states in his immaculate flow: "I don't do it for the gram, I do it for Compton / I'm willing to die for this sh—n***a, I'll take your f---ing life for this sh--, n***a."
Kendrick echoed this same sentiment in his interview with Lowe. "Music is not about putting your lyrics and saying cool things on your record," he said in his signature California drawl. "What I do is not for Kendrick Lamar, man. Period. … There is people out there going through real things that want to hear this."
Kendrick's loyalty to his art and its message is what has created a musical masterpiece that people all over the world are now connecting with. Lebron James, notorious for his no nonsense basketball-only focus during the NBA Playoffs, even smiled when a reporter randomly asked him for his thoughts about the album at a recent post-game press conference.
"I haven't stopped listening to it since he sent it to me," said James after an incredible triple double performance and comeback win. "The guy is an unbelievable talent. His wordplay and his lyrics is unbelievable. And it hit home for me at times because I was a kid that grew up in the inner city. … So that's why I'm able to relate to a lot of his lyrics and a lot of his stories. Like I said, he's an unbelievable artist and an unbelievable person. I'm glad that he's able to put those words onto a track and then for all of us to be able to hear it. For me, I definitely appreciate it."
Again, herein lies the true test of any piece of art: the ability to transcend the artist's own experience and connect in the hearts of the people who receive it. And Kendrick Lamar's 'DAMN.' accomplishes just that. Whether it be the undeniably catchy swagger of HUMBLE., the chilling and impactful storytelling of BLOOD., the motivational massacre that is D.N.A., or the starry-eyed musings of LOVE., the compilation is about the closest thing to a perfect album that the rap game has seen in a very, very long time, if not ever. By expertly balancing emotion, energy, and eloquence, 'DAMN.' is Kendrick Lamar's magnum opus.
Turning an industry upside down while also taking it over is an accomplishment that few artists can boast. The culture of hip-hop dictates that respect and credibility must be earned, and seldom has an artist paid their dues while simultaneously creating an entirely new sound like Kendrick Lamar.
A quote from the 18th century French artist Edgar Degas reads, "Art is not what you see, but what you make others see." Kendrick Lamar's work has repeatedly embodied this sentiment and never has this been more true than with the raw emotion and intelligence of 'DAMN.' So for now, let us revel in the brilliance bestowed on us by the Compton kid. Because if there's one thing we know, it will only be a matter of time before he somehow manages to create something even more profound.
Robbie Tripp is a writer, public speaker, and creative activist. He is the author of Create Rebellion, an abstract manifesto for disruptive creativity. He lives and creates in San Francisco with his beautiful wife Sarah. Learn more at www.robbietripp.com.
REAL LIFE. REAL NEWS. REAL VOICES.
Help us tell more of the stories that matter from voices that too often remain unheard.
This post was published on the now-closed HuffPost Contributor platform. Contributors control their own work and posted freely to our site. If you need to flag this entry as abusive,
send us an email
.