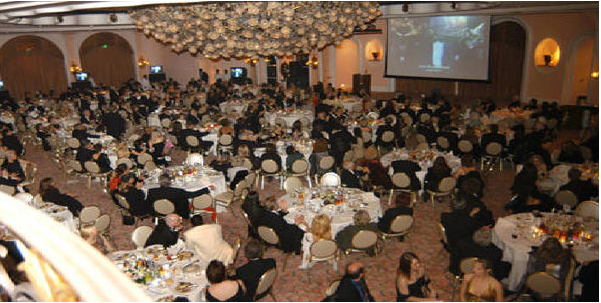 "The Night Of 100 Stars" Academy Awards Viewing Party held annually at the Beverly Hills Hotel)
It's not any shattering prediction to guess that once again Harvey Weinstein's instincts in seeking out quality filmmaking is going to pay rich dividends at this year's Academy Awards. And highly likely to be leading the charge is The Artist - the film that enchantingly takes us back to the Hollywood of 1927-1932. So it brings to mind what the Academy Awards evenings were like in the Golden Era of Hollywood before the invention of television and the tightly-scripted events of recent years. By all accounts they were incredible social affairs with food, drink and bonhomie flowing in copious quantities -- and wall-to-wall stars and glamor wherever you looked. Well the Kodak Theatre event certainly provides a slew of stars -- but the strictures of TV and network imperatives precludes that free-wheeling atmosphere that prevailed at the Academy Award ceremonies held at the Hotel Roosevelt in Hollywood in the early years.
The Golden Globes attempts to re-create that easy-going mood but is so self-conscious and beholden to what it perceives as its need to appear self-effacing (viz. three successive years of Ricky Gervais who proclaims to be serving up irony but actually delivers its sub-intellectual trailer-park second cousin, flippancy) that it is as shallow as it seems.
The Oscar viewing party that year-in, year-out delivers the glamor of Golden Hollywood but with 21st century style is the annual Night Of A Hundred Stars. Something of a misnomer because -- uncharacteristically for TinselTown -- the title actually under-states the number of celebrities it delivers. The tally frequently approaches 200 easily recognizable stars. The whole shebang takes place at the toniest of Los Angeles locations -- The Beverly Hills Hotel -- the hostelry famous for its pastel-pink walls and plush, luxurious surroundings.
Organizer and host, music agent Norby Walters, started the party 22 years ago as a natural home for the legions of Academy Award winners and nominees from Oscars past who aren't invited to the present year's ceremony unless they're nominated anew. When you've been a nominee and/or winner in past years, but you're not invited to the Kodak -- it's rather hard to return to watching the Oscars in your PJs with Chinese food. You want to be in a grand place where you're surrounded by your peers. Top actors. And let's not pretend that stars are adverse to being amidst a plethora of pulchritude -- which Merriam-Webster aptly defines as "physical comeliness". In plain words, stars (and others) enjoy being in a room awash with glamorous gals. Jimmy Kimmel who has taped video segments at this party for his TV show described the bash as " ... a wild party with mostly celebrities and they are everywhere you look... and they have the most beautiful girls". The fact that each year the party augments its celebrity guest list by inviting two score and more of Hugh Hefner's most perfect-looking Playmates probably helps explain Kimmel's observation...
Interestingly, among the slew of stars who will be guests at this hot-ticket annual Oscar viewing party this year, are no less than five actors who appear in the aforementioned movie The Artist -- a reflection of how the politics and space limitations on the Kodak Theatre often exclude even respected actors such as James Cromwell, Ken Davitian, Ed Lauter, Missi Pyle and Penelope Ann Miller.

Academy Award Nominees & Winners James Woods, James Cromwell and Gary Busey being feted at the annual "A Night Of A Hundred Stars" Oscar Viewing Party
Running one's eye over the impressive guest list past and present (see below) explains the enduring popularity of this Oscar night staple. If you've ever wondered what Hollywood stars are thinking during an Oscar-cast, and who past nominees and winners are rooting for in each category (especially the ones in which they've been in contention) then you can multi-task during the Oscars and while watching the awards on your large-screen TV with one eye, cast the other eye on your favorite computing device and watch the live webcast from the party -- hosted by the Beverly Hills Courier -- during which the stars offer real-time observations. Who better to offer opinions on Best Leading and Supporting Actor and Actress categories than past winners and nominees such as Jamie Foxx, Peter Fonda, Danny Aiello, Jennifer Tilly, Gary Busey, Richard Dreyfuss, Cathy Moriarty, Eric Roberts, Robert Forster, Diane Ladd, Rip Torn, William H. Macy, Samantha Eggar, Glynis Johns, Robert Forster, Burt Young, Karen Black, Elliott Gould, Martin Landau, David Paymer, Robert Loggia, Maximilian Schell -- all of whom have been guests at this party in recent years. Many are regular attendees at this party. Over 40 past winners and nominees are expected to be present this year. That's the type of real-time commentary that is likely to enhance your own viewing party...
Partial List Of Attendees At The Night Of A Hundred Stars 1991-2011 -- And 2012 Invitees

Danny Aiello • Jason Alexander • Krista Allen • Ed Asner • Armand Assante • Sean Astin • Caroll Baker • Diane Baker • Billy Baldwin • Daniel Baldwin • Ed Begley Jr. • Richard Belzer • Richard Benjamin • Theodore Bikel • Stephen Bishop • Jacqueline Bisset • Karen Black • Linda Blair • Susan Blakely • Joe Bologna • Michael Bolton • Powers Boothe • Ernest Borgnine • Bruce Boxleitner • Toni Braxton David Brenner • Beau Bridges • Billie Burke • Delta Burke • Gary Busey • Timothy Busfield • Sid Caesar • Tia Carrere • Keith Carradine • Robert Carradine • Dixie Carter • Seymour Cassel • Joanna Cassidy • Maxwell Caulfield • Carol Channing • George Chakiris • Michael Chiklis • Natalie Cole • Stephen Collins • John Corbett • Bryan Cranston • James Cromwell • Tony Curtis • Tyne Daly • James Darren • Robert Davi • Bruce Davison • Lolita Davidovich • Dana Delaney • Brian Dennehy • Bo Derek • Kevin Dillon • Richard Dreyfuss • Michael Clark Duncan • Dominick Dunne • Charles Durning • Barbara Eden • Kenny (Babyface) Edmonds • Hector Elizondo • Samantha Eggar • Peter Facinelli • Morgan Fairchild • Jon Favreau Miguel Ferrer • Lou Ferrigno • Frances Fisher • Joely Fisher • Sean Patrick Flannery • Dave Foley • Bridget Fonda • Peter Fonda • Robert Forster • Viveca A. Fox • Jamie Foxx • Peter Gallagher • Jeff Garlin • James Garner • Jennie Garth • Jeff Goldblum • Lou Gossett Jr. • Elliot Gould • Richard Grieco • Carla Gugino • Glynis Johns • Shirley Jones • Larry Hagman • Anthony Michael Hall • Monty Hall • Harry Hamlin • Jon Hamm • Valerie Harper • David Hasselhoff • Dennis Haysbert • Lena Heady • Anne Heche • Florence Henderson • Marilu Henner • Dule Hill, Cheryl Hines • Hal Holbrook • Lauren Holly • Dennis Hopper • Ken Howard • Jermaine Jackson • Glynis Johns • Jack Jones • Shirley Jones • Arielle Kabbel • Richard Karn • Sally Kellerman • Sally Kirkland • Jack Klugman • Patti Labelle • Cheryl Ladd • Diane Ladd • Martin Landau • John Larroquette • Piper Laurie • Ed Lauter • Sharon Lawrence • Maggie Lawson • Michelle Lee • Michael Lerner • Richard Lewis • Hal Linden • Bai Ling • Ron Livingston • Robert Loggia • Kristanna Loken • Shelley Long • Traci Lords • Dolph Lundgren • William H. Macy • Michael Madsen • Lee Majors • Camryn Manheim • Joe Mantegna • Jullanna Margulies • Gary Marshall • Dylan McDermott • Chris McDonald • Kevin McKidd • Ed McMahon • Cindy Margolis • Jesse Metcalfe • Juliet Mills • Ming-Na • Mathew Modine • Terry Moore • Kate Mulgrew • Cathy Moriarty • Rod McKuen • Don Murray • Kathy Najimy • Patricia Neal • Kevin Nealon • Judd Nelson • Marisol Nicole • Chris Noth • Michael Nouri • Edward James Olmos • Jennifer O'Neill • Chazz Palminteri • Danielle Panabaker • Joey Pantoliano • Vincent Pastore • David Paymer • Ron Perlman • Luke Perry • Lou Diamond Phillips • Michelle Phillips • James Pickens • Kevin Pollak • C. C. H. Pounder • Stefanie Powers • Paula Prentiss • Bill Pullman • Maggie-Q • Kathleen Quinlan • Sheryl Lee Ralph • John Ratzenberger • Autumn Reaser • Lynn Redgrave • Pat Richardson LeeAnn Rimes • Jason Ritter • Doris Roberts • Eric Roberts • Brande Roderick • Adam Rodriguez • Freddie Rodriguez • Mimi Rogers • Cliff Robertson • Mickey Rooney • Fred Savage • Maximilian Schell Richard Schiff • John Schneider • Rob Schneider • George Segal • Tony Shalhoub • William Shatner • Nicolette Sheridan • Ron Silver • Sarah Silverman • Neil Simon • Tom Sizemore • Anna Nicole Smith • Kevin Sorbo • Paul Sorvino • Connie Stevens • Stella Stevens • Patrick Stewart • Maximillian Schell • Carrie Snodgrass • Dean Stockwell • Renee Taylor • Nicholle Tom • Rip Torn • Amber Tamblyn • Russ Tamblyn • Jeffrey Tambor • Alan Thicke • Jennifer Tilly • Lorraine Toussaint • James Tupper • Brenda Vaccaro • Frankie Valli • Jon Voigt • Patrick Warburton • Estella Warren • Lesley Ann Warren • Steven Weber • Annie Wersching • Stuart Whitman • Fred Willard • Jobeth Williams • Paul Williams • Genevieve Mariko Wilson • James Woods • Robert Wuhl • Michael York • Burt Young
Popular in the Community