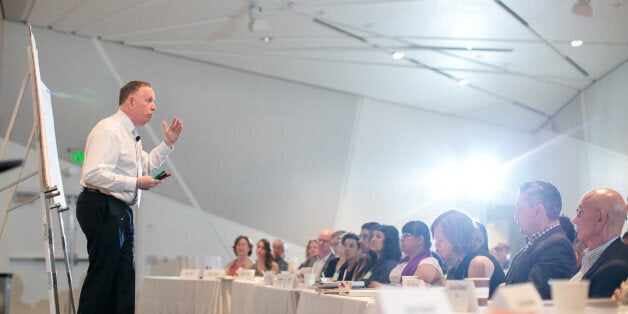 I have written extensively about the many challenges facing arts institutions today, from marked declines in subscription sales and arts education in our public schools to rapid increases in new forms of entertainment and electronic distribution of artistic product.
These challenges have a disproportionate impact on small- and mid-sized organizations. Why? Because these institutions have a harder time competing for resources with their larger counterparts. Larger organizations have the budget size to produce large-scale projects, the staff to market them aggressively, and the board potency to engage major donors.
But small- and mid-sized organizations often also lack the expertise required to address the many challenges facing their organizations. Historically, a focus was placed on training singers, dancers, actors and musicians rather than training the people who must employ these artists, build audiences and raise funds. Fortunately some major arts funders, especially foundations, have begun to focus on providing access to capacity-building programs for arts managers.
But while these programs were almost always of modest proportions and focused on one location or art form, Bloomberg Philanthropies recently unveiled a capacity-building project of unprecedented scope and size. Its Arts Innovation and Management program (AIM) brings general-operating-support grants (totaling $30 million), as well as arts-management training and mentorship, to 262 arts organizations in six major American cities: Los Angeles, San Francisco, Chicago, Detroit, Dallas and Boston. Beyond its size and ambition, this effort is equally extraordinary for the diversity of organizations represented: from community-based centers and arts-education providers to baroque ensembles and contemporary art museums.
As the Chairman of the DeVos Institute of Arts Management at the University of Maryland, I am proud to partner with Bloomberg Philanthropies on AIM. The mission of the DeVos Institute is to address the arts-management training needs of organizations throughout the United States and across the globe through innovative education and consulting programs. We began our collaboration with Bloomberg Philanthropies four years ago to develop a capacity-building program in New York City that marries classroom training and individual mentoring sessions.
This approach will now have national impact. In addition to attending a series of classes that address key arts-management issues (e.g. artistic planning, marketing, fundraising) and participating in online webinars that allow organizations to learn from each other, each organization in the program will have a mentor with substantial experience managing arts institutions. The mentors will ensure that each organization understands the material presented in class and can apply it to its own, unique circumstances. Bloomberg Philanthropies also values the role board members can play in ensuring the health of nonprofit cultural institutions, and so another key dynamic of the program is that board leadership is involved in much of the curriculum alongside executive staff. Through this unique training program, arts managers will learn ways to create more important arts and educational programming, maximize earned and contributed revenue, and build stronger boards, allowing them to thrive despite the challenging arts ecology.
By investing in arts-management training for small- and mid-size arts organizations through AIM, Bloomberg Philanthropies is helping to secure the future of these organizations to ensure that they continue to drive economic growth and shape the cultural identity of communities and cities around the country for years to come.
Related
Popular in the Community