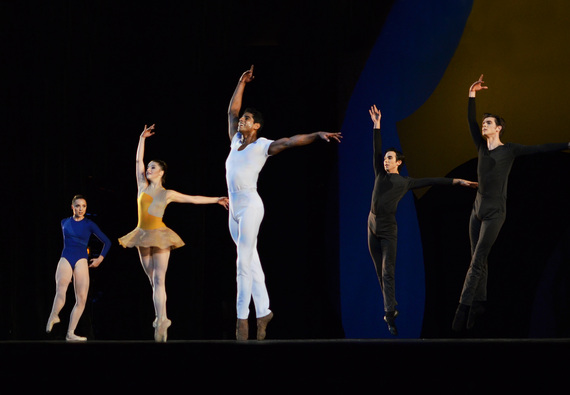 The Ashley Bouder Project. Photo credit: Alexis Ziemsk.
The Joyce Theater has been choosing some questionable repertoire as of late.
First, the venue hosted Restless Creature and The Ashley Bouder Project in the same season, both spearheaded by New York City Ballet alumnae whose celebrity promised ticket sales, if not artistic value.
Second, and more importantly, it programmed choreographer Joshua Beamish three times in one summer, and never with success.
On August 8 and 9, The Ashley Bouder Project was invited to the Joyce as part of Ballet Festival, a two-week foray into what the 21st-century dance community can offer. The amiable man to my right explained that he was attending the entire series of six shows as an education in dance, a fact that disappoints after realizing that at least one of his experiences would probably dissuade him from ever returning to the theater.
Of course, The Ashley Bouder Project was the most popular show of the run, and people begged for seats regardless of price. Somehow, "bravos" echoed despite a banal bill filled with the kind of choreography that is pushing ballet into its grave. I'm sure that dance neophytes listened to the booming applause, stupefied. Was this the best that ballet could muster?
The hour-long performance (that felt never-ending) opened with Adriana Pierce's Unsaid, a duet between Bouder and New York City Ballet corps newbie, Preston Chamblee. Pierce, a current dancer with Miami City Ballet, must have known Bouder when she was a student at the School of American Ballet or an apprentice with NYCB (indeed, the whole production felt like Bouder and her friends playing around at the expense of an audience). Nothing but a heartfelt favor can justify Pierce's selection as one of three featured choreographers, as Unsaid was a clunky, inelegant pas de deux with little direction.
No drama was spared. The costumes -- grey, sheer cloaks -- were gaudy versions of those used in every other safe contemporary ballet, where the mood is pseudo-emotional, but no one quite knows why. The cloaks were awkwardly removed and replaced as Bouder and Chamblee messed with the sleeves to make them right-side-out after tearing them off moments before. The couple stood in stark spotlights, staring at the audience longingly. Sometimes, they tripped into each other as Chamblee spun into Bouder's arms without control. There was so much concept, and absolutely no intention. Then, there was the fact that Chamblee could barely point his feet and in soutenu turns, his ankles were a ruler's length apart. When the duet finally concluded, it felt like the end of winter.

The second work, In Passing, was less insulting, though it lacked organization. The short film by Andrea Schermoly included several beautiful snapshots, like when Bouder moved with abandon that you'll never see from her at the David H. Koch Theater, where Balanchine demands structure. And so the choreography proved promising - really interesting, actually -- but the video itself stumbled into clichés. Dancers lying in bed in lingerie. Dancers in a tunnel. Dancers in an empty auditorium. Dancers walking through the desert. Dancers everywhere but where they should be at a live presentation: onstage. It's a shame that the 15-minute movie was Schermoly's contribution to the project, as she probably could have managed a concert piece with a lot of heft.
And the grand finale: Beamish's Rouge et Noir. The six-person disaster proved a few things -- Amar Ramasar is an engaging, virile dancer who can make the most of a devastating choreographic situation. Alexa Maxwell, who joined NYCB's corps in 2013, is unpolished but harbors great potential. And Beamish, who is part of the Joyce's Young Leader's Circle Committee (which may clarify the reason for so much favoritism), has choreographer's block right now. Once again, he calls on an abstract aesthetic from modern art, with colors and shapes like Mondrian's or (as Gia Kourlas noted) Matisse's, but he does so with so little panache or innovation that what he concocts is truly an eyesore. He must be talented to have reached the heights he has. But at least in Rouge et Noir, he somehow takes six of the most accomplished dancers in the world and makes them look awkward, weak and amateur. My friend summed it up best with his comment: "You know the cartoons that make fun of abstract dance? Well this reminded me of those."
If I didn't love ballet and didn't know what genius exists in the dance world, my trip to The Ashley Bouder Project might have been my last attempt at understanding the art form. Why would I, as a young adult trying to survive in New York City, pay for that? Why would I waste my Saturday night, waiting for ingenuity that never came? I would choose Netflix any day over suffering through a program as poorly articulated as The Ashley Bouder Project. At least then, I could find something to grapple with, a meaningfulness to explore.
The saddest part? There are incredible companies fighting for attention, and they would kill for an opportunity to perform at Ballet Festival.
Oh well. Maybe next time the Joyce will try something new.
Popular in the Community