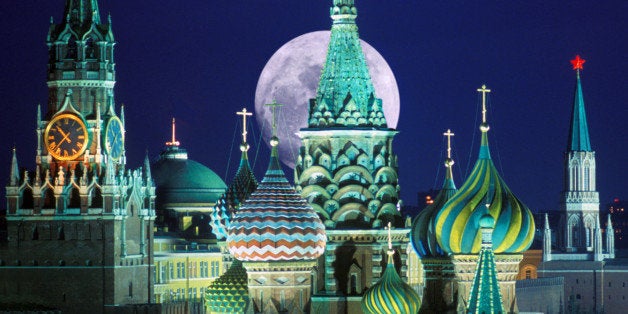 Whatever notions you have about Moscow in 2014, you're wrong. Whether you're picturing vodka-slugging drunkards, blinged-out criminal oligarchs or police-state monitoring, today's Moscow is a vibrant city with a well-developed dining, drinking and shopping culture. Sure, elements of the city's past are everywhere (Soviet Retro is a thing, and we watched one barely-vertical guy stumbling around at 6 p.m.), but young professionals in the heart of modern Russia care more about cool cocktails, having a good time, a peaceful resolution in the Ukraine, and being an active part of the global world. It makes for great nightlife.
Full disclosure: I was in Moscow as a guest of Bacardi. The brand was hosting Bacardi Global Legacy, its annual international bartending championship, at Moscow's legendary Petrovsky Palace (the UK's Tom Walker won). While, by default, we drank more rum than anything else, the week spent hopping among bars and nightclubs and chatting with thirsty locals gave me a good feel for what's happening right now in this very European city that's been forged through a convoluted history.
That said, it's not unusual to see Russians drinking rum, tequila or bourbon. Moscow's bars are well-stocked, and a serious cocktail culture has arisen over the past decade, resulting in world-class speakeasies, rooftop bars and even decent drinks poured at raucous nightclubs.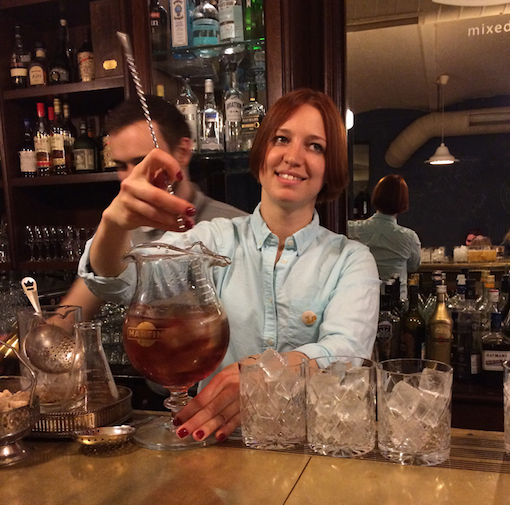 "In Russia, we have many traditions, and they all involve alcohol," Andron, a medical student told me as we yelled over the din at Strelka Bar in the Red October area. He was explaining a tradition of meeting and greeting longtime friends at the bar joyously, like it's the first time you've met them.
"But it's not all vodka, vodka, vodka these days. We are serious about our drinks and our cocktails." Lana, Russian-born and American-raised, noted that it's not at all unusual to see dudes and bros sipping mojitos or other elaborate drinks.
"When it comes to cocktails in Moscow, there is before 2007 and after 2007," explains Alexander Kan, owner and head mixologist at Time Out Bar, one of the best new bars in the city. Located on the top two floors of one of Stalin's original seven baroque-influenced skyscrapers, the building served as a hotel for KGB employees in the Soviet era. Now called the Peking Hotel, you walk past burly security staff to a tiny four-person elevator to access the penthouse space. The two-year-old bar and restaurant, which boasts original fixtures, terraces commanding 360-degree views and a cocktail list themed around times of the day (breakfast, tea time, "sundowning," midnight and so on), is on the cutting edge of a burgeoning cocktail scene, but it wasn't always like that.
Kan is owner of two other bars in town and one of the seven members of the Bartender Brothers, a skilled group of Moscow restaurateurs and bartenders who offer master classes, host promotional parties and open cool new bars. In the 1990s, most of Russia's skilled bartenders were based in St. Petersburg, training staff for cruise ships and international hotels. Contact with the burgeoning London bar scene in the early 2000s dovetailed nicely with Moscow's economic recovery. One nightclub in particular -- Mirage -- became a training ground for many of the city's best bartenders and later, bar owners. "Slava Lankin, the owner of Delicatessen, came out of there."
Ahhh, Delicatessen. Wander with your Russian friend down meandering back alleys and side streets to get to this hidden gem, and you'll soon be wondering if your guide is not so much a friend as a crazed serial killer. But then you stumble on the well-labeled bar/restaurant with a relaxed vibe, a cool crowd and one of the best back bars anywhere. There's no cocktail menu here, but the bartenders are well-trained and can make whatever you like. I had a barrel-aged, cherry-infused bourbon and the Knight Cap (rum, Cynar, grenadine, simple syrup) created by bartender Elizaveta Evdokimova, the drink with which she won the 2013 Bacardi Global Legacy Challenge.
If it's clubbing you seek, head to the Red October Island area, a converted former chocolate factory on the banks of the Moscow River. A $15 to $20 cab ride from downtown Moscow lets you access the cluster of outdoor patio bars, coffee houses and thumping nightclubs. Gipsy Bar is located at the top of a rickety set of stairs but meets all the requirements for a fun time. Outside, a sign reads, "Leave your anger here." Inside, you'll find a cavernous dance floor and energetic DJs performing under a life-sized Statue of Liberty crown, throwing out American and Euro pop mixes from the likes of Daft Punk, Katy Perry and Pharrell Williams. Hookah pipes and tented private tables are available, as is food, including Rasta Burger, a small grill operated by a dreadlocked Jamaican guy who seems, oddly, completely in place here. Your female friends will appreciate the ballet-slipper vending machine after a night in heels. Head from Gipsy to the even kitschier Rolling Stone club, the aptly named Funky Mama or a dozen other hot spots.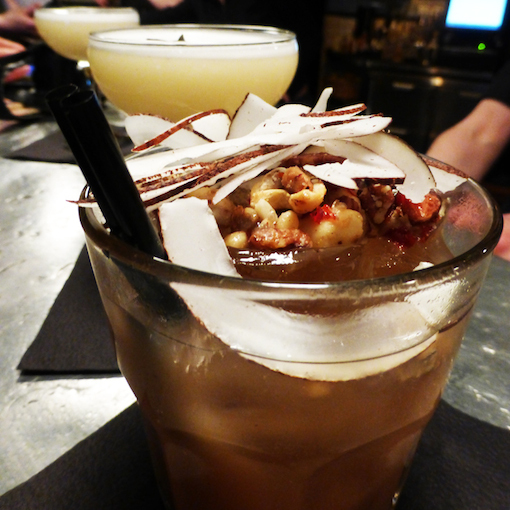 Not to be missed during your drinking tour of Moscow: Noor, a small bar with a great drinks menu on Tverskaya Street. After 11 p.m. most nights the space is crowded and energetic. Denis Simachëv, located on the pedestrian-only Stoleshnikov Lane, is a casual and quirky restaurant by day and celebrity-studded party spot by night. A huge cocktail menu features house specialties and classics like a Hemingway Daiquiri and Zombie. The Whiskey Thai is practically breakfast in a glass: bourbon, red peach juice, ginger, cardamom, lavender, and a towering garnish of sliced coconuts and candied cashews, and macadamia nuts. Chainaya (a harder-than-hell to find speakeasy) is a mystical space that resembles a stylized opium den and specializes in infused spirits and teas.
Gogol (on Stoleshnikov Lane) is the dive bar/cafe to head for if you're looking to get wrecked on a budget. The casual spot, featuring awesome traditional music and pop tunes, is the sort of "perpetually open bar that you go into and you're finished," jokes my drinking buddy Andron. Cafe Pushkin, a popular family dining spot for classic Russian dishes, is open 24/7, so it becomes a sort of high-end Denny's after midnight, with hipsters and club-goers stopping in to refuel during a late night out. And have no fear: You can still find plenty of vodka. We even found that current go-to drink in American bars, the Moscow Mule, on several menus, and we just had to order a White Russian at 1 a.m. in Time Out. The bartender didn't even bat an eye. The Dude... abides.