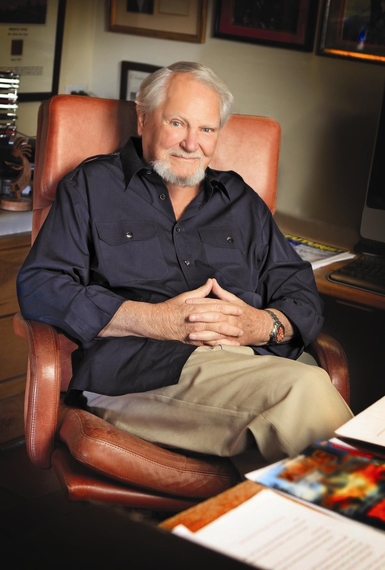 Clive Cussler is an adventure novelist and marine archeologist. His thrillers have reached The New York Times best-seller list more than 20 times. His books have been published in 40 languages in more than 100 countries. He is the founder and chairman of the National Underwater and Marine Agency (NUMA), which has discovered more than sixty shipwreck sites. He is the sole or lead author of more than 60 books. After his discharge from the military, he worked in advertising, first as a copywriter and later as a creative director. He produced radio and television commercials, many of which won international awards. He began writing fiction in 1965.
He has written many successful series, included among them, the popular Dirk Pitt Adventures; The NUMA Files; The Oregon Files; The Fargo Adventures; and the Isaac Bell Adventures. The Isaac Bell novels are set in the early 20th century. Bell is a brilliant investigator for the Van Dorn Detective Agency. Though the setting is a century ago, the books are still techno-thrillers, featuring advanced technology of that time.
Set in 1905, The Assassin has Isaac Bell investigating John D. Rockefeller's Standard Oil monopoly. Things turn deadly as a sniper begins murdering competitors of Standard Oil. The assassin kills Bell's most reliable witness, and then detonates an explosion setting the victim's independent refinery into flames. The quest to locate and deal with this lethal adversary takes Bell across the U.S. to oil fields on the Caspian Sea. It's questionable if Isaac and his fellow detectives will survive the ordeal.
I understand you first began writing just to fill your time. Will you tell us about that?
Well, it all started when my wife found a job working nights as a secretary and dispatcher at the local police department. I'd come home, fix dinner for the kids, put them to bed, and then wander around the house. There wasn't much to do. I said to myself, 'Well, I think I'll write a book.' I then researched all the heroes and villains in the Sherlock Holmes, James Bond, and Travis McGee books. When I finished, I asked myself what I could do that would be different. Since I was very familiar with the sea, I thought I'd put my hero in and around water. That's how Dirk Pitt was born.
Which was the first book you had published?
The first published was The Mediterranean Caper, although the first one I actually wrote was Pacific Vortex. When I carried it into my agent's office, he didn't think it was very good. So, he sold the second one, The Mediterranean Caper. It took three years to get sold, and the first one never got sold in its original form.
Six years later, while having lunch with my new editor, I mentioned Pacific Vortex. He said, 'You mean there's another Dirk Pitt book out there?' I said, 'Yes, there's one that was never published.' He asked to see it. I spent three months revising it, and then it was published. On the publication date, my agent called and said he was going to Jamaica for a vacation. He didn't want to be around when the book came out (Laughter). He was staying at some hotel in Jamaica. I got the number and called him. I said, 'Pacific Vortex just went to number one on The New York Times bestseller list.'
So, even the first one you ever wrote made it to the bestseller list?
Yes, eventually. After 11 years of writing books, Raise the Titanic was my breakthrough book. So, after that happened, people said 'Congratulations on this overnight success.' I guess writing four books over 11 years made me an instant success. (More laughter).
After 11 years of my writing books, my wife was still working. As she walked out the door one day, I said to her, 'When Raise the Titanic sells 250,000 copies, you can stop working.' We both laughed. Later that day, I called her and said, 'Now, you can quit.'
In The Assassin, Standard Oil and business issues of the day are described beautifully. So are the oil rigs, trains, machinery, and the turn of the century ambience. Tell us about your research.
I love doing research, as does Justin Scott, my co-author. We'll approach the research from different directions, and meet somewhere down the line. I've always found research to be the most enjoyable part of writing. Writing can be a pain. I collect vintage cars, so you always find them in my books. I try to make the books fun for me to write.
After more than 60 books, is it difficult to come up with fresh ideas?
Yes, it is. I use a basic concept: I ask myself, 'What if?' For instance, What if they raised the Titanic? Why did it sink? Was something on board that was one of the reasons the ship sank? That's the way I start a book and it spreads out from there. I have the beginning and end of the book in mind, but I rarely have the middle.
So you don't plot the story out chapter by chapter.
No, I can't do that. As I start writing, I come up with more ideas, and the book grows as I go along.
If you had not been writing novels, what would have been doing over the years?
My wife and I have always laughed about that. I'd probably have had a small advertising agency down in Newport Beach, California. But I was tired of advertising and things worked out the way they did.
What about the writing life has surprised you?
I get up in the morning, get to the office and write until about six o'clock in the evening. Then I share a bottle of wine with my wife. I would have to say, the only real surprise has been the success. That's really been quite unexpected.
What do you love about the writing life?
I love doing the research for the novels. For me, the writing is hard work. I enjoy doing the Isaac Bell series because I love going back to the early twentieth century. Who were the Gibson girls? What was the Knickerbocker Hotel like? I usually spend about three months on the research for a book. My favorite era is the twenties, partly because of the classic cars of the twenties and thirties. We did one Isaac Bell book that took place in 1919, at the time of Prohibition. I've gone back and forth with him--in one book he's in his forties, and in the next, he's back in his twenties. It's your own universe, so you can do what you want.
In a way, I don't really see myself as an author. I feel I'm more an entertainer than anything else. It's my job to entertain the readers so when they reach the end of the book, they feel they've gotten their money's worth.
Do you have any advice for novice writers?
If you have some natural talent and really want to write, you should read the books of someone who's very successful in your genre. You don't want to plagiarize, but you want to learn from that author. You study the structure, style, and characterizations he employs. Hemingway always said he studied Dostoyevsky. There's a great story about Thomas Wolfe when he was in the Merchant Marines. He came ashore, went to an old bookstore and bought James Joyce's Ulysses, which is about the size of a telephone book. He went back to the ship and over the next few months, copied Ulysses down in a notebook, word-for-word. When he finished, he threw the notebook off the ship's stern. His shipmates couldn't believe what he'd done after spending months copying the book. They asked why he'd thrown it overboard. His answer, 'Because now I know how to write a book.'
If you could have dinner with any five people from any walk of life, living or dead, who would they be?
For me, I'd love to have the great heroes of our country. They would be George Washington and Abraham Lincoln. Albert Einstein would be great to invite, also. And then, there's Jim Thorpe. One more would be General Patton. If I had to pick one writer, it would be Hemingway.
Congratulations on writing The Assassin, another Isaac Bell adventure set at the turn-of-the 20th century, in which you blend fact, fiction and lightening-paced action for the reader to enjoy.
Mark Rubinstein
Author of Mad Dog House and Mad Dog Justice
Popular in the Community