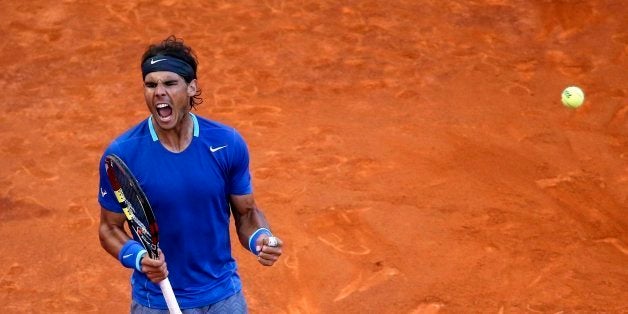 It is becoming more and more accepted in the world of tennis that Rafael Nadal has the smallest chance in years to take home the title at the French Open. Of course, he has been hampered by injury for the last 10 months. And of course, many of you will argue that since he has come back from injury before, then he should easily be able to do it again. But this time I believe it is different for a few reasons. Chiefly, Nadal is on the wrong side of 28, which by the way is a crucial age for tennis players. Then there is the emergence of the young talent, which has been displayed by two of the four Grand Slams being won by players outside of the Big Four last year. The final and biggest reason why I do not think that Nadal will emerge victorious at the French this year, rests with one man -- Novak Djokovic. I believe that right now, at least for the next few years, we will be firmly in the Djokovic era. In this article I want to discuss the assault on Nadal that will prevent him from victory at the French Open.
Twenty-eight has more often than not, represented an age of decline for tennis players. Roger Federer turned 28 in August 2009, and although his absolute peak was in 2006, during which he turned 25; since turning 28 he has only won two Grand Slams. During Lleyton Hewitt's entire career he has only won two, but for Federer, his two after 28 don't at all compare to his 15 won before that age was reached. In August 1999 Pete Sampras turned 28, after which he won exactly two Grand Slams (2000 Wimbledon and 2002 US). As for players like Bjorn Borg, John Mcenroe and Mats Wilander, they all famously blew out around 24 or 25. You make a very strong argument that with his incredibly intense style of play, it has been very surprising that Nadal has been able to keep performing well for so long.
Between the French Open 2005 and the US Open 2014, Juan Martin Del Potro was the only one to break the dominance of the Big Four (Federer, Nadal, Djokovic and Murray). This period of dominance by a select group of players is unprecedented in all of tennis history. The only time, particuarly in the men's game, when I can recall a similar period of dominance was when Bjorn Borg, John Mcenroe and Jimmy Connors resided at the top of the rankings in the late 70s and early 80s. But even then, there wasn't just one person that broke their dominance, but many, e.g. Vitas Gerulaitis and Guillermo Vilas. In 2014 though, we saw two of the Slams being won by players outside this group (Stan Wawrinka at the Australian, and Marin Cilic at the US). With Djokovic winning the Australian this year, and his run of winning the first three Masters, it is apparent that the run of dominance (of at least one) of this group is not over yet. Federer won the 500 title in Dubai, but there is definitely the feeling that the Big Four has become the Big One. Stan Wawrinka won the ABN AMRO 500 tournament in Rotterdam, but Kei Nishikori has also been amongst this years tournament winners. There is no doubt that slowly but surely this group of new players, lead by the likes of Nishikori and Wawrinka, will challenge the dominance of the Big Four. It is in fact already obvious that they have.
As discussed in the previous paragraph, this year in the Men's game has been all about one player, Novak Djokovic. Who has been, as Federer was described in 2004 (after the Wimbledon final), the power and the glory in Men's tennis at the moment. Winning the years first three Masters tournaments is something noone has ever done before. Djokovic is really a complete player, and although I am not a fan of his, I think that he could win the (true) Grand Slam this year. His baseline style of play is after all, suited well towards clay. There are also no real challengers on clay outside of (a still recovering) Nadal.
It will be interesting to see what happens in Barcelona and in Rome. If Djokovic can pick up the Italian Open, I could definitely see that run of form continuing on to the French Open title. It is after all, the only title that he does not posses, and it is one that he is certainly hungry for. Out of all of the challenges being presented to Nadal at the French Open, Djokovic is the greatest one. As indicated, personally I wouldn't like to see Djokovic win at the French. Rafael Nadal is my all-time favorite player and I would love to see him win it again. But with the various assaults lining up against him, I just can't see it happening.
REAL LIFE. REAL NEWS. REAL VOICES.
Help us tell more of the stories that matter from voices that too often remain unheard.