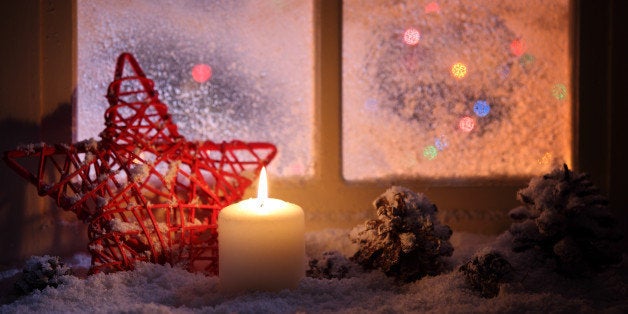 Every holiday it is hard not to wonder how generations of people (men and women) pulled off all that goes into the season. And this without the convenience of things like online shopping! There are still decorations to setup, events and get-togethers to plan for, gifts to buy and wrap, figuring out what everybody's going to wear, travel if you're heading somewhere for your celebration, cooking, planning, meal and food preparation. The list can be endless.
But with a little tactical management and strategy, you can own this holiday (and every holiday thereafter) starting today.
A - Attire. Make a list of who needs to get dressed (you, your spouse, the kids, etc.) and for what (ex: parties, events, school play). Do a quick mental or visual run through of what you already have in the closet. Can any of it be utilized for any of the items on the calendar? Note it. Then note what you may need to purchase, if anything. By taking this approach with a little advance planning you'll have a great chance of avoiding the chaos of trying to figure out what to wear when you need to get dressed. For most holiday events with exception to New Year's Eve, a more conservative look is most appropriate -- dress pants, dresses, etc. Layering a sheath dress over a turtleneck can work for almost anything. Look for opportunities where you can rework an item for more than one event. Don't be afraid to repeat an outfit if you need to!
B - Beauty. Events and parties means everybody's got to be put together and presentable more than on the typical day. It's actually a great way to incorporate a little holiday fun without a lot of extra work. Most major makeup and beauty brands have some kind of holiday product offering to make things a little festive. SpaRitual's Holiday Collection for 2014 has a range of colors from pretty purple to bright red, plus plenty of glitter options. It's all vegan and formulated without DBP, toulene, formaldehyde and formaldehyde resin. Mineral Fusion has excellent eye shadows for every skin tone that go on easily and can endure holiday busy.
C - Cookies. Cheating a little with holiday baked goods without compromising on the classic home-cooked experience is easier than ever with all of the new upstart gourmet food options as they often incorporate unique ideas, flavorings, etc. Peppermint chocolate brownie mixes, lemon sugar cookies, etc. You can find fantastic abundance online through searching, or check out online retailers like Williams Sonoma which carry lots of great kits for baking treats.

D - Decorating. Decorating for the holidays today has become so chic. There are so many choices starting with the classic and traditional items to modern, sleek, fun and other updates to make your holiday home styling personal and unique. Aim to determine a theme or common thread such as specific colors or ideas before you hit the stores -- it'll make it a lot easier. If you can shop a single store that carries it all or order online to make everything most efficient. Don't forget that some decor or holiday items may be harmful to pets or wildlife! Check before you buy to be sure. Don't rule out stores like Crate and Barrel or West Elm! They carry great holiday items that are unique.

E - Egg Nog. Egg nog has gone far beyond the traditional holiday drink! You'll find this holiday classic flavor in everything from cookies and ice cream to coffee syrups. There is plenty of fun ways to incorporate it into your celebration. Contrary to what it might seem, it's actually very easy to make from scratch, and there are a ton of recipes online that put cool and funky spins into the mix for something classic but also unique.
F - Figgy Pudding, Fruitcake. Many may have never had 'figgy pudding' or fruitcake but they're both holiday favorites. Recipes and variations of both are as cool and creative as any other decadent treat. While figgy pudding needs to be scratch made, fruitcake can be picked up online or at many stores and bakeries. Check out online for chic gourmet options (yes, that is possible!) especially when gifting this classic.
G - Gifts. Gift shopping can be chaos -- and expensive -- if you are not careful or prepared. The best defense in tackling your list is to have a great offense. Set a plan of who you need to buy for, how much you want to spend or can spend on the gift, and a few gift ideas for each. Shop for the items you know could sell out quickly like kids toys, etc. For gifting the traditional classics, such as robes and bath goods, look for items that put a new element in. Lemon slippers fit like cozy, comfy thick knit socks with leather on the feet. For a cool gift that keeps on giving all year, SpaHeros.com's beauty subscription sends a treat every month and the products are great.
H - Home. Home is usually either where the holidays are -- or is empty because you're somewhere else celebrating. Give yours a good cleaning before the season starts if you'll be hosting events. If not, it'll be great to come home to a clean house once you've returned from your holiday reveling. Plan to hang and take down decorations on single days where you've devoted an effort, or if you're busy, do so over the course of a week or so to make everything easier.
I - Ivy. Ivy makes for such a great decorating item, and you can find it in both real or artificial forms. Faux ivy can often be ideal for those with pets, small kids or large spaces to decorate, though you can use real ivy for all kinds of things -- centerpieces, gift decorations, etc.
J - Jesus. The holiday season incorporates multiple religions, beliefs, and celebrations. For those who observe it as the birth of Jesus, there are a great deal of awesome decor and gift items that honor this. The classic nativity scene has gotten a modern update -- you'll find all kinds of new variations and styles that represent. Art, cards, and other gift items are also more modern and stylish than ever. Shop online or hit a local store for options and ideas.
K - Kindness. The holidays are always so great for all the kindness and cheer that seems to increase during the season. Making an effort doesn't always mean it has to be a grand one -- little things can spread kindness and help others, too. Animal shelters are always in need of donations, senior citizen homes often appreciate gifts, etc. Doing something for someone in need is never disappointing!
L - Latkes. Latkes are a holiday classic especially for those who observe Hanukkah. So many new ideas and recipe variations have come along over the years, from incorporating interesting and tasty ingredients to differentiating with the type of potato used. It can be a great breakfast side with eggs, you can bake them instead of fry, etc. Though even just the traditional style are a great treat.
M - Mistletoe. Mistletoe has also evolved from the age-old offering located in boxes on store shelves -- many retail and grocery stores offer it fresh, either dressed with bows and bells or alone where you can do the decorating yourself. This is one holiday tradition that's always fun!
N - Nutcrackers. The classic nutcracker decorating is a holiday tradition. What's fun about this item today is that you can find them in fun forms like Disney characters, bold colors, and then of course on a range of holiday items from bathroom towels to canisters for cookies.
O - Ornaments. Many of us have more ornaments than we need, while others may just be starting to collect them for their holiday tree. But this holiday favorite also makes a great decor item elsewhere! Hang a group in uniform colors or styles around areas of the house, along windows or doorways, etc. You'll want to be sure to use plastic options anywhere that might be subject to being bumped, but otherwise anything can go here.
P - Packing. Holiday packing can be a challenge, in part because of the increase of things to dress for but also weather, etc. The key with packing is to remember to keep it simple by working around a specific few colors so that you can mix and match items easily. Set aside time to think out what you'll need to get dressed for before you start the work. Base everything around two or so shoes (one for casual, one for dress) and a single set or two of jewelry.
Q - Quiche. Holiday quiches are a tradition for many. Cut your cooking time by ordering yours from a local bakery, restaurant or online -- many online retailers quick ship great variations. You can cut corners and save time with pre-made pie crust, or work with a pie crust mix. Williams Sonoma has a crust mix that can do the trick.
R - Rest. Rest and relaxation during the holiday time can be a challenge, especially if you've got guests in town or kids. A great way to get a little R&R in the mix of any chaos is through good products for the shower, which you can use easily and quickly to make the experience a little more relaxing than usual. Lady Primrose has a pretty honey soap collection that is perfect for this. Or, if you've got the time, book a massage with you and your mom or other family member as a gift. It's a fun way to spend a little time with family and can make a great gift.
S - Stockings. The stocking isn't just a time-honored holiday classic -- it can also double as a gift bag, or even be a great gift on its own. Styles have without a doubt become more modern, cool and chic from the traditional so have a little fun with yours. It isn't just those who celebrate Christmas that can enjoy holiday stockings -- there are plenty of Hanukkah stockings in stores too!
T - Tree. The holiday tree has evolved to a full out experience with decorating ideas and items that completely transform this classic piece. Artificial trees look more real than ever and are a great eco-friendly option. Many are now available with lights already strung onto the branches. Tree shapes and sizes have also exploded in options -- tall and thin, short and full, big, small, you name it. Pick one that fits your space, taste or personal style and decorate it your way.
U - Under the tree. Speaking of the tree, tree stands and skirts, and under-tree decor items are cooler than ever, with plenty of great design variation and ideas. You can find just about anything that comes to mind, but don't be afraid to play with your own ideas. When it comes to gifts under the tree, store them in terms of size and as uniformly as possible to save space. Don't forget the fun idea of having an electric or toy train under yours. Kids love it! Though be careful with what you choose for under the tree with pets, making sure nothing can harm (or be harmed) by cats, kittens, dogs or puppies.
V - Vacation. Many use the holiday season to take vacation, be it to far away locales, ski lodges, or just visiting friends or family. If you'll be heading on yours, be sure to allow for extra time for travel and weather delays, both as you depart and arrive. New boarding facilities for pets skip cages for open formats, with plenty of interaction, activity and socialization all day long, versus the days of kennels and cages.
W - Wrapping Paper. Gift wrapping has gone to a whole new level! It couldn't be more fun and exciting. Wrapping paper today spans the entire spectrum of the imagination, or you can have fun with DIY ideas. Stores like Target have particularly modern paper options for gift wrap, but don't be afraid to use the unexpected. Anything can go so let your imagination play!
X - X-tras! Make sure you have plenty of extra items before the holidays start. It goes beyond things like drinks and food to staples such as toilet paper, paper towels, laundry soap, etc. Especially if you'll be hosting guests. If you're hosting a party, consider something like Stack Wines versus traditional wine bottles -- the wine comes in individual glass size servings in plastic so no worries about breaking glasses during the festivities, or washing dishes after the celebration ends.
Z - ZZZZ. Are the holidays finally over? Yes! Take a few days before New Year's Day to get extra sleep and rest so you are recharged for the year ahead.
For more chic and fun holiday gift items, food favorites, ideas, see Condiment's November edition at www.getcondiment.com
Popular in the Community