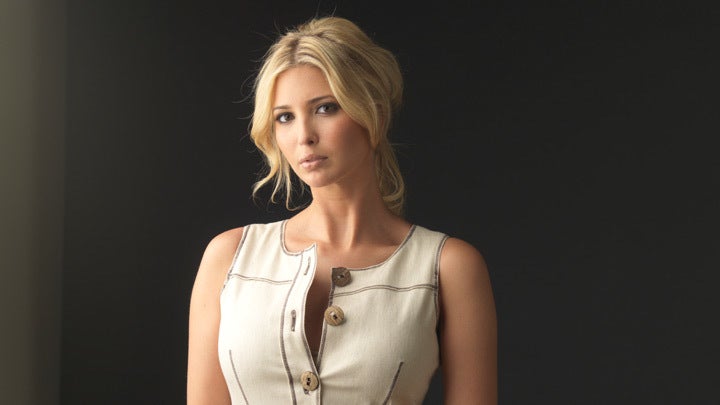 Ivanka has more money than most people will ever possess. Unless capitalism collapses, Ivanka won't ever have to worry about how much it costs to care for herself and her family. As her critics clearly and truthfully show, her #WomenWhoWork feminism presumes that you are finically comfortable and that your biggest concern is how to couple the demands of your inevitable career with those of motherhood.
But tons of women perpetuate a type of feminism that comes from harmful corporations and requires having a certain amount of money.
There's Sheryl Sandberg's "Lean In" brand, Lena Dunahm's Lenny Letter, Sophia Armoruso's #GirlBoss, the activist agendas of Lady Gaga, Madonna, Beyonce, Jill Soloway, and so many more (this list could go on for a lot of lines… feminism is so cool right now).
All of the above could be criticized like Ivanka, but they're not. Ivanka's relationship to her father makes her a target, just as identifying with liberal, leftist, progressives causes gives most of these women a shield.
Most liberal feminists don't confront the structural lethalness of capitalism and how it produces and profits from genocide, poverty, and all kinds of exploitation. Like Ivanka, they seem to think that the trouble isn't capitalism itself but that there's not enough women in charge of keeping capitalism going.
Continuously, liberal feminists cooperate with corporations and people who implement the ideologies that they protest.
Beyonce aligns herself with Black Lives Matter. But she also aligns herself with brands, like Pepsi and H&M, that perpetuate the structural injustices that Black Lives Matter opposes.
Then there's Dunham's Lenny Letter. The mission of Lenny is "dismantling the patriarchy." Yet Lena was a star supporter for Hillary Clinton, who is one of the patriarchy's stars. Not only did Clinton serve on the board of Walmart, but she supported mass incarceration and the second Iraq War. As secretary of state, Haitian workers wanted a raise to 61 cents per hour, Hillary helped oppose it at the request of Hanes, Levi's, and Fruit of the Loom.
After Clinton lost the election, Dunham thanked Hillary for "bravely taking every shot and standing tall." Clinton has stood tall and taken a ton of shots… for the patriarchy.
It's not just Clinton. When Lenny first addressed unequal pay, it was in an essay from millionaire actress Jennifer Lawerence. When it addressed gun violence, it was with an essay from millionaire actress Julianne Moore. For poverty, they interviewed billionaire Melinda Gates.
Lenny could have solicited an essay on unequal pay from a Walmart employee. They could have asked a mother on Chicago's South Side what it's like to have a child killed by a gun. And they could have interviewed an actual poor woman to keenly illustrate what it's like being poor. But they didn't. Lenny kept the spotlight on those who are already powerful and wealthy, which is, ironically, where the patriarchy wants the spotlight to be.
So I don't think Ivanka's feminism is more "fake" or "dangerous" than the feminism of well-known liberal women. One might be better hidden than the other, but both reinforce patriarchy's crucial principle that money matters the most.
Liberal feminism may not be entirely white, cis, or heterosexual, but it's still adheres to the principles of patriarchy. And a patriarchy that features a few women of color and LGBTQIA women is still a patriarchy. It is still built with savageness and brutality.
REAL LIFE. REAL NEWS. REAL VOICES.
Help us tell more of the stories that matter from voices that too often remain unheard.