If anyone needed further evidence that President Donald Trump's administration does not care about the harm their legal strategy to eradicate the Affordable Care Act could have on millions of Americans, Attorney General William Barr is here to provide it.
During a House subcommittee hearing Tuesday, Democrats questioned Barr about the Justice Department's stunning decision to join a lawsuit state GOP officials initiated to kill the law. Barr's snide, dismissive and evasive answers utterly ignored the human cost of erasing the Affordable Care Act with no plan to protect the people whose health coverage is at risk.
"You know, I'm not in charge of health care," Barr told lawmakers.
It starts with as many as 20 million people currently covered by Affordable Care Act programs abruptly losing that coverage and finding themselves uninsured, likely with nowhere to turn to replace it. Those mostly are low- and middle-income people who became eligible for Medicaid under the law or receive subsidies to reduce the cost of private health insurance.
Striking the Affordable Care Act also would expose people with preexisting conditions to discrimination by health insurance companies, which could go back to refusing to cover them or charging them exorbitant rates. People with any kind of private insurance could again face annual and lifetime limits on their coverage that would leave them unprotected against high medical costs, and so on.
Barr appeared more interested in sparring with lawmakers and arguing semantics then acknowledging any of those things. This exchange between him and Rep. Matt Cartwright (D-Pa.) illustrates that Barr and the entire administration are unprepared for and uninterested in how they would deal with the consequences if they get what they want and the courts throw out the Affordable Care Act.
"Attorney General Barr, you're not a health care policy expert, but your department is taking the lead on attempting a massive overhaul of our American health care system," Cartwright said. "Have you conducted or viewed an analysis to evaluate the effects of DOJ's litigation position to overturn the ACA, the effects on consumer costs and coverage? Have you done that analysis or have you reviewed one?"
The exchange continued as follows, as transcribed by Congressional Quarterly:
Barr: "Well, when we're faced with a legal question, we try to base our answer on the law."

Cartwright: "On the law. So, the answer is no. And I ― here's the thing. I can't imagine that you would take that kind of a dramatic, drastic action without even trying to evaluate the consequences for the American consumers, the people using the healthcare, the people for whom these premiums are paid. Let's start the process of thinking through that ―"

Barr: "Do you mean ―"

Cartwright: "If we may ―"

Barr: "In the event that the law is struck down ―"

Cartwright: "If you're successful in this lawsuit that you're supporting and the entire Patient Protection and Affordable Care Act is struck down, millions of Americans who currently receive health insurance coverage under the law are at risk of losing that coverage. Am I correct in that?"

Barr: "I think the President has made clear that he favors not only preexisting conditions, but would like action on a broad health plan. So, he is proposing a substitute for Obamacare."

Cartwright: "The one that's going to come after the next election, you mean?"
It's not just the substance of Barr's statements that demonstrate his utter lack of interest in the consequences of the legal argument he's pursuing. His sneering verbal tone and irritated body language suggested that even asking him about those things was a waste of his time. It's worth watching this back-and-forth between Barr and Cartwright.
Last June, the Justice Department under then-Attorney General Jeff Sessions took the highly unusual step of partially joining the GOP state officials' case. But while the plaintiffs argued the entire law should fall, the Trump administration took the position that only the parts of the law protecting people with preexisting conditions should be eliminated.
It's nearly unprecedented for the Justice Department to refuse to defend a federal statute. Three career Justice Department lawyers took their names off the brief the department filed then, and 20-year veteran lawyer Joel McElvain resigned. Trump nominated the lead attorney who did sign the brief, Chad Readler, to a federal judgeship the same day, and the Senate confirmed him shortly after. Democratic state attorneys general took over the defense of the ACA from the Justice Department at that point.
Under Barr's leadership, the Justice Department went even further last month and informed an appeals court that it agrees the entire law should be overturned. This shocked Republican and Democratic lawmakers alike. It also prompted Trump to make, and then unmake, wild promises that the GOP would soon reveal its long-awaited plan to "replace" the Affordable Care Act. The New York Times and Politico both reported that Barr and Health and Human Services Secretary Alex Azar opposed the more extreme position that the Justice Department ultimately took, and that Trump himself demanded they join with the state GOP officials. Barr refused to address this at the hearing.
Bizarrely, Barr more than once during Tuesday's hearing seemed to be contending that there's nothing to worry about if Democrats really think the legal case against the Affordable Care Act is weak. That's a strange assertion from the man who directed federal attorneys to adopt those arguments.
"If this was such a hokey position to take, what are you worried about?" Barr said to Rep. Charlie Crist (D-Fla.).
"I'm worried about millions of Americans," Crist replied. Barr and his boss very clearly are not.
Before You Go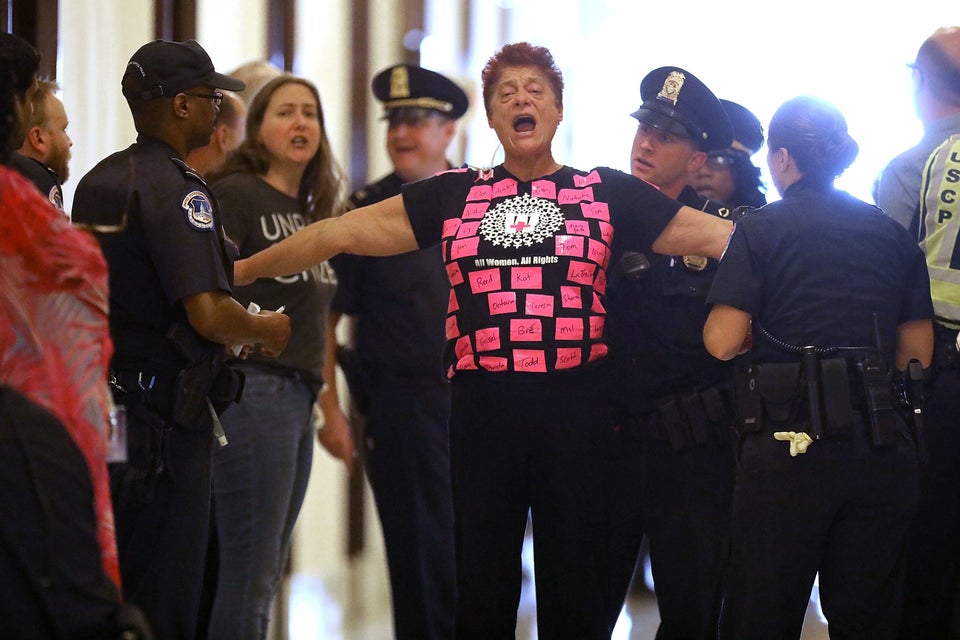 Health Care Protests At U.S. Capitol
Popular in the Community