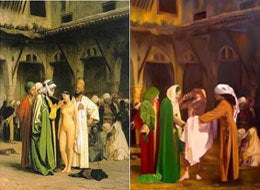 The mood was ambivalent at Sotheby's in London last night. It felt like everyone was collectively holding their breath. Despite Degas' ballerina "Petite Danseuse De Quatorze Ans" going for the top end of its estimate only a couple of evenings before, last night was being perceived by many as the first big post credit crunch test of the contemporary art market.
There has been almost as much discussion about what will happen to art prices as to share prices in the "current economic climate" and the first thing you noticed at the sale last night was the size of the catalogue, it was tiny, only 27 lots. 18 months ago it wasn't unheard of to have a two-volume catalogue with hundreds of lots for a single sale. All the big stars were in there though; a suitably butterfly covered Damien Hirst, a beautiful but ubiquitous Anish Kapoor mirror piece and splashy Yan Pei-Ming painting of Mao. Lesser stars had been pushed into a similarly cut down day sale but overall there was a lot less work up for grabs.
Once the gavel went down the bidding was slow but steady. Star lots by Lucio Fontana and Gerhard Richter went well but rose slowly and incrementally rather than through the firefight style bidding we saw only a few months ago. "Concetto Spaziale" by Lucio Fontana was one to watch, it is part of a cycle of 22 paintings from the '60s. When bidding was over and it sold for a hammer price of £3,900,000 a spectator behind me muttered, "That's rubbish" his neighbour hushed back, "At least it sold". While the Fontana went for considerably less than it's pre-auction estimate of £5-7million, other big works by Hirst, Richter and On Kawara went for the middle of their estimates suggesting that Sotheby's were reasonable in their valuations and bidders were keen but cautious in their purchasing. In the end only two lots went unsold and three works went for over a £1 million with a post sale total of £17,879,250.
The sale was always going to be somewhat of a poisoned chalice when it came to analysing the state of the art world. Everyone has their two cents on the figures. Theories abound in the press that contemporary galleries will return to their "old masters," the more established sure-selling artists rather than nurturing younger talent. However Lisson, one of the biggest galleries in London (they represent Anish Kapoor and Julian Opie) has just begun a programme whereby they open up one of its spaces to younger artists they do not represent. Evidence that the giants of the contemporary art scene won't necessarily retreat to their safest artists -- maybe they'll get more creative?
Indeed, later that same night at an opening at Victoria Miro gallery exhibited the work of young artist Christian Holstad. The show "American Standard" featured works executed on "erased" newspapers pages that he has doctored and drawn over. Blurred pages of the New York Times from January 2008 serve as the basis for his work and while a lot of the text is illegible a few headlines shone through "Bear Stearns" and "credit slump" stood out, even the artists are playing with our perception of the credit crunch.
So what can we predict? Not much at the moment, sums achieved last night were not earth shattering but they weren't dire either. The market is obviously quieter and may get more so. Christie's sale next week will be the next "big test" and I am sure will induce another slew of speculations on whether it will be the critic's or the consumer's choice that survive the downturn it's not going to be immediately apparent. I think we're all going to be holding our breath a little longer.

Related
Popular in the Community