With the Obamas' redecoration of the Oval Office getting its public unveiling this week, the New York Times asked a number of commentators for reactions. Here is a picture of the new design, followed by what I told the Times: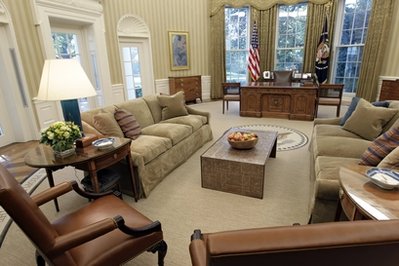 It's very cautious, neutral, inoffensive, neither one thing nor the other -- the Audacity of Taupe. It looks a little like the décor you'd expect to see in a hotel, the Taupe Executive Room at the Embassy Suites. But I applaud the switch from flowers to a bowl of fruit on the new coffee table. In times of great economic hardship, it makes a world of sense to be able to eat the centerpiece if necessary.
I also like the fact that the new Oval Office rug was made in unemployment-ravaged Michigan, creating a micro green shoot of sorts (actually a micro wheat-and-cream shoot, to be more precise). But the decision to festoon the new carpet with quotes from Lincoln, F.D.R., J.F.K., Teddy Roosevelt and Martin Luther King seems a tad Hallmark-y, and a little prepubescent -- something Sasha's fellow fourth graders might suggest (Malia's seventh-grade friends would probably find it "lame"). What's next, adding the doodle of a heart with "Barack + Michelle"? And isn't falling back on F.D.R.'s "The only thing we have to fear is fear itself" and Lincoln's "Government of the people, by the people, for the people" a bit lacking in imagination? Perhaps the Oval Office bookshelf could use a copy of Bartlett's Book of Less Familiar Quotations.
You can read Penelope Green's story, and what the others said about the redesign, here.