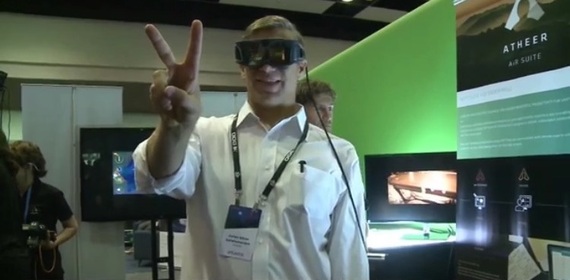 Zoltan Istvan trying on the Atheer AiR Suite at the Augmented World Expo
A few months ago, I was invited by tech guru Tom Emrich to speak at the Augmented World Expo in San Jose. The event, nicknamed on posters Superpowers to the People, took place on June 1st and 2nd. Billed as the largest virtual reality, augmented reality, and wearable tech event, the expo didn't disappoint. It was massive and filled with excited techies enjoying themselves. In fact, with over 200 exhibits and gadgets to experiment with--like various kinds of reality headsets--the biggest problem was actually remembering all the amazing companies and their great products. There simply was too many of them.
2-minute CCTV-America video of the Augmented World Expo
Because this was my first presidential campaign event for a while in my home town of San Francisco--and I was being filmed by four film crews--I brought my wife and two daughters to the expo. At ages two and five, my kids were a handful, but they had lots of fun being part of the filming and seeing what the exhibits offered.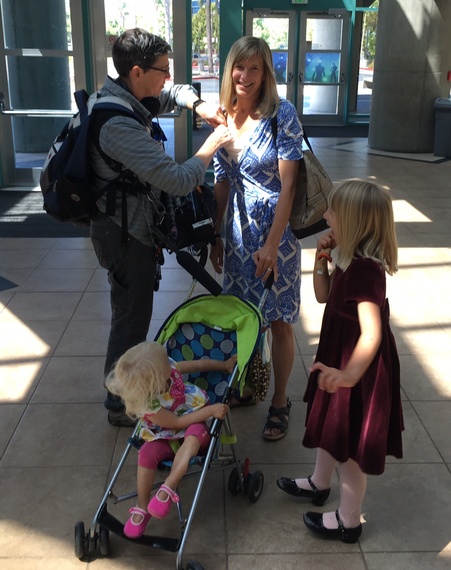 The aspiring to be First Lady Dr. Lisa Istvan (ObGyn) and two daughters being outfitted with microphones at the expo -- Photo by Zoltan Istvan
Later, I gave a keynote speech called Virtual and Augmented Realities will Become the Future of Politics on the main stage. It discussed how the presidential election will be different in 2020 vs. now in 2016. In short, expect Hillary or Trump drones carrying bumper stickers, candidates appearing in holographic forms at rallies, and dozens of driverless campaign buses touring the country. Expect more campaigning in virtual reality too, as well as cheering robot supporters. I'm ahead of other candidates in this regard, as I often tour around with a 4-foot robot named Jethro Knights. BBC's Dave Lee did a nice write up on some of the aspects of my expo speech in a fun titled article: HoloTrump and the Future of Elections.
CCTV, China's public TV, was also there at the Augmented World Expo. Journalist Mark Niu covered my presidential campaign and transhumanist views on longevity and artificial intelligence. Both CCTV-America and global CCTV English featured the expo in their daily news and business shows. The videos are fun watching.
Having been to many tech expos and conferences in the last few years, my takeaway from the Augmented World Expo is that the fields of virtual and augmented reality are growing faster than most people realize. It seems every time I strap on a new headset to test out these realities, they significantly improve. I can't wait for next year.
Popular in the Community