Charlotte Moorman was always something of a girly girl. At her high school in Little Rock, Arkansas, she was one of the first to don dark lipstick and dress in "risqué" dresses. Sadly, it was perhaps this unabashed femininity that resulted in Moorman's exclusion from feminist circles in the 1960s, '70s and '80s.
Today, Moorman is virtually forgotten. Despite her contributions as a performer, organizer and pioneer of experimental art in all its forms, the artist died virtually penniless in 1991 and receives little recognition to this day. But an exhibition at Northwestern's Block Museum entitled "A Feast of Astonishments: Charlotte Moorman and the Avant-Garde, 1960s–1980s" hopes to change the conversation surrounding Moorman's accomplishments, recognizing her as what she is: a gifted artist and a fourth-wave feminist before it was cool.
"There is an important art history story in this as well," Block director Lisa Corrin, who curated the exhibition, told The Huffington Post. "She was collaborating with artists from a variety of media, and most often the more famous artist -- the male artist -- got the credit." Corrin became interested in Moorman's story after seeing a well-known photograph of her playing a "TV Cello" with "father of video art" Nam June Paik. Moorman, donning massive goggles, strums on the retro-futuristic instrument made from three television sets, one stacked on top of another. The piece is credited only to Paik.
When Corrin began working at Northwestern, she realized the school owned all the artist's archives. "I thought: now here's a story that needs telling," Corrin said.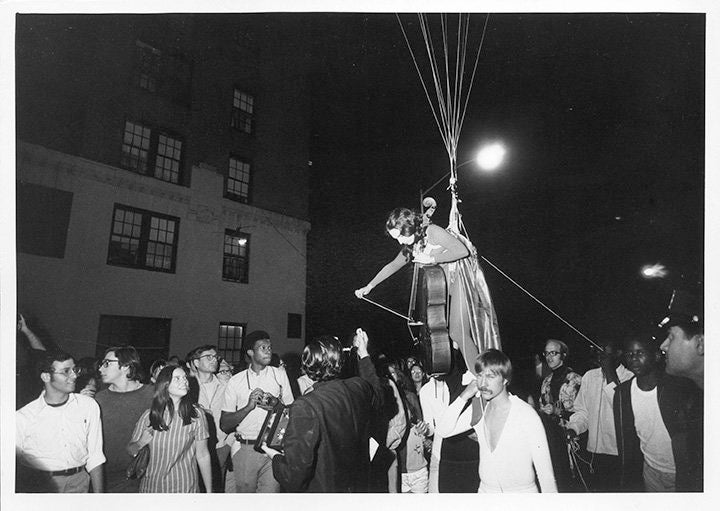 Moorman was a classically trained cellist who, after receiving a master's degree from the University of Texas, continued her musical studies at Juilliard in New York. It was there that Moorman developed a taste for the avant-garde -- the indeterminacy of John Cage, the generosity of Yoko Ono, the slipperiness of Fluxus. "She wanted to play the music of her own generation," Corrin explained. "When she played Brahms her mind was drifting off to other things."
Before long, Moorman was wound up in the dynamic uproar of the experimental art scene, belonging to no one movement, medium or genre in particular. "Performance art didn't really have a name yet," Corrin explained. "She referred to herself as mixed media. It hadn't really even been categorized."
While today she may have identified as a performance artist, Moorman was really an eternal collaborator, sliding between art trends and stamping her projects with an indelible essence. As Paik once said: "Charlotte is always Charlotte Moorman. Whatever she plays, whether she plays with the voice of John Cage, she is Charlotte Moorman ... She herself is interesting."
In part because of Moorman's reluctance to conform to a particular bracket, opting instead to float in an eternally slippery state of in-between, history didn't know quite where to place her. In Corrin's words: "Artists had to fit a category and if they didn't, they got left out of history."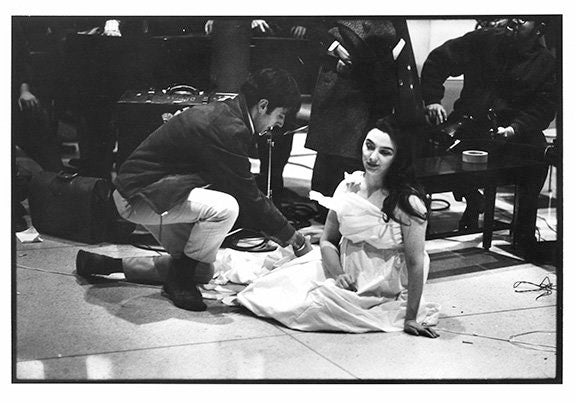 It also didn't help that many of Moorman's most iconic performances took place sans clothing. Her 1965 performance of "Opera Sextronique," with Paik, involved Moorman playing the cello without a shirt. As a result, she was arrested, tried and convicted for partial nudity. The sentence was suspended, but the association of Moorman as the "topless cellist" stuck.
When word spread of Moorman's artistic adventures, her Arkansas family was far from pleased. Her mother begged her to return home and play with the symphony, feeling that Moorman was squandering her talent playing with the likes of Paik and Ono. "I think it's fair to say her family was somewhat conventional," said Corrin. "They wanted to see her succeed but not on terms that Charlotte wanted for herself."
It was not only Moorman's traditional family that took issue with her proclivity to perform in the nude. "Women were not very fond of her," explained Carolee Schneemann, feminist performance artist and a friend of Moorman's, in A Feast of Astonishments. "Some of them called her a narcissist. If you are a woman artist and use your body in your work, you're immediately subject to that criticism. Charlotte was not a diva. Nobody was supporting her. She made everything happen."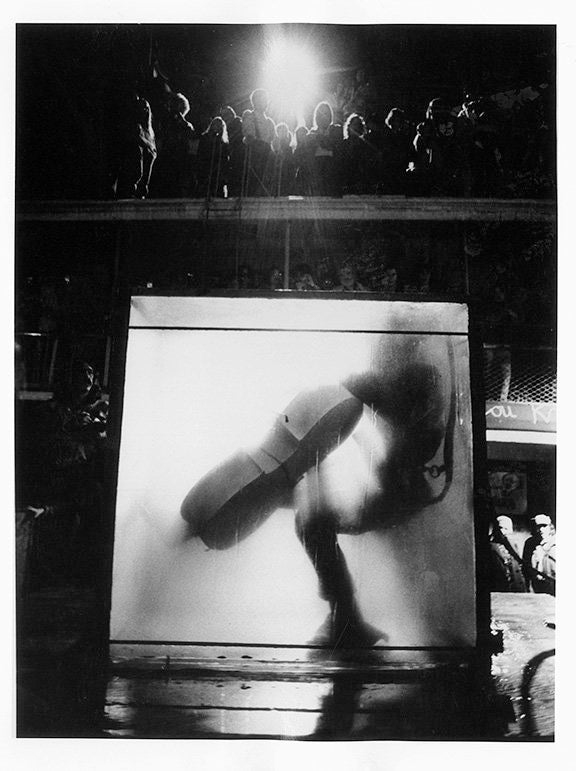 This hasty delineation of female artist as narcissistic -- especially when an unclothed body is involved -- persists today. In fact, a tenet of fourth-wave feminism is the freedom for women to be sexual, to be girly, to be strong, or soft, or lewd, or whatever they want.
For example, the 2015 documentary "The F Word" chronicles contemporary women artists who fold their bodies into their performances, bringing the legacy of feminist performance art into the digital realm. "Anybody who thinks selfies are only vain wants to reduce the importance of a human being. I am not sure where the judgment comes from," artist Rafia Santana, who is featured in the film, said in an earlier interview with HuffPost. "We should all be reflective of ourselves whether we are in a good place or bad place. Selfies help to bring us out of a bad place to uplift ourselves and connect with others."
Corrin also stressed the fact that although Moorman's body was often incorporated into her works, she always maintained agency over her parts. "Her body wasn't being used by men. Charlotte was an active participant and shaper of those performances, expressing self-empowerment and power over her own body. The work is about Charlotte's body, it can't not be."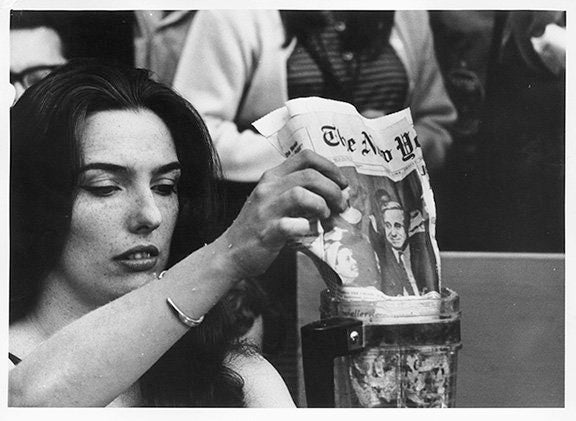 For better or for worse, Moorman is often remembered as the "topless cellist," though her main passion was bringing avant-garde to the masses. She accomplished this through 15 massive multidisciplinary art festivals, which she organized between 1963 and 1980, incorporating a vast medley of artists, spirits and techniques. Before the Internet, coordinating such an ordeal was a massive undertaking, requiring incalculable phone calls and in person visits.
The festivals, combining visual art, sound art and performance, took place at sites as accessible as Central Park, speaking to both Moorman's ambition, effectiveness and faith in the public. "She felt the American public was smart," said Corrin, "and that faced with the work of John Cage, they could make up their own minds about what was interesting and what wasn't."
Moorman's festivals gave artists a certain freedom to experiment, both physically and symbolically, that museums and galleries didn't allow. For example, the time Moorman played cello while suspended by helium balloons over the Sydney Opera House in Australia. On a subtler level, there wasn't as much at stake in these wayward happenings occurring outside the institution.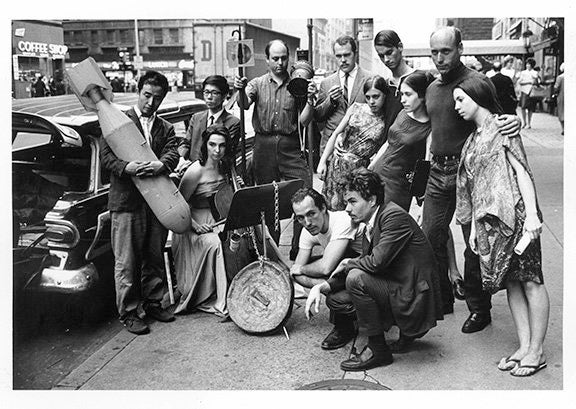 According to Schneemann, this too was another manifestation of Moorman's feminist influence. "In the festivals, we were contentious, and wild, and challenging traditional forms," she said. "Charlotte is a pioneer of feminist principles by making this free radical community, by being central to it, imagining in it, constructing it, sustaining it, and extending it into a larger public. The Annual New York Avant Garde Festival has to be understood as a powerful feminist statement."
Moorman gave everything to the art she cared about, earning her the nickname "Joan of Arc of New Music" by Edgar Varèse. Yet she died of cancer at 58 years old, with little acknowledgement for her sacrifices. In unabashed feminist fashion, Moorman reportedly, during her final days in the hospital, was seen repeatedly reaching for hair spray and makeup.
"She was one of the greatest ambassadors for new art that the U.S. has ever seen," Corrin said. "And she got very little for it. She was pretty selfless. It was a very different moment, back then, and she helped create the moment."
CORRECTION: An earlier version of this story included the wrong title for the exhibit. It's "A Feast of Astonishments."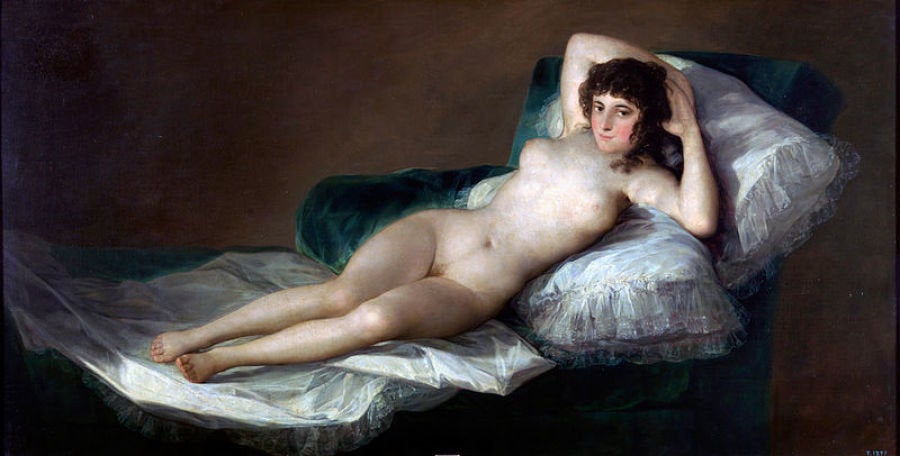 Art History's Most Erotic Artworks
Popular in the Community