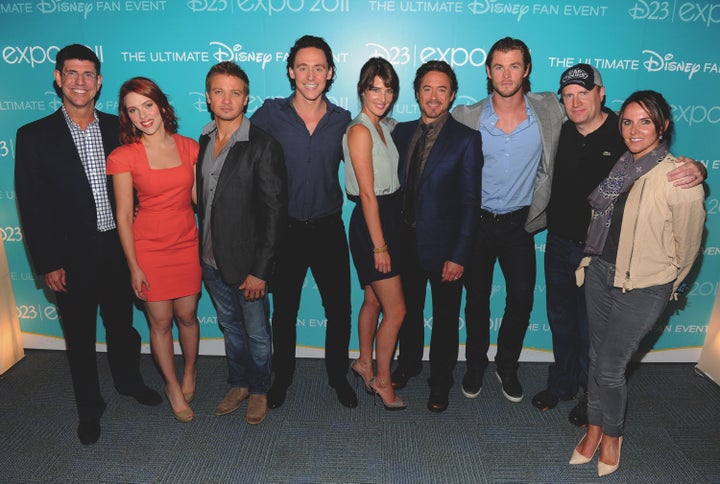 The Avengers assembled in Anaheim on Saturday to save the world from the painful dearth of details about their upcoming epic film.
A star-studded cast consisting of Robert Downey, Jr. (Iron Man), Chris Hemsworth (Thor), Jeremy Renner (Hawkeye), Scarlett Johansson (Black Widow), Cobie Smulders (S.H.I.E.L.D Agent Maria Hill) and Tom Hiddleston (the evil Loki) participated in a panel discussion about the Joss Whedon-directed Marvel superhero teamup, and presented footage that debuted two brand new action scenes.
A number of outlets on hand summed up the scenes, which also featured Samuel L. Jackson (Nick Fury), Chris Evans (Captain America) and Mark Ruffalo (The Hulk), all of whom were not in attendance.
The footage begins with Loki entering a big round cage with glass walls. Behind him doors with pneumatic locks seal behind him and we see Nick Fury walking over to a control panel. Fury says, "In case it's unclear, if you try to escape, if you so much as scratch that glass..." Fury presses a button and a huge hole opens beneath the cell. Inside the hole you can see dark clouds and lightning - they are in the helicarrier. Nick Fury continues "that's 30,000 feet straight down a stainless steel tube." Never changing expression, Loki compliments Fury on his jail, calling it "an impressive cage" and recognizing that it wasn't built for him... Fury responds that it's built for something a lot stronger. Loki understands, saying "a mindless beast makes play he's still a man," referring to Hulk.
Johansson described to the audience the first day on set in which all the stars wore their respective hero outfits, calling it "take your kids to work day." Everyone brought their significant others and children, with cameras capturing the historic day.
The stars of the film also spoke to the media behind the scenes, and, amongst the questions asked, The Hollywood Reporter quizzed Renner and Johansson about their experiences both training for, and carrying out, the various action and fighting scenes in the film.
While Renner made a laundry list of different techniques and skills he had to learn, including archery and stretching, Johansson was frank about the impact it all had on her body.
"We're still broken," she said. "I'll be rehabbing these injuries for years."
The film is due out May 4th, 2012.
WATCH
:
REAL LIFE. REAL NEWS. REAL VOICES.
Help us tell more of the stories that matter from voices that too often remain unheard.