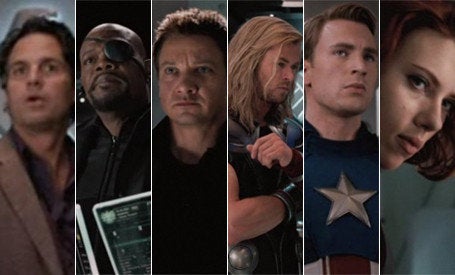 UPDATE: McGarvey told The Hollywood Reporter that he had been misquoted and that none of the footage was actually shot on an iPhone. He claimed that he was speaking to the new technologies available to filmmakers, the iPhone being one of them. However, none of "The Avengers" was shot with an iPhone.
Even superheroes love their Apple products.
Marvel, first with Paramount and now Disney, has spent the past few years working towards "The Avengers," their massive superhero teamup film. Representing their most significant property, they've gone all out, both in marketing and production; rumor has it that the film has a budget of anywhere between $170 and $260 million. So, it may come as a surprise that they apparently needed to cut corners while filming; it may be even more surprising to find out just how they did it.
"The beauty of photography or cinema is that you make every choice based on the content at hand," Oscar nominated cinematographer Seamus McGarvey recently told the The Irish Film & Television Network. "On 'The Avengers,' I did a couple of shots on the iPhone and they are in the movie. In fact, they are in the trailer! I understand that sometimes there is no choice and you have to go for the cheapest option, but if you are limited for choice, you can still make poignant decisions that will (sic) effect the look of the film."
And we thought the film's director, Joss Whedon, had geek credentials already.
Looking at the trailer again, there are a few places we suspect the iPhone could have been used. At about 13 seconds in, there is a shot of a woman looking in fear in a window; it figures to be a quick shot, and isn't highly defined. At about 1:14, Steve Rogers and Tony Stark square off face-to-face, with tight shots making it possible that the iPhone could have taken them. Any other possibilities? Tell us in the comments.
Popular in the Community