Poignant, beautiful, and heart-breaking, Apparition Hill. ... is a remarkable movie that takes you on a remarkable journey--a film underscored by a poetic beauty and transformative prowess that can lead to a metamorphosis of the soul, changing the lives of those who see it.
Seven strangers chosen to take a pilgrimage to a mysterious, Slavic village located between the mountains of Bosnia-Herzegovina where miraculous and supernatural things are said to occur. This is the premise of Apparition Hill, a film by Sean Bloomfield, Cimela Kidonakis, and Jessi Hannapel.
It is not easy for me to write this review. It is not easy because, without an iota of exaggeration, Apparition Hill is one of the most powerful films I have ever watched in my life, and I know that no words – no matter how eloquent or beautiful – would be sufficient to truly capture the awe-inspiring and breathtaking prowess of this movie. I am a film buff, someone who loves the cinema and who studied film in college with a minor in digital cinema. In other words, I have seen hundreds of movies, and Apparition Hill remains on top as one of the most spiritually and emotionally inspiring I have had the privilege of viewing.
I had the pleasure of giving a short talk at the 2016 Marian Conference at the University of Notre Dame this past summer. Before I got the chance to address the audience, Apparition Hill producers Cimela Kidonakis and Jessi Hannapel came up to speak about the film and show the trailer. It was perfect timing, as I recently saw the movie at a screening in St. Charles, Illinois, and coming up to the podium right after the producers afforded me a brief opportunity to comment on how moving the film was. I emphasized to the crowd that it is such a powerful movie that, when I saw it, there was not one dry eye in the theater.
Again, these were not exaggerations. These were facts, facts that speak to a remarkable documentary about the pilgrimage of life, about suffering, joy, spiritual renewal, and some of the biggest questions surrounding the human condition.
Apparition Hill begins with a contest, a contest seeking video entries from individuals interested in going on a pilgrimage to Medjugorje, a famous site in Bosnia-Herzegovina wherein in 1981 six Croatian children reported experiencing Marian apparitions, supernatural visitations from the Virgin Mary. Three of the six visionaries continue to report daily apparitions of Mary to the present day, 35 years later. Medjugorje has become a popular pilgrimage site visited by an estimated 20 million people.
"It's either the most important miracle since Jesus walked the earth, or it's the biggest hoax in the history of mankind," director Sean Bloomfield remarks during a radio interview in the film. It is a diversity of travelers – nay, pilgrims – on this journey, each bringing with them something they are carrying, some with heavier burdens than others. Each searching for something.
Amongst them there is Holly, a beautiful young mother and wife with four children who has terminal (stage-four) cancer. Holly quips that her son tells people that his mommy is very good at having cancer—that she's definitely going to beat it, "because she's already at level four and that's the hardest level to beat."
There is Peter, an atheist from Leeds, England, who admits that if God would spell out for him in the heavens that He exists then he (Peter) would be more inclined to think there is something wrong with his perception than believe what he is seeing.
There is Ryan, a young man from Chicago who is struggling with addiction, trying to get his health and life back on track. In his entry video, Ryan solemnly tells the producers, "I hope to hear from you. I hope you can help me save my life."
James Roose-Evans once poignantly wrote: "Although a pilgrim is an ordinary person, he is proceeding through extraordinary space, en route to his roots." That is the difference between the pilgrim and the tourist. The latter seeks to have the cultural experience of visiting a place, taking pictures and site-seeing; the former seeks to discover the meaning of his life on the journey.
"To be objective the group had to be as diverse as possible," Bloomfield tells us in a voice-over. "But they shared one thing in common: they were all searching for something."
A prominent presence in the film is Mirjana Soldo, one of the Medjugorje visionaries who still reports to receive apparitions of Mary. Her mystical experiences are filmed in Apparition Hill. When the group encounters the visionary, the greatest testament to her experiences is her normalcy. The authenticity of Mirjana's joy, her sense of humor, her wisdom and maternal nature, are all conveyed in this exchange in the most human and natural ways, beyond the grasp that any interview (no matter how thoughtful or sincere) could capture. Few things are as revealing as the sublime intimacy of human beings spontaneously conversing with each other.
Mirjana's presence in the movie is a delight to watch, the balance between her solemn integrity and her light-heartedness is captured beautifully. At one point Mirjana tells the group, "For example, when I go to confession, they tell me for penance to pray three Our Fathers, three Hail Marys and three Glory Bes. What kind of penance is that," she laughs. "That is a joy." You see a spiritual maturity in her witness which, through grace and happiness, exudes the depths of her spiritual life.
Scenes in the movie find a healthy balance between the solemn and the light-hearted. One of the earliest activities that the group partakes in at Medjugorje is visiting the Risen Christ statue, a statue that for years has exuded the mysterious and unexplainable phenomena of dripping a liquid substance. The substance comes from the knee of the Christ statue.
During the day, the group venerates Christ in front of the statue; during the night the two skeptics from the group, Peter and Mark, the latter a police officer and family man from a suburb outside of Chicago, come to perform "scientific experiments" on the statue. They bring with them Rich, a devout Catholic, father of nine, and widower who lost his wife to cancer. Rich assists Peter and Mark with their investigations by using his smart phone as a flash-light as they examine the statue. They eventually conclude that their experiments were "somewhat inconclusive."
Both Peter and Mark, as the skeptics on the pilgrimage, make the decision to change their approach from trying to disprove the phenomenon to allowing themselves to partake in the pilgrimage experience as much as possible: praying rosaries, climbing Cross Mountain, being at Adoration, going to Mass, camping out overnight on Apparition Hill to be present for Mirjana's apparition in the morning. The result will surprise many.
There is a sublime beauty to this movie which captures some of the deepest and most difficult depths of the human journey. It is a film about dichotomies—faith and doubt, the miraculous and skepticism, healing and suffering—but also about the things that unite believers and skeptics, things that the human condition cannot avoid: finding meaning in life, in suffering, in spirituality, in addiction, in disease, in death, in the afterlife. All of which Apparition Hill touches with grace and impressive affection.
Yet it is an affection that is not sentimental, nor overly pious, but real. Apparition Hill observes the lives of several pilgrims who deal with their crosses with a conviction and strength that speaks wonders to the power of their journey.
Sean Bloomfield has made many documentary films about religious experiences and Marian apparitions, most recently The Triumph (2013) and If Only We Had Listened (2011), the latter starring the Rwanda Genocide survivor and bestselling author Immaculée Ilibagiza. Cimela Kidonakis and Jessi Hannapel are newcomers, yet both showing to be gifted young talents, as the pace, cinematography, and style of Apparition Hill shows.
Hannapel was a recent graduate of Loyola University Chicago, where she studied filmmaking. Only a few weeks after graduation she became part of the film crew on Apparition Hill, playing a pivotal role as a producer with Kidonakis. In a note that she wrote to one of her film professors, Hannapel explained:
"Working on this film continues to be the greatest experience of my life. If anyone had asked me two years ago what I wanted to do with my film degree, I would have said that I wanted to make a movie that would let people see the world in a different way. Apparition Hill is a story of hope. It shares a message of peace from Medjugorje. It encourages people in their faith. But this film also allows you to connect with the people we followed and see the world from their perspective."
There is a heart-breaking scene toward the end of Apparition Hill, an event whose emotional gravity pierces straight to the heart. When I saw the film at a screening there was, as previously mentioned, not a dry eye in the theater. In the note that Jessi Hannapel wrote her film professor, she explained: "The most important thing I learned was to always keep the camera rolling and film as much as possible. There was even a time I had to film while I was crying and try to focus the shot through my tears."
After the film ended the first time I saw it in a theater at St. Charles, Illinois, we – the audience – knew that evening that we had witnessed something special in this movie which spoke to an unavoidable dimension of the human journey—of the deepest struggles, hopes, and joys of being alive. Poignant, beautiful, and heart-breaking, Apparition Hill ends where it began, with the mystery of faith and hope shining through the darkest struggles of life, giving them meaning. It is a remarkable movie that takes you on a remarkable journey--a film underscored by a poetic beauty and transformative prowess that can lead to a metamorphosis of the soul, changing the lives of those who see it.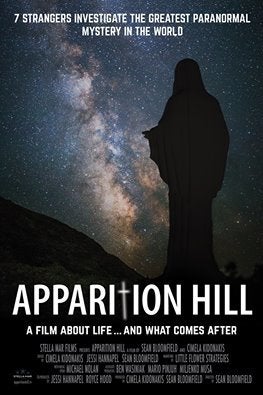 Related
Popular in the Community