Several weeks after Karen Walsh turned 40, she saw a doctor for what felt like a stomach cramp. It turned out to be stage IV colon cancer.
Walsh, an accomplished Broadway actress and mother of two, had eight tumors in her liver and three in her lymph nodes, in addition to the primary tumor in her colon. Until then, she hadn't felt much in the way of symptoms. Any potential signs she had noticed, she attributed to the surgery she'd had a few months prior.
"I'm unfortunately inoperable because of the location of the tumors in my liver, so chemo right now is the only option for me," said Walsh, who spoke to The Huffington Post hours after going to the infusion center for her 20th round of chemotherapy since being diagnosed last September.
Soon after her diagnosis, Walsh "went public" with the news, posting an Instagram selfie from the hospital. She hadn't necessarily been planning on it, but a friend who'd had breast cancer and never shared her diagnosis urged Walsh to be open about her situation so that she'd get plenty of support.
Walsh started with selfies from chemo, but things took a more creative turn after a friend who is a director and choreographer took a shot with Walsh pretending to be an aerialist. Since then, Walsh and the friends who accompany her for treatment have dressed up to recreate "Star Wars," "Breakfast Club," and "Charlie and the Chocolate Factory." After the recent Orlando shooting, they did a Charlie's Angels homage, holding rainbow flags instead of guns.
"I really view this as a coping mechanism for myself," Walsh said.
Roughly every two weeks, Walsh goes in for another round of chemotherapy, and the treatment has significantly shrunk her tumors. But given the nature of her cancer, she's had to accept the hard truth that chemotherapy is going to be a regular part of her life indefinitely.
"It's really strange to live, you know, just sort of maintaining your cancer," she said. "Without being able to have an operation, I have to just rely on [chemotherapy] until medicine hopefully catches up with cancer a little more." Walsh is hopeful that immunotherapy will provide better answers down the road.
For now, Walsh is putting more thought into the themes she and her friends settle on for their photos, which they brainstorm via text message before each round of treatment. A lot of their homages feature strong women, like Rosie the Riveter or the Golden Girls, and that strong female presence is important to her.
"The thing I say to everyone when they get a text message is I want it to be empowering, I want there to be forward motion, I want there to be joy or strength. I also want this to be something my daughter and son can see," said Walsh, who has a 7-year-old girl and 2-year-old boy.
But there are definitely weeks when Walsh does not feel like dressing up.
"[There are times] when I'm like, 'Oh god, I have cancer. And I have two young kids, my husband's company's closing, we don't know what we're going to do about insurance. You know, we have a lot going on in our home that's really stressful," she said. "I think it's really important to let that out, but I don't feel the need to sit in it longer than I need to sit in it."
Having friends join her for treatment, and having fun with it all as best she can, has helped. Through her Instagram account she has also connected with other cancer patients, and recently became a volunteer ambassador for the American Cancer Society's effort to get 80 percent of the eligible population screened for colon cancer by 2018. After her diagnosis, her brothers were screened. Both had polyps removed.
Walsh is happy to be speaking out about her experience with colon cancer, and she's pleased her photos are able bring a sense of play to the grueling experience that is chemotherapy treatment. But she also says she's simply doing what she needs to in order to cope with her new reality and continue on.
"When people are like, 'Oh, you're so brave, you're so inspiring,' sometimes I don't understand that because I just don't see how else I would handle this," Walsh said. "I have to get through this for my kids ... I just don't have any choice if I want to be around to see my kids graduate from college, or get married or whatever they end up doing. I want to be around for that, so I need to try everything that I can."
Related
Before You Go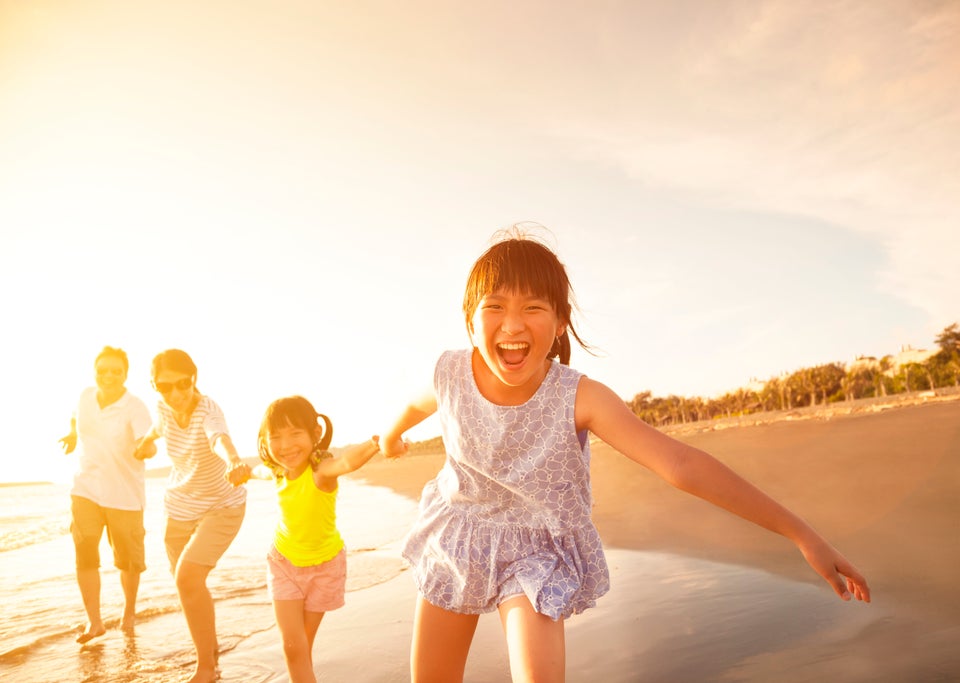 Quotes To Inspire You To Life To The Fullest