To better understand the changing dynamics of the B2B purchasing process and the buyer's journey, I spoke with Vinay Bhagat, CEO and founder of TrustRadius. TrustRadius is a B2B technology research and customer voice platform that serves both buyers and vendors. Each month, about 300,000 B2B technology buyers use over 60,000 verified reviews and ratings on TrustRadius.com to make informed purchasing decisions. As a successful entrepreneur and founder of a leading Software-as-a-Service platform company, Bhagat understood the challenges facing both buyers and vendors during the purchasing process. TrustRadius was founded to help buyers make better product decisions based on unbiased and insightful reviews.
TrustRadius published a 2017 study on the gaps, opportunities and changing dynamics between technology buyers and vendors. The B2B Buying Disconnect study is a comprehensive survey of 608 buyers and vendors covering the B2B buying process. Here are the study's key findings from TrustRadius:
The three disconnects that exists between B2B buyers and sellers are:
1. Vendors focus on providing material that buyers don't find very useful or trustworthy
2. Buyers don't trust all vendor claims, nor do they expect to
3. Vendors see their role as strategic, yet most buyers said the vendor played a pragmatic role
The three key opportunities for vendors are:
1. Buyers want hands-on experience with the product and insights from customers
2. Vendors have an arsenal of satisfied customers they are not leveraging
3. Strategic vendors are in the best position to influence buyers
Buyers preferred sources that provide them with genuine insights into the product. The top 5 information sources for B2B buyers are:
2. Vendor/product websites
3. Vendor sales representative / presentations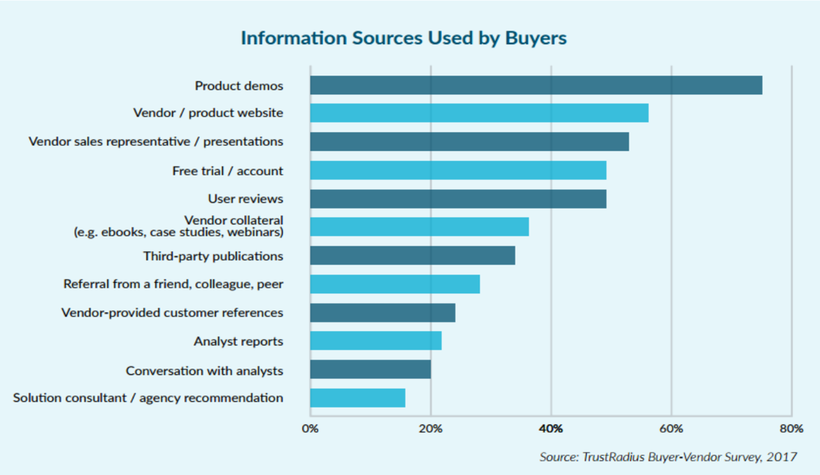 The most helpful information sources for B2B buyers are: 1. Free trial / account, 2. Product demos, 3. Referrals, 4. User reviews and 5. Vendor sales representative presentations. As far as the trustworthiness of information sources, product demos, conversation with analysts and consultant recommendations rise to the top. Reviews from end users were the most popular third-party resource, leveraged by 49% of buyers.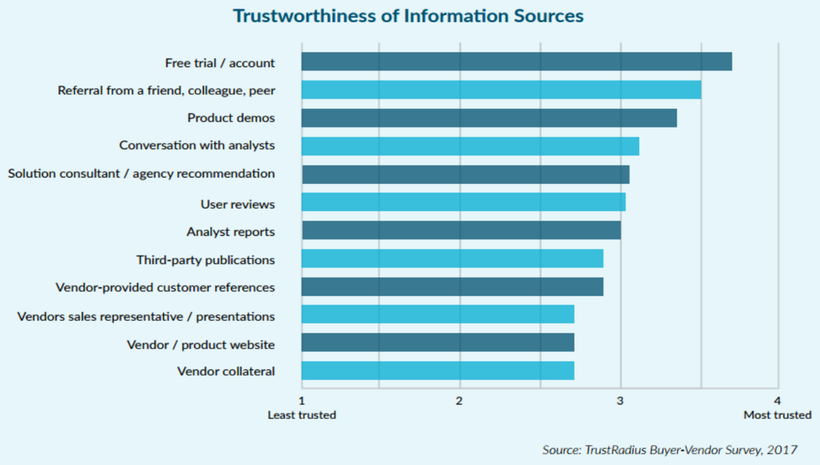 Vendors focus on providing the material that buyers don't find very useful or trustworthy. The most common material that vendors provide are: case studies (91%), demos (87%), blogs (85%), white papers (83%), customer testimonials (82%), webinars (81%), videos (78%), and customer references (74%).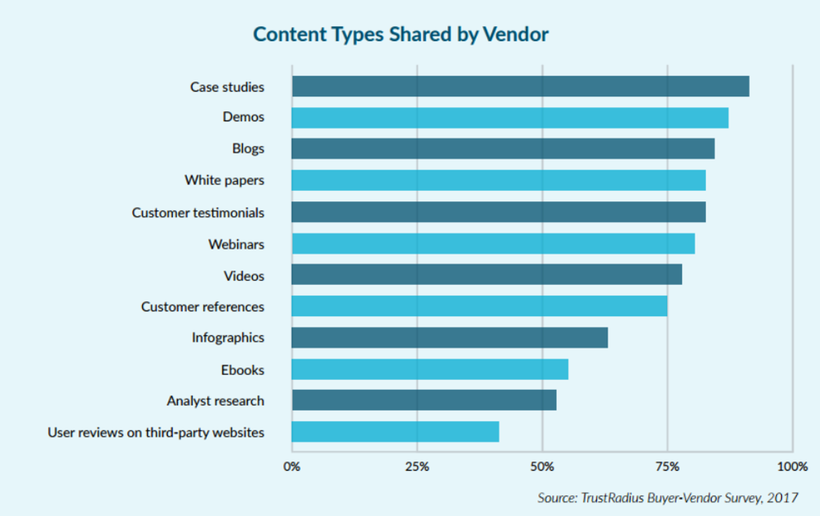 Comparing the most popular vendor delivered material to the effectiveness of content shares illustrates a disconnect in the B2B selling process. The top 5 most effective content for B2B buyers are: 1. Demos, 2. Customer references, 3. Customer testimonials, 4. Case studies and 5. Analyst research.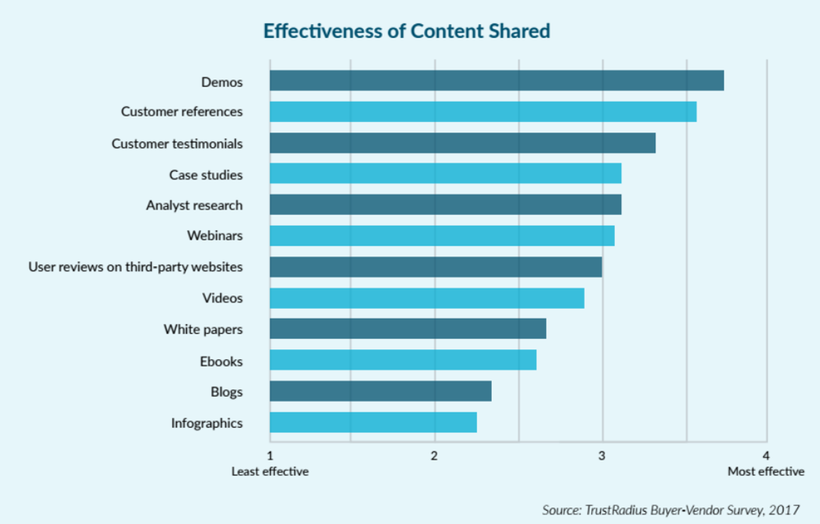 More than half of vendors produce and share each of the following types of marketing collateral: blogs (85%), white papers (83%), videos (78%), infographics (63%), and ebooks (56%). Aside from videos, they are also the least challenging to produce or provide.
There are areas of alignment and disconnect with regards to the selection criteria between B2B buyers and vendors. Price and strength of feature set were the most important factors to buyers, and vendors reflected that. Buyers care the most about 1. Price, 2. Strength of feature set, and 3. Ease of use.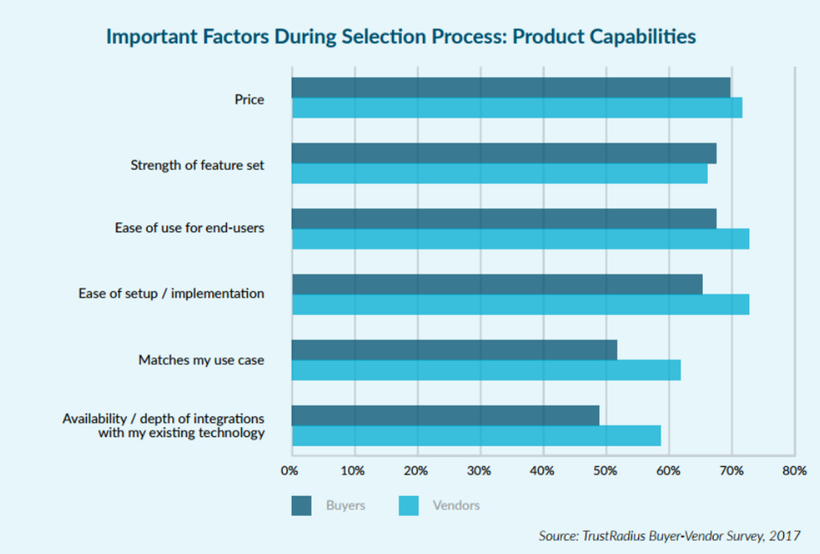 B2B buyers rated the most important factors during the selection process with the top 3 factors as:
1. Vendor clearly understands my pain points
3. Direct peer recommendations.
Nearly 70% of vendor respondents thought "vendor clearly understands my unique needs/pain points" was an important factor to buyers, while only 39% of buyers selected this option.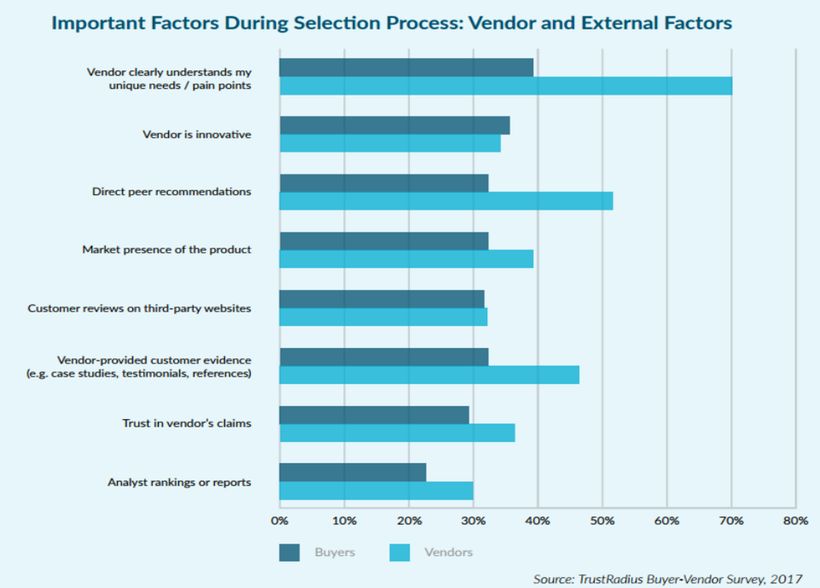 Buyers don't trust all vendor claims, nor do they expect to – here are the top 5 areas of trust concerns from B2B buyers: 1. Generic over-promise, 2. Availability of features, 3. Ease of use, 4. Integration, 5. Ease and speed of implementation. As a former B2B enterprise software buyer (I was chief customer officer and chief marketing officer for a B2B company), I can relate to these trust factors. That said, the inability to deliver to implementation schedules and ease of use expectations and challenges can often be root caused as shared accountability between the vendor and buyer. B2B buyers must assign appropriate committed sources, and invest in employee training, in order to successfully implement, adopt and use enterprise software. Often B2B vendors provide staff augmentation options to buyers to facilitate the implementation and adoption - something that I highly recommend based on my experience.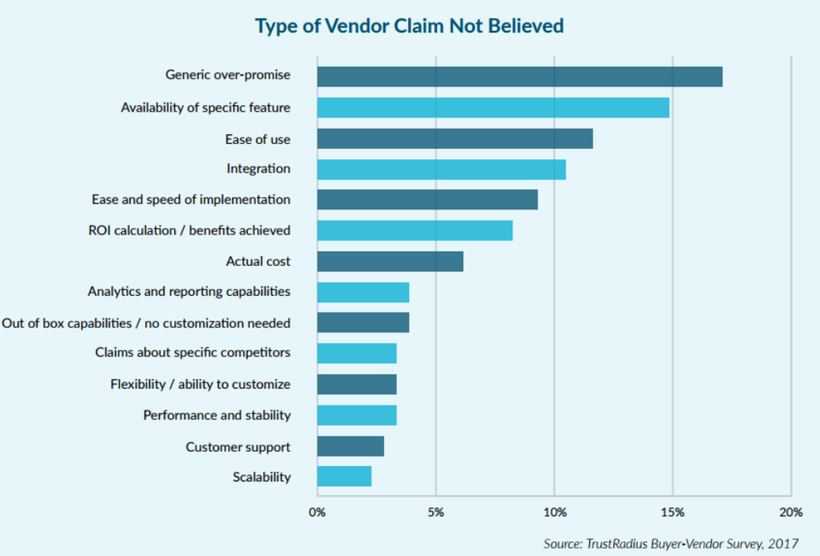 The research found that strategic vendors are in the best position to influence buyers. Among buyers who described a strategic role, 89% said the vendor was somewhat or very influential on their selection decision, compared to 62% of those who indicated a pragmatic role.
Buyers who described a strategic role mentioned activities such as on-site visits, extended trials, demos with real data, customization options, and demonstrating ROI. They also highlighted help with convincing stakeholders and positive "non-salesy" interactions with vendor representatives.
A notable trend in these descriptions of strategic behavior is vendors embracing authenticity and transparency. Across all information sources, including vendor-provided content and interaction with vendor representatives, buyers appreciate unbiased and balanced perspectives. – TrustRadius
The untapped potential for vendors - Vendors have an arsenal of satisfied customers they aren't leveraging. The good news, most buyers are highly satisfied with products they purchased. Though 46% of buyers are by definition promoters and 42% have recommended the product directly to a peer, most have not taken any action on behalf of the vendor to promote the product. Overall, just 20% of buyers said they took one or more of the following actions: served as a customer reference, provided a testimonial, or provided a case study.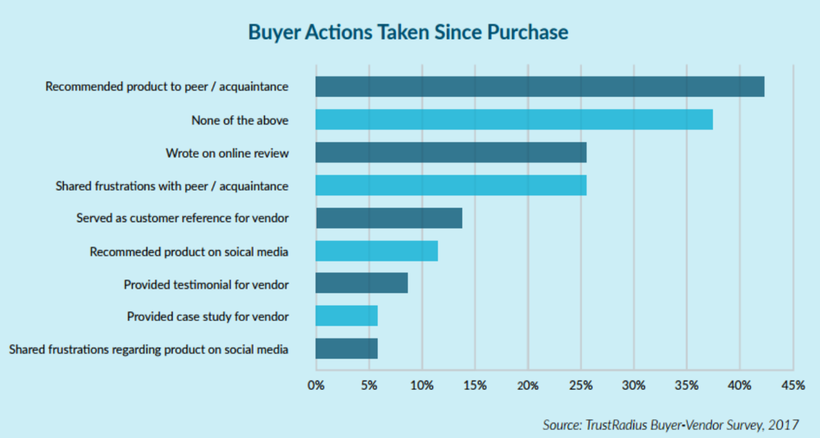 There is a great opportunity for B2B vendors to collaborate and solicit the input of their committed and satisfied customers to serve as company advocates, significantly influencing existing prospects and future buyers.
In order for B2B vendors to minimize the existing disconnect between themselves and B2B buyers, companies must adopt a beginner's mindset – open, flexible, interested, adaptive and willing to engage from an outside-in approach. My own experience as a CMO and a content creator - social media, book, blogs, videos, inforgraphics and presentations - has taught me that your intent is a critical success factor. Develop content that educates, inspires and ignites positive action and then lean into your network of advocates to scale your voice and brand promise. To learn more about the TrustRadius study, you can visit here.
Calling all HuffPost superfans!
Sign up for membership to become a founding member and help shape HuffPost's next chapter
This post was published on the now-closed HuffPost Contributor platform. Contributors control their own work and posted freely to our site. If you need to flag this entry as abusive,
send us an email
.