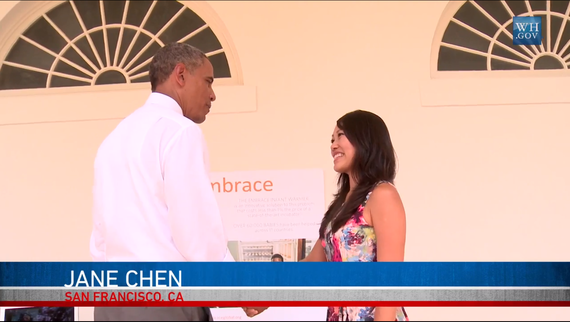 Jane Chen hangs with an impressive crowd. President Obama hosted her at The White House in June for a "Maker Faire," honoring her Embrace infant warmer as an example of the new manufacturing "revolution." Beyonce recently donated $125,000 to support Jane's work through a partnership with Millennium Promise -- toward a goal of funding pilot testing of the Embrace infant warmer in Ethiopia, Ghana and Kenya, among other geographies. At The Clinton Global Initiative, where the plenary panel included President Clinton, Dr. Jim Yong Kim, President of the World Bank, and Ban Ki-Moon, Secretary General of the United Nations, Queen Rania Al-Abdullah of Jordan (who also sat on the panel) was so inspired by Jane's product and presentation that she chose the Embrace infant warmer as a preeminent example of innovation.
I talked with Jane to learn more about the woman behind this revolution that is saving the world, one baby at a time.
EL: What one characteristic among all others has enabled your success as a leader?
JC: Tenacity. When it comes to things that I'm passionate about, my tenacity comes through. Before Embrace, I did HIV/AIDS work in China with a social impact startup that was helping orphans. I also worked with the Clinton Foundation's HIV/AIDS Initiative in Tanzania. Through those experiences I was able to focus on things I truly believe in and I was very tenacious about them. By that I mean, I did not take "no" for an answer. If I hit a wall or stumbling block I always find a way around it. If you put your mind to something, anything is possible.
EL: What are you most proud of?
JC: Definitely the work at Embrace -- being able to lead a team in taking something from a concept to a fully developed product that is impacting lives. We have gotten this product to over 60,000 babies across 10 countries and that number is just going to grow exponentially, which is really exciting. As CEO for the first five years, and now playing the Chief Business Officer role, I am proud of having led what was a nugget of an idea through hundreds of iterations and clinical tests to the point where we've had it manufactured and distributed to some of the hardest to reach populations in the world. The dream has started to become a reality. That entire process was something I had no experience in, nor did the team. So, we really had to build everything from the ground up. I am proud of the social impact this product has made as well as the team of dedicated and passionate behind Embrace who made this happen. A lot of media often focuses on one person in an organization, but there's a whole team who has worked tirelessly to get to where we are, including my co-founder, Rahul Panicker, who has been there every step of the way.
With regards to impact, one of the stories I feel best about is the first baby we helped in China. Nathan was found abandoned at birth, weighing less than two pounds. A local orphanage we had just started delivered warmers to, Little Flower, took him in and kept him in the Embrace warmer for weeks. When I went to visit seven months later, I found a healthy and interactive boy - it was the first time a baby of that size had survived in the orphanage. A few months later, we received an email from a family in Chicago telling us they had adopted Nathan and thanking us for the role we had played in saving his life. It was one of the happiest days in this journey -- getting an email like that makes everyday of my work worthwhile.
EL: It's a challenge to do good and do well at the same time in business. Do you have any advice for young people who are coming up and trying to combine both of those objectives?
JC: My advice has always been to do what you are passionate about. If that happens to be within the social space, then do it. One of my favorite quotes is from The Alchemist: "If you really believe in something the whole universe will conspire in helping you to achieve it." I believe that. I've seen first hand with my work in China on HIV/AIDS and now with Embrace. that when you really care about something, things will fall into place. It is scary to go into this social impact space -- or to be an entrepreneur at all. I am grateful that so many people have come together to help us with this cause. Whether it be donors, volunteers, or advisors -- all these people along the way from all different walks of life pitched in to get this off the ground. I think this happened because both the founding team and I have so vehemently believed in our vision. That energy becomes contagious.
EL: Looking back, was there a game-changing event that expedited your career evolution?
JC: In terms of my own journey, my turning point was in 2002, a few years after I graduated from college. I read an article in The New York Times that changed my life. The article was about the AIDS epidemic in China. In the 1980s, millions of farmers contracted HIV through selling their blood. This was a huge campaign in which everyone's blood was collected, farmers were paid $5 per bag, and after everyone's blood was collected it was pooled together. The plasma was separated and the remaining red blood cells were re-injected into people's bodies with the belief was that people could regenerate blood more quickly. In many of the villages, 60-80 percent of the adult population became HIV positive.
When I read this I was so horrified and shocked. These were poor farmers who were just trying to make an extra buck for their families from the government whom they trusted so much. As a result, they contracted a fatal disease and did not have access to even the basic medication. Millions of orphans were left behind as a result. It wiped out an entire generation of people. My heart went out to these people and a light bulb turned on in my head. I realized we are among the luckiest people in this world. I could have just as easily been born into a different life and suffered this horrible fate as a result.
I decided I wanted to use the opportunity and skills I had been given to do something about the situation. I quit my consulting job. I worked with a startup NGO that was doing work in these areas by sponsoring the education of all the orphans who had been left behind -- most of whom did not have HIV. In about two years we were able to help about 3000 children, but the greater impact of our work was that the government began providing education to all of the orphans in the affected areas and free AIDS medication to all the HIV medication.
It showed me that with a small, dedicated, and passionate team we were able to effect change in a really big way. It set the course of my life because I realized I was really passionate about doing this work and I loved making social impact. It became a personal goal of mine to try to bridge the healthcare disparity that I saw between developed and developing countries. When I started Embrace, that was one of the impetuses. It came out of a design class at Stanford called, Design for Extreme Affordability. We came together to design affordable technology. The challenge posed to my team was to build a baby incubator that cost less than 1% of the cost of a traditional incubator, which is $20,000. From that challenge, Embrace was born. I was lucky to work with an incredible group of graduate students in that class (Linus Liang, Rahul Panicker and Razmig Hovaghimian), who would become my co-founders.
EL: No entrepreneur can go it alone. Who were some of the people instrumental in opening doors for you when you set out to build Embrace?
JC: Before I left business school I went to the former Dean of the Stanford Graduate School of Business, Bob Joss, and the President of Stanford University, John Hennessy, and told them what I was doing. They were so supportive and reached out to Stanford alumni; a number of them ended up becoming supporters. One of these people was Narayana Murthy, the CEO and one of the Co-founders of Infosys, India's largest outsourcing company. He has been the most incredible advisor and supporter of Embrace. He has introduced us to so many people who could be helpful, putting his name behind our cause, and giving us sage advice and moral support all along the way. He is an example of what a leader should be. I admire him so much.
He introduced me to the former prime minister of Norway. She was the first female prime minister of Norway and the first female director of the World Health Organization. She was spending a few months at Stanford; when I went to an event for International Women's Day, I re-introduced myself to her. She looked pleasantly surprised and told me that she had been asked in advance to talk about an inspirational female innovator and she was going to use me as her example. A huge honor!
Pam Hartigan, who runs the Skoll Centre for Social Entrepreneurship at Oxford and was previously at the Schwab Foundation, has been an amazing advisor as well. She has opened up doors for us in so many ways. I went to the World Economic Forum in Davos this year, and she introduced me to a number of people who could help advance our cause. All of these people took meetings with me as a result of her introductions.
It is a great reminder to me to help people who are coming up with ideas and starting their entrepreneurial journeys, especially the ones I believe in. It is the little things you do when you have influence that so greatly help other young entrepreneurs. And it is especially important for women to help other women.
EL: What is your experience of using power as a woman in the business world?

JC: In the early days I was mostly managing a group of male engineers. In India, where I was based for years, it happens to be very male dominated. I chose not to focus on the things that made me different. I was decisive and assertive with the team, but in a way that was authentic to me. I think that was the most important thing. Often times you have this image of what a leader should be and you force yourself to fit into that. I think women, in particular, have an inclination to do this. But, what I found is that, when you lead in a way that is most authentic to yourself, people get it and that really allows you to build trust.
As a woman, you often feel like a caretaker for people on your team. You are worried about everyone's well being. People value that. When they join you as a startup, people are really placing their faith in you because it is such a tumultuous path and no one knows how things are going to turn out. When people know that you have their best interests at heart they will actually do the things that are best for the company.
EL: What would you like to see as your legacy?
JC: One piece of my legacy will be making the Embrace warmer a standard of care, one that complements existing natural practices like skin-to-skin care. I want to ensure that every baby in need of temperature regulation can get it and that no baby dies from being cold. Beyond that, my legacy is about building a platform by which we, as an organization, innovate really disruptive technology that can save babies and mothers around the world.
I hope my legacy is also about inspiring others to follow their path. I see so many college graduates interested in a career that is about making social impact. That's exciting. Now, there are role models and success stories to encourage them to go into this field. That is where my impact can go far beyond Embrace. Even the people who work for the organization -- if they end up leaving Embrace and starting new social enterprises of their own using what they have learned here, they will multiple our impact exponentially. That is really the legacy I want to leave.
To learn more about Embrace, check out Embraceglobal.org. Follow Jane and Embrace on Twitter @JaneMarieChen and @EmbraceWarmer.
Thanks to those of you across the globe who nominated exceptional women to be showcased. Keep the nominations coming! Send us the name of a female leader who inspires YOU at info@MyAWEonline.com.
Related
Popular in the Community