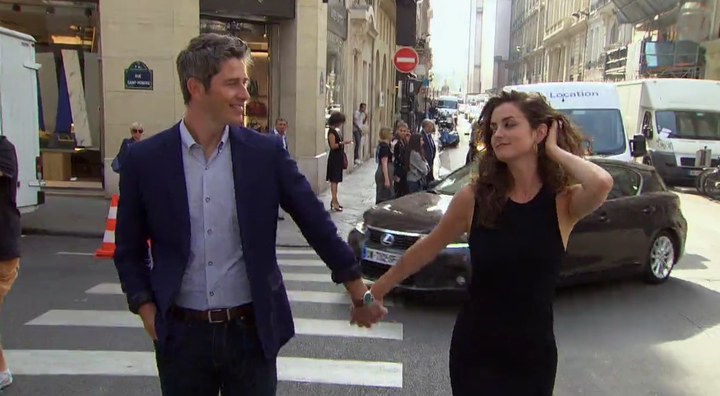 On the battlefield of love, ambition is an obstacle ― not a hindrance, an obstacle. At least that's how Arie Luyendyk Jr., the current star of "The Bachelor," seems to feel.
Not that Arie doesn't believe in ambition at all, at least for himself. Even the casual "Bachelor" fan knows all about the years the race car driver spent traveling the world to pursue his dream of one day winning a competition.
And if women have ambition, that's actually a plus in the abstract sense, as he explained to 26-year-old "Bachelor" contestant Jacqueline Trumbull, who plans to pursue a Ph.D. in clinical psychology, when the latest episode aired on Monday night.
Throughout their one-on-one date, he seemed awestruck by her intellect. "I think at the beginning, I was like, 'she's far too intelligent for me,'" Arie told Jacqueline over dinner. "I was intimidated by you… I just hope I would know how to interest you."
And when she expressed that she plans to spend the next six years in school to complete her Ph.D., he also professed not to want to derail her plans. But instead of offering the possibility that maybe ― horror of horrors! ― he would consider making changes in his own life in order to support her dreams, Arie implied repeatedly that their relationship probably wasn't going to work out. (Jacqueline got the rose this week, but as discerning viewers, we can only assume she won't last much longer.)
"I would never want you to give up your dreams to pursue a relationship with me," he said, dangling the rose in front of her. "But I know that I feel really deeply for you and I wanna see where this goes."
"Do our lives fit right now? Maybe not," he then told the camera. "I feel like there's more to find out about her. And so for me, I don't really see her ambitions and dreams as a hindrance; it would just be another obstacle that we have to get through together."
Of course, Arie can want whatever he wants out of a relationship ― and, as "Bachelor" viewers have repeatedly heard, he wants a woman with a flexible schedule, not six years of higher education ahead of her.
He even offered a woeful tale of a past dating tragedy, about a previous partner who sidelined her own aspirations to support his racing career. His tone is regretful ― "It wasn't only a burden for her, but it was a burden for me because I felt like I wasn't doing her justice," he told Jacqueline ― but he doesn't suggest that he should have tried to compromise or support his ex more. (Instead, apparently, he set her free.) Now, as the show lead, he is particularly empowered to choose a woman who is more amenable to bending to his lifestyle. If that's what he really wants, he has every right to go for it.
And yet. Despite the fact that women now outnumber men on college campuses, make up nearly 47 percent of the U.S. workforce, and are waiting longer than ever to get married, a gendered double standard remains when it comes to the way ambition plays into romantic love. Arie comes off as magnanimous in this episode for not openly recoiling at Jacqueline's plans, and for denying that her ambitions are "a hindrance" to their relationship.
But he can't deny that he still sees them as "an obstacle," rather than a desirable quality in a partner. And as Jacqueline's weepy relief at not being booted off the show on her first one-on-one date indicates, straight women are still conditioned to see this lack of open scoffing at their ambition as a gift.
Claire Fallon: There's a stereotype that smart men are fine dating less intelligent women, but smart women want a guy who's even smarter than them. Some women want to be the alpha in their relationship.
Emma Gray: Yeah, that is true.
Claire: Some women want a guy that is just gonna be chill and goofy and relaxed.
Brandi: I don't understand that either. And this whole time, they're sitting here at dinner I was just like, "I can't even believe this is being talked about right now." And she's so upset and emotional about it! How can he sit there and say, "Yeah, I gotta send you home because you're too smart and you're gonna give up your career for me"?
The whole conversation to me was so crazy, and I couldn't believe that he would assume that she would even be thinking about, "Oh yeah, if I win, I'm gonna turn down my six-year education that I've worked so hard for my whole life."
Claire: Well, obviously, that's what would have to happen, because he needs a wife. And he needs his wife to live in Scottsdale, which is a lot to ask of anyone.
Emma: The bounds of this conversation were just so crazy. And then it left her in the position of almost apologizing for the fact that she has ambition and intelligence.
Brandi: And if I were her, I would have been upset that he's known this the whole time ― he's known since the beginning; clearly, they've already talked about her education and how much longer she has. You've kept me around this long to go on this date and tell me, "Oh, I don't know if I can be with somebody with that kind of ambition."
Claire: Right, so basically she has six years of a Ph.D. program left.
Emma: She works at Mt. Sinai in New York City! That is one of the best hospitals in the country. This is a fuckin' smart woman.
Olivia Caridi: [Arie] should be saying, "Please adopt me. Let me marry you."
Brandi: She's too good for the show. No offense, Olivia. [Laughs]
Claire: But this is also when we learn that he's been in a relationship. Arie's like, "Look, I've been in a relationship where I held someone back because she had dreams, but she felt like she needed to be by my side and supporting me."
Emma: It was such a burden for him.
Claire: But at no point does it come up or seem to enter his mind that he could have at any point supported her dreams or even made compromises in the relationship. He's just kind of annoyed that she had dreams that burdened him with guilt. So the options are: Date someone who has no needs outside of Arie, or date someone who has other dreams, force her to put them on the back burner and then set her free to pursue them.
Brandi: Or date someone young enough to not have dreams yet and be willing to just be with him.
Olivia: This weed farm [that contestant Bekah Martinez went to work on] is sounding better and better.
Emma: Arie's a real estate agent ― he could sell real estate in New York City!
Olivia: He'd probably be more successful here!
Claire: But how is he gonna see his parents literally every day?
Brandi: Let's talk about this, though. I feel like ― at least in the seasons I've seen ― everyone that goes on as the bachelor or the bachelorette, whoever they end up with moves. I feel like when you go on and you're the one, it is expected.
Emma: Especially if you're a man.
Brandi: But Bryan moved for Rachel, Jordan moved for Jojo.
Claire: A lot of bachelorettes have moved in the past. But they've been a little more insistent in recent years. But I mean, come on, [Arie's] life is so pathetic. It's like, you really need someone to fit into your life selling real estate in Scottsdale, eating dinner with your parents every day? Wouldn't you clutch at the opportunity to move to New York and try something new and support a smart woman? No, obviously not. But don't worry, he doesn't see her ambitions as a hindrance.
Claire: Just an obstacle they'd have to get through.
Emma: I was like, "Do you know what the meaning of the term obstacle is?"
Olivia: Nope. He's a joke.
Claire: He's just like, "I don't want to say that they'd be an obstacle, but they would be an obstacle." Just cuz you said it in two different words doesn't mean you get credit. He wants to be so feminist, but his desires are so retrogressive.
Do people love "The Bachelor," "The Bachelorette" and "Bachelor in Paradise," or do they love to hate these shows? It's unclear. But at "Here to Make Friends," we both love and love to hate them — and we love to snarkily dissect each episode in vivid detail. Podcast edited by Nick Offenberg.
Support HuffPost
The Stakes Have Never Been Higher
Related
Popular in the Community