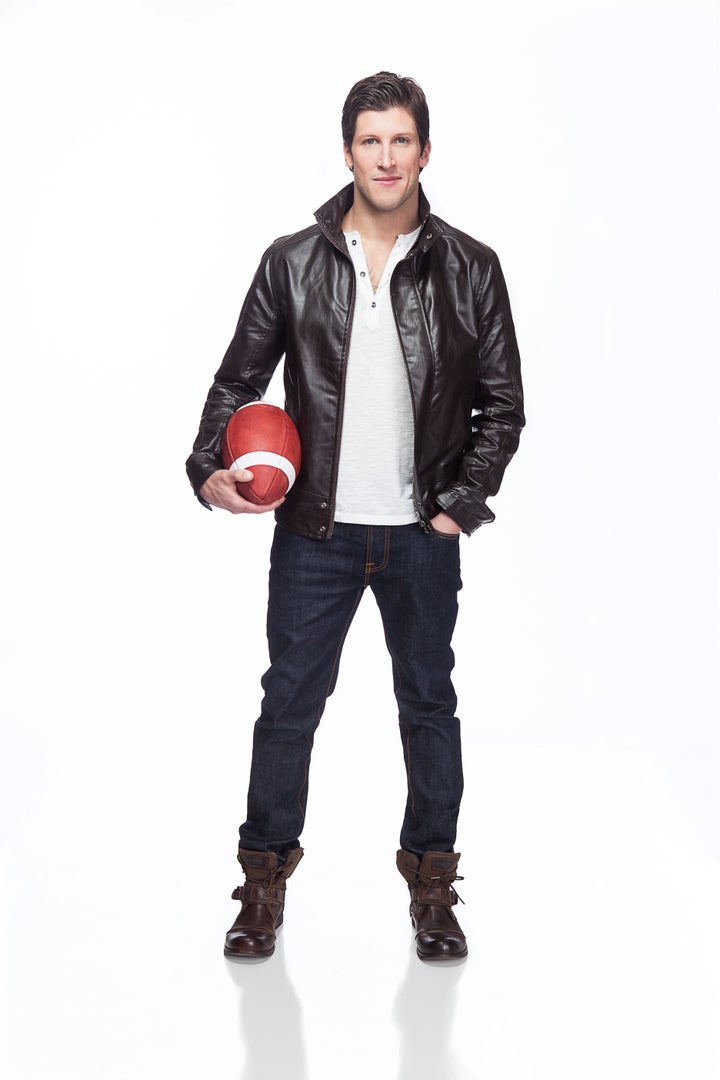 May you not embarrass us with a vaguely familiar, low-budget take on this beloved classic.
May you not assault our eyes with a barrage of backwoods butterfaces.
May you not shoot a romantic one-on-one date in the nickel mines of Sudbury or some other obscure and embarrassing landmark.
May you not force the cast to travel in the likes of a Ford Focus.
You've already chosen an unemployed CFL player to represent the cream of Canada's most eligible crop so you really have your work cut out for you. Please, oh, pretty please -- just make us look cool.
As our Disney prince lookalike Brad Smith burst onto the scene by exploding out of a swimming pool in slow motion, water droplets cleaving to his tattooed pecs, I thought to myself, 'OK, this looks familiar. Maybe this will work.' And despite the absence of Chris Harrison, there was something oddly comforting about Tyler Harcott's voice. Could it be because his narration sounded like the in-flight instructional videos you're forced to endure to learn how not to die in a plane crash?
After spending a few minutes getting to know Brad and hearing his woeful tale of getting caught up in the life of a professional athlete (on a Canadian football player's salary, I'd be really curious to know what exactly that entails), we got down to business, meeting the 25 'beautiful' (aka 'decent') bachelorettes. Usually this first episode is a blur of cringe-worthy moments, fashion crimes and an unbearable number of awkward lean-ins as said bachelor and bachelorettes try to navigate the uncharted waters of meeting and trying to connect. It's hard not to get too attached but it's important to keep your head in the game, people. We must remember that, in the first episode, 10 hopefuls will hit the cutting room floor and only 15 will remain to battle it out for the next rose. Though in last night's case, since Brad was thinking with both of his heads, one extra girl got to stay.
This show wouldn't be the same without at least three girls unleashing awkward gimmicks on the bachelor in the hopes of landing the coveted 'first impression rose' so I was glad to see the Canadian girls didn't disappoint. There was the obligatory cheer (with pom poms, no less) from Jessica, the standard stiletto removal/random display of athleticism (Kara), the embarrassing fall from the combination of five-inch heels on a wet driveway (poor Fawn almost became roadkill) and the well-rehearsed and utterly creepy sex-infused statement like 'I've waited too long to let go' (said by Whitney as she hugged him for a really, really long time). When it came to cheesy lines, though, I was surprised that most of them were actually from Brad. He wasn't even flattering the girls themselves -- it was more like "OMG those are the cutest shoes ever!" and "I totally heart your dress!" Interesting.
Right out of the gate, we're met with a whole bunch of train wrecks, a heaping portion of implants (who knew?) and a slew of grandmother-of-the-bride specials from the Dress Barn clearance rack. Let's start at the bottom and highlight the notables:
We've got Mindy, the wannabe funeral director/photo lab employee (people still develop photos?!) proclaiming open season on love right before she heads off to murder an innocent animal. Despite her best attempt at a well-executed intro to Brad (which appeared to be an audition for some sort of Hunting Network TV show), Mindy and her woolies and hikers are sent back to the woods.
Kicking it up a notch, we get to Melissa, the single mom/Playboy model in desperate need of love and Proactiv Solution. Since my toddler has something similar, I'm desperately hoping that headband she sported was some sort of homage to her daughter and not an accessory she actually felt was appropriate for that dress. And in the same vein, there's Amber, the strip club server who rode in on her motorcycle. If nothing else, Amber's brief presence on the show proves without a shadow of a doubt, if you name your child Amber, this is what happens. It's practically science.
And ... Rebecca -- or should I say, Bubbah -- a girl who I would bet my life can belch the alphabet. I totally felt for the girl; it doesn't take long for a roomful of skinny bitches to beat the self-esteem right out of ya. Even with her alcohol-induced slurring, the girl did make some points, such as the "For Mindy???" argument, that were right on the money. With Rebecca knocked out the first episode, I'm already missing her. I mean who doesn't want to spend more time with a chick who proudly proclaims "I don't chase dick!" on national TV?
And then there's Chantelle, who might as well have rode in on a unicorn with a smattering of fairy dust trailing behind her. Yes, she is sweet and adorable in an Anna Faris-blank-stare sort of way, but does she actually think she can compete with these girls? Has she dranketh too much from the sacramental cup? I don't care who she's got on her side, this is not God's country. This is Bachelorville.
Sigh ... Gabrielle. How much did Daddy pay to score his little princess a spot on the show? Next time, ask him to throw you a few extra bucks so you can invest in some better quality boob tape for your dress. I wonder if you'll be the girl who complains about not getting a one-on-one date. And while you're complaining, why don't you insult Brad's one and only passion? It's always nice when a girl ridicules you on your first date, no? The only thing I can credit Whitney with last night is not giving into Gabrielle's ridiculous attempt at bullying her and walking away. If I were Whitney, I may have put some of my boxing skills to work.
It's pretty clear that Whitney, despite the fact that her dress needed a whole world full of alterations, will follow in the footsteps of many former "Bachelor" villainesses. I for one am happy to sit back and watch the predictable outcome of Brad falling under her spell (case in point: she snagged the 'first impression rose'), rounding the bases with her, crying over her and then tossing her. Unfortunately, despite appearing as the most confident girl ever, there were moments of insecurity that shone through, such as her desperate attempt to straighten out her necklace while exiting the limo and stumbling to walk properly towards Brad while appearing mysterious (we know, honey, multitasking is hard).
Finally amongst the standouts, there's Bianka, who clearly has a penchant for pro athletes since she's coming off of her relationship with Kim Kardashian's ex Kris Humphries. To be honest, I actually found her pretty normal, and down-to-earth so I'll leave her alone -- for now.
The rest of the girls were basically a blur of people named Michelle, some alarmingly tall girls, primary-coloured dresses that vaguely resembled bridesmaids gowns I recently sold at a garage sale for $10 apiece and classic Canadian charm including an actual apology for interrupting Gabi's one-on-one time (truly astounding). Of course there were also a couple of drop-dead gorgeous gals, like Ana (who accepted a final bonus rose on behalf of her body) and Nicole, who I'm trying to forget in an effort to feel better about myself. Other than a brief interruption from Jillian Harris, my all-time favourite bachelorette who didn't come along to compete on the show as I hoped but rather to 'help' Brad make his first cuts by forcing the girls to compare themselves to animals (or more likely came to 'help' raise the ratings on the show' with a brief appearance), the first cocktail party went off without a hitch!
With the first rose ceremony behind us and a fond adieu bid to Mindy, Jessica, Tracy, Tina , Fawn, Rebecca, Clarice, Amber and Sandy, we can focus on the season ahead, which, in my opinion so far, looks pretty tasty.
I will be ready each week to bear witness to the inevitable catfights, nip slips, and tantrums that are "The Bachelor." If you're a true "Bachelor" fan, don't turn up your nose at our homegrown version. If you think about it, all that's missing is Chris Harrison and really, what has he done for you lately?
Will Brad find love in beautiful BC? Will there be a second season of Canada's "The Bachelor"? Only time will tell -- see you next week!
Following the premiere, the series moves to its regular timeslot Wednesdays at 9:30 p.m. ET/PT, beginning October 10, on Citytv.
PHOTO GALLERY
'The Bachelor Canada' Contestants
REAL LIFE. REAL NEWS. REAL VOICES.
Help us tell more of the stories that matter from voices that too often remain unheard.