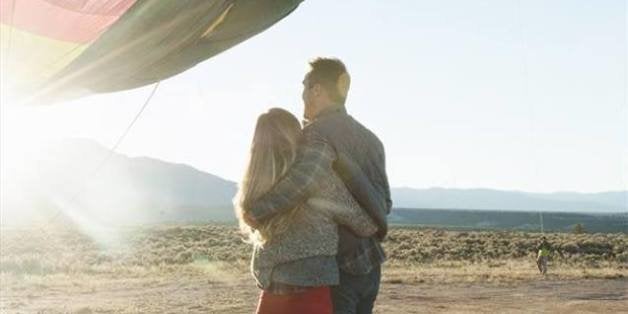 Welcome back to the wonderful world of white wine tears, roses, grammatical incorrectness and two-month journeys toward engagement. That's right, "The Bachelor" has returned -- this time with Chris Soules, the all-American, corn-loving #PrinceFarming at its helm. This season, we'll be recapping the highlights of each episode.
11 Things We Learned From Prince Farming's Journey This Week
1. Santa Fe isn't a beach town or in Mexico, and people don't walk around wearing sombreros, but it is the "perfect place to fall in love." The gang is off to New Mexico this week. Unfortunately, it seems that Megan needs serious lessons in both geography and cultural sensitivity. "Culture shock," indeed.
2. Never take advice from a "love guru." Carly snags the first one-on-one date of the week, but it quickly becomes the season's most uncomfortable date when she and Chris go to see a "love guru" named Tziporah. Turns out exploring "intimacy" means slow-mo stripping, wearing white linen, breathing into each other's faces and awkwardly wiping chocolate strawberries on each other's lips. Poor Carly.
3. Chris struggles with openness… and words. With each passing week, it becomes abundantly clear that our fair farmer has not mastered the language of love -- or any language for that matter. Carly confesses that she feels bad about her physical appearance, saying, "If I knew that a man felt that way about me, I'd stop having that insecurity" -- insert PSA about how you don't need a man to feel freaking awesome about yourself, here -- but poor Chris seems stumped on how to respond. He settles on offering her the rose.
4. If you have a medical condition, it's probably just a ploy for male attention. On this week's "I want an outdoorsy woman so do this outdoorsy activity" group date, poor Jade gets thrown from her raft into the river by the rapids. Despite Megan's predictions, there are neither alligators nor dead bodies in the water, but Jade does have a medical condition that forces her body into hypothermia even in normal temperatures, so her feet and hands go numb. Chris, being the gentlemanly farmer he is, rubs her feet until she recovers a bit of feeling in them. Obviously, this means Jade is an attention-grabbing faker. "I'm fine. I'm not gonna get any attention because I'm fine," says Kelsey, laughing maniacally. (This is what we like to call "foreshadowing.")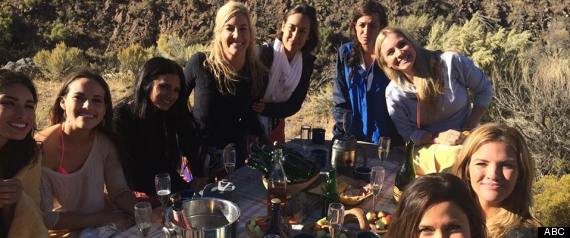 5. In the game of (reality TV) love, there are no second chances. Jordan -- who I had zero recollection of until she started talking about her drinking habits -- is back! The poor girl "drove all the way from Colorado" to attempt to woo Chris after being kicked off during week two. Chris allows her to stay for the second half of the group date and the other women are not pleased. Ashley I. basically morphs into a Kardashian-looking Regina George. Eventually, Chris sends Jordan home (again), and spends the whole time talking about how hard this is for HIM... because he's a MAN. And as a MAN, he has to send her home. Poor dear.
6. Mackenzie not only speaks to aliens, she speaks the truth. "I've never seen anything bad in Whitney," she tells a bitter Ashley I. "I just don't think you like her." This is what honesty looks like, y'all.
7. The key to "waking up like this" is to wear a full face of makeup to sleep every night. With glitter. Just take a cue from 4:30am Britt and you'll be ***flawless. (And by flawless I mean your skin will never ever be able to breathe. Don't do this.)
8. There's no greater horror than actually enjoying your single life. While Britt and Chris are on their sunrise hot air balloon date, the girls get to do a little shit-talking back at the house. It turns out that Britt once told Ashley I. that she likes being single -- THE HORROR -- and that her ultimate goal in life isn't just getting married and having babies.
9. Never ever break the fourth wall. (Also probably don't call the story of your husband's sudden death "amazing.") Kelsey emerged as the newest brand of "Bachelor" villain last night. Nervous that she might get sent home, she goes over to Chris' hotel room to emotionally bond with him over her widowhood, and it seemed to work. The practice of "opening up" about your tragic past is de rigueur on "The Bachelor," but Kelsey crossed the line into slightly unhinged territory when she began dictating the emotion that we, the audience, should feel about her narrative on camera. Kelsey, don't you know this is an editor and producer's game, not the contestants'?
"Isn't my story amazing? It's tragic… but it's amazing. I love my story," she says, as the token scary/crazy music plays behind her. "This is a show about Chris, but this is my story too... Mondays, at 8!" Oh no.
10. Widow trumps virgin. As Ashley I. learns the hard way, being a virgin isn't actually sad, but losing the love of your life is. "My story is obviously nothing compared to hers," cries Ashley I., after she learns that Kelsey snuck some solo time with Chris. "And now it's just a comparison game of sad stories."
11. When in doubt, bring in the EMTs. Sadly, we never get to the final rose... or the rose ceremony at all, because a panicked Kelsey somehow ends up on the ground clutching her chest and faux gasping about her panic attack. Nothing to spice up a super boring season like a surprise 911 call!
And The Final Rose Goes To...
SAFE: Carly, Whitney and Britt all have roses.
ELIMINATED: No one, thanks to Kelsey. To Be Continued...
Next Week, On "The Bachelor"
Ashley I. tears! More tears! Even more tears! A dramatic two-on-one! Humiliation! Runaway! More Ashley I. angry tears!
The Best Tweets About This Week's "Bachelor"
Related
Popular in the Community