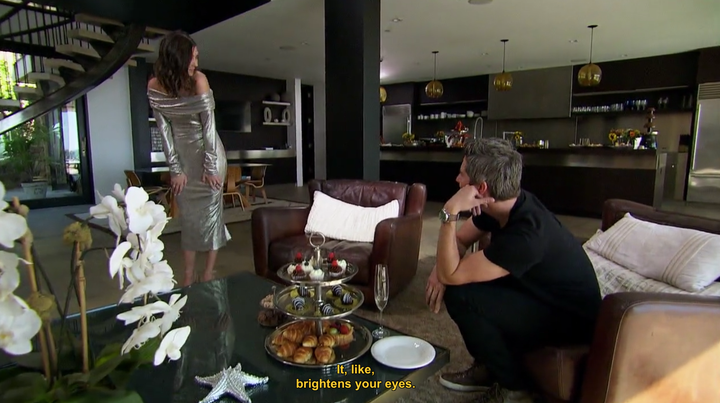 Well, we've made it to Week 2. Arie Luyendyk Jr. put his foot on the gas pedal during his race for love on "The Bachelor" in a major way. (Get it? Get it? Racing puns?)
This week, "The Bachelor" showed us two very intense one-on-one dates. On one, we were sold Arie the Family Man ― an inordinately tidy condo, lots of family photo albums, and parents who have been married 30-plus years. On the other, we got Arie the Sugar Daddy ― Neil Lane diamond earrings, Rachel Zoe gowns and twirling requests. It all felt a bit ... off?
Taylor Nolan: The first date felt like an ad to me.
Emma Gray: Yeah, it was a gifting suite.
Derek Peth: And then they sent her back to the mansion to show everybody what she got!
Claire Fallon: I thought the date was over, and it completely disoriented me. I was like, are they doing roses later? Is there no night date?
Derek: She's the one that got the mafia guy that Neil Lane sent, right? [mafia voice] "Neil sent this. It will self-destruct in 5 seconds if you don't open it right now."
Claire: Yeah I felt really weird having Arie take a younger woman out and just give her a bunch of stuff. And even the way he acted during it was very [off]. He was like, "I'm just gonna sit back here and eat."
Taylor: Someone tweeted, "This is the perfect date, start to a great relationship because you get treated like a princess, but then also get to talk and get to know each other." And I was kinda like, I wouldn't wanna be treated like a princess. That almost ... not only is he placed so highly on this pedestal being "The Bachelor," but he's also giving you all these things. And that would just feel kind of uncomfortable to me. 
Derek: What did you think this date should have been renamed from "The Bachelor" to?
Claire: That's really what it felt like. It's just kind of icky to watch. The part where he kneeled down and opened up the box with the shimmery Louboutins in it...
Emma: And then there was the asking her to twirl, which I just had a visceral reaction to. The whole thing ... set up an odd power dynamic. Like, she's almost a decade younger than him, which, that's fine, she's an adult. But add that to the fact that he's the lead, they don't know each other at all at this point and he's just gifting her things and then watching her enjoy them.
Derek: That was the part that made me feel weird. That he's just observing and watching her. 
Taylor: I feel like if I was her, I'd feel this weird sense of "I owe you something now." And the only thing I can really give you in this [situation] is just being so enamored and infatuated with you. So now it's kind of like, I owe this to you. That would have made me feel really weird.
Claire: I always remember that on our second date, my husband took me to accidentally a really nice dinner. It was just a restaurant nearby and he was like, "I've always wanted to go here!" And I was like, "It's New Year's Eve, this is gonna be intense!" It was prix fixe, it was really expensive, and I was so nervous I downed three margaritas right away. It just feels weird. We're getting to know each other as equals, and suddenly he's like, "I'm spending $300 on you," and you're, like, "Not cool anymore! I feel like things are expected of me. Like, I have to perform and you're paying me for your company and I have to..."
Emma: ...deliver in some capacity!
Taylor: Like, I have to give you the best twirl. [Laughs.]
Claire: And I think that women are socialized to respond to that, so some women are comfortable with it. And Becca seemed comfortable with it, but it was really weird to watch. 
Do people love "The Bachelor," "The Bachelorette" and "Bachelor in Paradise," or do they love to hate these shows? It's unclear. But at "Here to Make Friends," we both love and love to hate them — and we love to snarkily dissect each episode in vivid detail. Podcast edited by Nick Offenberg.
Calling all HuffPost superfans!
Sign up for membership to become a founding member and help shape HuffPost's next chapter
BEFORE YOU GO