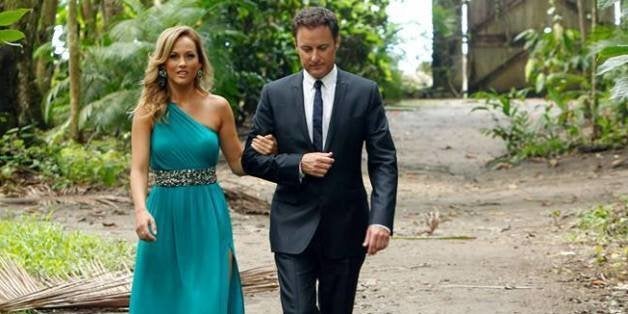 After seeing "El Bachelor" go on an "aventura" for 2.5 months, all the while digging himself a slut-shaming hole bigger than the Grand Canyon, viewers got to watch in horror/relief as Juan Pablo got subtly insulted by his family members, nearly got dumped by Clare, wooed Clare back in order to dump her, and chose Nikki as the woman he would not like to marry (but would totally fake date for Us Weekly cover purposes). While this season of "The Bachelor" has already deftly exposed the show's weird sex issues and some uncomfortable dating truths, last night's episode gave us some insight into who the real winners -- and losers -- of the season are.
WINNERS
Chris Harrison
After seasons of being primarily relegated to saying "this is the final rose," this finale was host Chris Harrison's time to shine. Here is a quick sampling of Chris' flagrant contempt for Juan Pablo:
--"So... no regrets?"
--"I don't know what I'm looking at."
--"I'm gonna say congratulations. I think that's the right thing to say in this situation."
--"Shower that one off?"
--"Well, another season of 'The Bachelor' has come to an end. Not gonna lie, I'm OK moving on."
Oh, Chris. I think we all are.
Andi Dorfman
After being smart enough to dump Juan Pablo before he had the chance to dump her -- and epically telling him off for being a generally sh*tty date in the process -- Andi was rewarded with a whole lot of audience goodwill and the "The Bachelor" franchise's biggest prize: the chance to star in her own season of "The Bachelorette" and find someone to get engaged to for a couple of months. Here's hoping we get to see her grilling her guys on their political views and religious convictions.
Clare Crawley, Sharleen Joynt, Kelly Travis And Every Other Woman Who Juan Pabs Didn't Pick
"I would never want my children having a father like you," said Clare as she left Juan Pablo in St. Lucia. Bullets? Consider yourselves dodged.
LOSERS
Nikki Ferrell
Don't worry, Nikki. There is a very simple way to move yourself out of this category -- dump Juan Pabs. He may not be willing to say he loves you, but somehow I suspect you're not that into him either. (And you get bonus points for pushing back on Chris Harrison's insistence that saying "I love you" in front of a live studio audience means anything about the substance of a relationship.)
Juan Pablo
"Ay yay yay," Juan Pablo. What a "journey" it's been. He ended his adventure with no fiancé, few fans and, perhaps most tragically in his eyes, no "Dancing With The Stars" contract. Maybe the yellow M&M will still have him.
WINNERS/LOSERS
The Viewers
As anyone who has been sucked into "The Bachelor" web of poorly-conceived metaphors, utter ruin of the word "journey" and faux love knows, watching the reality show week after week is a truly masochistic experience. But somehow, watching a repulsive bachelor like Juan Pablo made for far more interesting television. We collectively realized that there was something more satisfying about watching the female contestants become self-aware and direct their frustrations toward a sexist prick than waste time cutting each other down.
But after 10 weeks of Juan Pablo's homophobic comments, tweets making fun of mentally-impaired people and general douchery to women, "Bachelor" viewers could only take so much of his reality. We're ready for a little fun. So bring it on, Andi Dorfman. We know your gun-toting, gang-prosecuting, no-longer-ombré-haired self can deliver.
The Best Tweets About "The Bachelor" Finale...
Popular in the Community