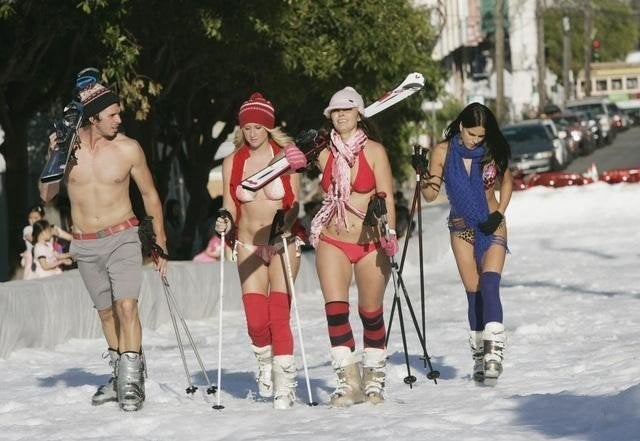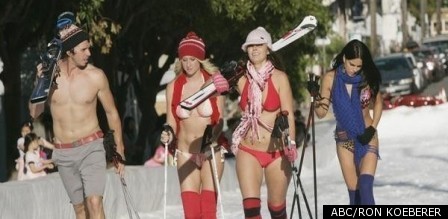 Note: The following contains spoilers if you have not seen Season 16, Episode 3 of ABC's "The Bachelor."
I began rolling my eyes roughly three minutes into last night's episode of "The Bachelor," fearful that the show was losing steam early into the season. It's week three and Ben already has Emily, who is studying to secure her PhD in germaphobia, scaling the steep incline of the Golden Gate Bridge. Not a single viewer watching was surprised to learn that Emily had a fear of heights and the process of overcoming this fear with Ben is a direct metaphor for their nonexistent relationship. Both blabbed on about "getting through this" and "overcoming challenges together will make us a stronger unit" and Emily even went above and beyond this tired scenario by saying that "bridges bring two things together."
I took a sip of my beverage of choice and wondered if the producers scripted that line so this date wouldn't sound exactly like Jake and Vienna's bungee jumping adventure however many seasons ago.
Fortunately, ABC threw me a massive curve ball with the remaining 90 minutes of the show, proving that they will stop at nothing to keep this game in extra innings.

TOP FIVE SAVES IN SAN FRANCISCO
1.Snow Skiing In Streets
Ben has always wanted to snow ski in San Francisco. Who hasn't? It's a good thing the fine folks over at ABC made the intern do his bidding. After some blatant Honda product placement, a gaggle of ladies freaked out at the sight of a snowy street, mercifully lined with rows of protective hay bales and innocent bystanders. FUN! And who wouldn't want to speed down the manufactured slope in nothing but a string bikini? Sign me up! Hands down, the most entertaining part of the date was when Kacie B. accidentally, but gracefully, managed to bend over and ski backwards down the hill while holding on to her own ankles. With the bounty of boobs and butts whizzing by, onlookers were likely convinced they were watching a scene from the upcoming adult film "Debbie Does Downhill." You can imagine one mom's disappointment when she learned that this exhibition would be available on primetime television in January. Wholesome education for the whole family!
2. Like Ashley, Nana's Granddaughter Also Manages To Reject Ben
Nana's Granddaughter received the second one-on-one date along with a fake key to the city disguised as a piece of Neil Lane jewelry. Nana's Granddaughter was not feeling the love for our Bachelor and decided to be true to her heart by leaving before the date. First Impression Lindzi managed to not be offended by her JV status and even thought Ben was super cool for arranging a private concert in City Hall for just the two of them. We can only assume the place was so dark because several people were scrambling to yank the "WELCOME BEN AND NANA'S GRANDDAUGHTER" sign from the balcony. At last! The super special musical guest! Was it Ben's piano muse David Gray? Was it "American Idol" season eight winner Kris Allen? Was someone ever going to tell us who that dude was singing? Ben finally let the cat out of the bag and announced that Matt Nathanson was the somewhat obscure, yet trendy artist. A quick Google search will remind you that he sings that "Come On Get Higher" song which remains in your head until this very moment. Meanwhile, Nana's Granddaughter sold a certain piece of "Bachelor" history on eBay for $40 to the highest bidder. That should buy a few batteries for Nana's hearing aids. Silver linings are cool.
3. Bring Back A Former Contestant
The best part about the former contestant, was that this was a girl from another season. Shawntel, the funeral director from Hotter Than Crap Brad's escapade, was totally in love with Ben, called Harrison and demanded to be a participant in the rose ceremony. Always eager for a good laugh, Harrison obliged by taking his stick and poking the beehive ever-so-slightly. Shawntel was not welcome into the fold and ABC's swear sensor worked overtime. Nicki was drunk, hiccuping between cries. Jugs McGee heaved her bosom in angst. Elyse the Personal Trainer was going to punch someone if a bag was not soon provided. Courtney the Model threatened to walk and on a scale from one to 10. And Jaclyn was going to throw up, although she never actually gave us a number in order to gauge her likelihood of hurling. Clearly, the wheels have all fallen off this crazy train. It was glorious.
4. Have the Lawyer Faint
Erika Esquire began to feel a touch woozy at the rose ceremony. I'm guessing that she didn't follow the age old rule that you never stand at a rose ceremony, wedding or pageant with locked knees. Or it could have been that it was approximately 4 a.m. and she was on a steady diet of appetite suppressants chased with bourbon for the past nine hours. Jamie the Nurse was available to offer all sorts of medical advice. Too bad she couldn't crouch down beside the attorney and offer her full support due to her tight cocktail dress. Shawntel called dibs on the body if things went south, but Erika ended up being fine. Nothing a few saltines and some time with her head between her knees couldn't fix.
5. Don't Hand Out the Final Rose
Ben milked the last rose for all it was worth. He told the remaining three girls that they were aces before sending them all home bud-less. Jaclyn stormed into the bathroom. On a scale of one to 10, she hyperventilated. Esquire Erika was checked for a pulse before an intravenous line was inserted. Ben walked Shawntel out to her car to say goodbye. The two agreed to be alliances on the next "Bachelor Pad" before fist bumping and blowing it up.
You pulled me back in ABC. It was a stellar final hour. Here's hoping next week's episode does not disappoint! To read the entire recap, visit www.iHateGreenBeans.com.
"The Bachelor" airs Mondays at 8 p.m. EST on ABC.
For more on what to watch this week, check out the slideshow below:
PHOTO GALLERY
What To Watch: TV Picks For January 16 - 22
Calling all HuffPost superfans!
Sign up for membership to become a founding member and help shape HuffPost's next chapter