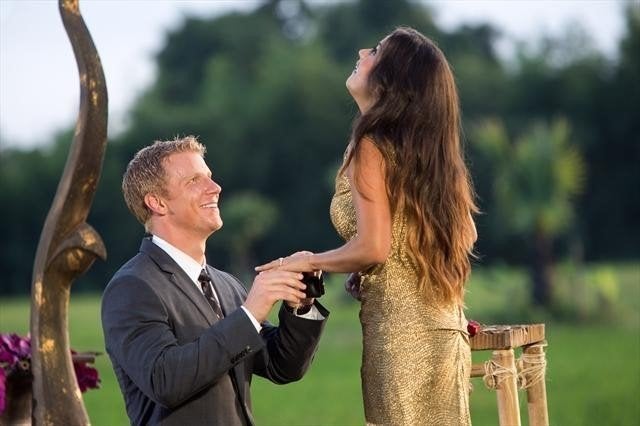 It's been a long journey, filled with roses, meltdowns and excessive shirtlessness, but last night Sean Lowe's search for a fiancee on national television came to an oh-so-sweet end. Some (aka the always-hyperbolic Chris Harrison) might have even called this "fin-aaah-le" "historic," because -- wait for it -- there was some "late breaking news" about Sean that ABC could unnecessarily build up over three hours. In case you weren't glued to your TV for eternity last night, here's what happened:
Sean's family has arrived in Thailand -- which is still the "most beautiful country" ever -- and he hopes they bring him some "clarity" about which lady to propose to. His mom, dad, sister, brother-in-law, niece and nephew are there to grill the ladies. But the real shining moment is when Sean's adorable nephew takes him down a notch and reminds him that "Emily didn't pick you." Way to keep Shirtless Sean humble, kid.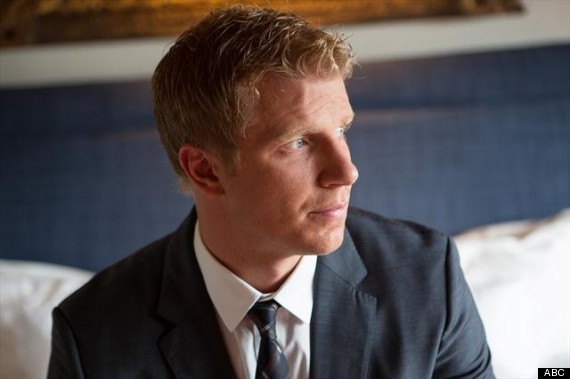 It Pays To Be "Weird And Funny"
First up to meet the fam is cute and quirky Catherine. The audience is reminded for the 400th time that Sean and Catherine are both "weird and funny." Sean's dad, Jay, is surprised to learn something new about his son. "We didn't know you were weird and funny," he says, echoing the thoughts of everyone watching. Catherine arrives and quickly wins over Sean's family with her stories of playing sixth-grade all-boys football and subsequent cheerleading. She tells Sean's mom all about the adorable little notes she gave him throughout the season and assures her that if Seany-boy pops the question she'll be on board. "I would never want to let him go," she says. This seems to please HIS mom, though she has the 100 percent rational thought that perhaps Sean should spend more time with these women before he's pressured to propose.
During Catherine's one-on-one with Jay, she says that she and Sean spend all their time "laughing and eating," and really, there's not much that's more important in life. That's when Sean's dad wins reality TV. "If you're the one Sean ends up marrying, you'll never have a bigger fan than me," he says to the woman who's father is sort of MIA in her life. "I'll love you like my daughter." (Cue 50+ tweets about how Jay should be the next "Bachelor.") Catherine stars crying -- duh -- and says her goodbyes.
From Girl-In-A-Wedding-Dress To Almost-Fiancee
Catherine may be great -- but so is Lindsay! Sean walks pensively around a Thai pond but perks up when Lindz arrives. "I feel so close to being Sean's fiancee," she says. Sean's fam soon warms to his second suitor but just has to mention her sloshed-in-a-wedding-dress "Bachelor" arrival. To her credit, Lindz has a good sense of humor about the whole thing. During her one-on-one with Jay -- who is wearing a hot pink T-shirt under his button-down -- Lindsay tells him that "I wanna hang out with [Sean] for the rest of my life." She also successfully answers all of Sean's dad's pre-marriage interview questions and they both LOL when she asks for Sean's hand in marriage. (Get it? Get it? Ladies can't ask dudes to marry them! Silly Lindsay.) Lindz also hits one out of the park with Sean's mom, telling her that her relationship with Sean is "real and normal." Because what could be abnormal about two months of reality-TV dating? Sean's mom approves of Lindsay and they both cry.
Now everyone's just so confused! "Shall we vote?" suggests Sean's dad. Sean is just pleased that his fam got to see how much Lindsay loves and adores him. But now he's -- in the words of Natalie Imbruglia -- "torn." Sean's mom has the audacity to suggest that perhaps if Sean doesn't know who he wants to propose to three days before it's happening, maybe he should wait and not ask either of them to marry him right now. This idea doesn't sit well with Sean, because what would "The Bachelor" be without a giant rock on a lady's finger at the end?
The Date That Was "24 Years In The Making"
Lindsay shows up for her final date with Sean in a bold pair of pink mini shorts, and they're off for a day of Thai river-rafting. They spend a lot of time reminiscing about "how far [they've] come" and talking about how they'll be besties till they're old. According to Lindz, Sean is her BFF, which seems problematic since she's only known him a couple of months. "You know me really well," says Sean, who then proceeds to guess Lindsay's height wrong. And since Lindsay is "more than crazy fun," they write wishes for happiness, love and family on lanterns. Because that's what true lovers/BFFs/almost-fiances do. "This moment has been 24 years in the making," Lindsay says, reminding us all that she's only 24 and is ready to be a housewife in Dallas.
An Elephant Never Forgets (To Say I Love You)
Sean is still unsure what to do when he meets up with Catherine for their last pre-proposal or dump date. Cath does the old "run and jump into his arms" move -- a "Bachelor" classic -- and then gets even more excited when she realizes an elephant is joining their date. (Totally understandable.) They ride the elephant together, as truly committed couples do, and Catherine feels out of control yet stable because ... SEAN. After admiring the Instagram-worthy views of Thailand atop an elephant, the couple gets back onto land for some real talk. Catherine starts to "open up" but finds it difficult since Sean can't really reciprocate. "I feel a lot," she says, being deep. She finally whispers "I love you" into Sean's ear, to which he responds, "Thank you for today." Not exactly what a woman wants to hear. Catherine is pretty unhappy so she follows Sean outside and they say goodbye again. Unfortunately it doesn't get any better and the night ends with Catherine crying face-down on a bed. "I feel like sh*t, honestly," she says.
Neil Lane Meets Shirtless Sean
The next morning, Sean wakes up shirtless and full of decision-making skills. He's made up his mind and is off to pick up a blinding rock from none other than Neil Lane. After choosing a particularly sparkly ring, Sean gets suited up and ready to propose/dump. We see Lindsay all dressed up in a metallic silver gown, while Catherine wears a blinding gold one. (Is this supposed to be subtle, color-coded foreshadowing, producers?) While both of the final two ladies talk about how excited/nervous they are, Sean stands on a pretty platform near a pond. Of course, before ABC will let us get to the actual proposal, we have to check in with Chris Harrison and his live studio audience, which includes some of Sean's ex-"Bachelor"-girlfriends (Lindsay, Sarah, AshLee and Jackie).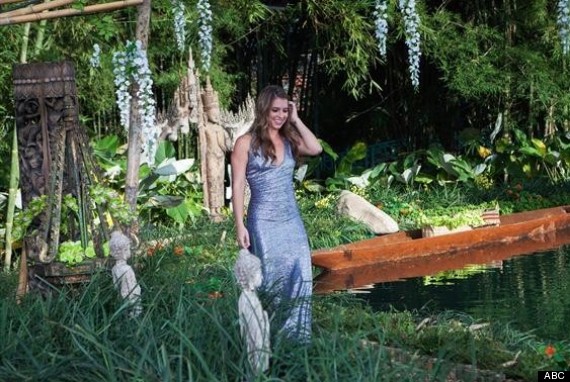 "It's Final Decision Time"
Lindsay gets escorted out of the car by Chris Harrison first, which means that she'll be the one getting the ax. After her astoundingly long walk from the car to Sean, Mr. Lowe launches into a well-planned speech about how amazing Lindz is ... but his heart is "leading" him elsewhere. Apparently, he prayed for clarity, and he knew he had to go with Catherine. But he loves Lindsay too. "It's OK, please just don't," says Lindz, trying desperately to leave the situation with her dignity and mascara intact. "OK, well, I'm gonna go because this is really painful," she says. "This is my nightmare ... I'm happy for you, but I honestly can't imagine my life without you." Lindsay then takes off her heels to walk out and suddenly becomes 100 times more likable than she's been all season. Respect, Lindz. No one wants to balance in stilettos in the jungle -- especially after being dumped.
Riding Off Into The Elephant-Filled Sunset
BIG NEWS: Catherine left Sean a letter! ABC has been teasing it all season! But in reality, it's just a sweet note detailing how much Catherine loves Sean and wants to move to Dallas and be part of the Lowe fam. The letter makes Sean tear up, and we know we're in for an emotional proposal. Sean lights up when he sees Catherine and says he knew from the beginning that he wanted to be around her. "I miss you every time we have to say goodbye. I don't want to say goodbye anymore," he says, melting the hearts of everyone watching, including my own snarky one. Sean finally proposes and Catherine says yes to him and the giant sparkly ring. They make out on the platform and ride off into the sunset ... on an elephant. Well played, producers. Well played. Catherine + Sean = True Love 4eva.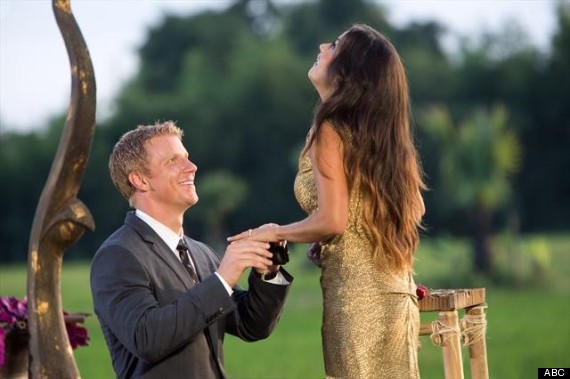 After The Final Rose
Immediately after the proposal airs, Chris Harrison brings Sean onstage, trying to convince viewers to stick it out for the third and final hour of this unnecessarily long "journey." "Take your shirt off," the audience immediately yells, because they have their priorities straight. "The best part of this is that I don't ever have to see you naked again," says Chris. Sean is just happy to be out of hiding and able to love Cath in public. But first they have to "deal with this bit of business," aka seeing Lindsay for the first time since Thailand. (Guess they're not besties for life after all.)
Lindz comes out looking super cute and dressed in all white. (Did the producers make her dress in bridal colors?) Lindsay assures America that she's "doing good." (Her grammar on the other hand, is not.) Sean tells her that he still thinks she's "phenomenal in every way" and really has no good reason for why he didn't pick her. Lindz handles the whole thing graciously and says she's very happy for him and thankful that she's grown stronger from the experience. "God reveals things in his own time," says Sean, implying that the big man himself chose Catherine. Chris informs Lindsay that her take-off-her-heels moment won everyone over and our fair runner-up makes a classy final exit with heels on.
Finally, Catherine comes onstage to join her now-public fiance. They're fairly adorable and love "everything" about each other. "Each day since the show I think our love has only grown stronger," says Sean. (Cue the collective "awwww.") They just want to hold hands and be in love, and after a few glasses of wine, my co-worker Emma and I are totally rooting for them. Also, turns out the big "late-breaking news" is that the newly engaged couple will be getting married on live TV, with the bill footed by ABC! Here's hoping they actually make it down the aisle ... preferably on an elephant.
For the final "surprise" of the evening, Chris Harrison announces that Desiree, a "fan favorite" from this season of "The Bachelor," will be the next "Bachelorette" this May. Des assures Chris that she can handle 25 men. "Bring 'em on," she says. Farewell until May, friends. I'd better soak up my reality TV-free Mondays while I can.
Final Shirtless Sean Count: 2
LOOK: The Best Tweets About "The Bachelor" Finale