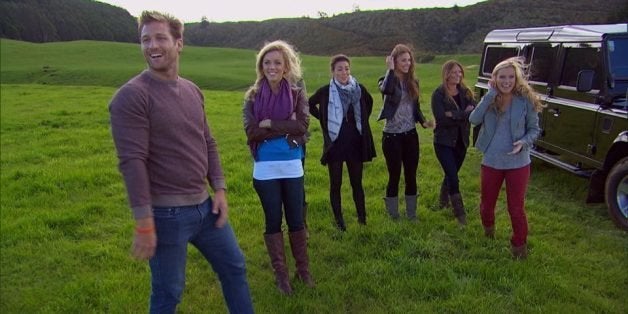 Welcome back to the wonderful world of white wine tears, roses, grammatical incorrectness and two-month journeys toward engagement. That's right, "The Bachelor," has returned -- this time with the increasingly detestable former pro soccer player and single dad Juan Pablo at its helm. This season, we'll be recapping the highlights of each episode in haiku.
13 Haikus About Juan Pablo's "Journey" Into The World Of Idioms
New Zealand is the
"Most beautiful place ever."
Every. Single. Week.
Dear Andi, there is
Nothing romantic about
Claustrophobic rocks.
Bachelor wisdom:
A waterfall is the best
Locale to suck face.
A big geyser blows
During Andi and JP's date.
That's a metaphor.
Six girls and JP
Hang with cows, then strip down and
Roll downhill in balls.
Sharleen: "You cut to
The chase." "It's inorganic."
JP: "Let's kiss more?"
Cassandra's feeling
22. And very dumped.
Worst or best bday?
Juan half says sorry,
Half slut-shames Clare. He's the worst.
Sadly, she accepts.
JP learns the word
"Bolt"-- which is what Clare should do now.
Instead, they make out.
Chris and JP chat.
Pretty sure even Chris is
Very unimpressed.
Nikki: "We have a
Unique connection." JP:
"I wear pink undies."
Kat's daddy issues
And penchant for journaling
Are her undoing.
Sharleen's skeptical.
She may leave next week.
What a smart woman.
And The Final Rose Goes To...
SAFE: Andi, Clare and a very skeptical Sharleen already have roses. Nikki, Renee, Chelsie.
ELIMINATED: Kat (Sharleen emotes more for Kat than she ever has for Juan Pabs. Totally understandable, girl.)
Next Week, In Miami...
Juan Pablo's hometown! Nikki's excited! She wants a forever! Sharleen has a little voice! It says it's "not right"! Sharleen's not sure! The people standing out doubt themselves! Nikki doesn't like Clare! You can't hide attitude! Clare won't let Nikki get away with it! Juan Pablo can't be happy! Juan Pablo tears!
The Best Tweets About This Week's 'Bachelor'...
Popular in the Community