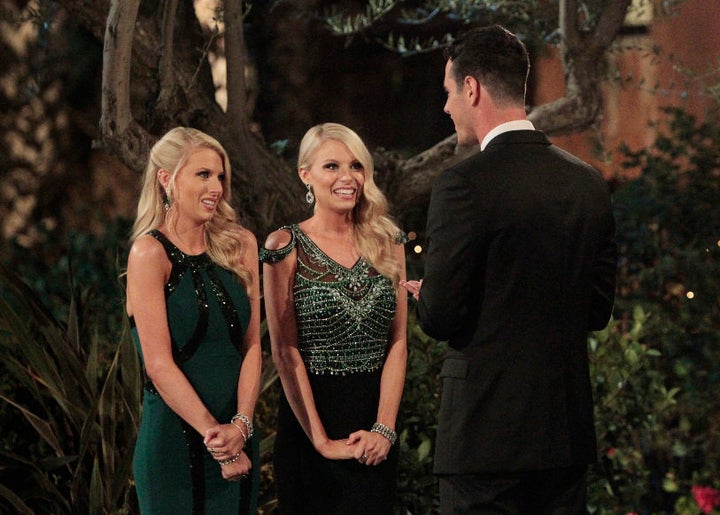 Slender, fawn-like blondes who waitress in Las Vegas, 22-year-old Haley and Emily stepped out of the limo together, hugged Ben together, flanked him on a Bachelor mansion couch for "one-on-one" time, and gave joint in-the-moment confessionals as the evening unfolded. "Group hug?" he proposed, with a disbelieving grin plastered all over his face, as the two girls emerged from the car.
We already knew from their too-cute bios ("Occupation: Twin") and brief glimpses in promos that their genetically cozy relationship would be played as a gimmick on the show. What actually went down Episode 1, however, wasn't just gimmicky: It was creepy.
Emily and Haley, admittedly, play up their hot twin-ness throughout the premiere. They say "Yes, please!" in unison, giggle musically in unison, ride a tandem bicycle (rather badly) in their intro video, and claim to be able to finish each other's sentences.
But come on, the producers know exactly what they're doing by casting beautiful, barely adult twins, having them exit the limo together, and positioning them together on a couch with Ben for what is, traditionally, his moment to get to know a contestant individually.
Emily and Haley are presented as a nubile, blonde package deal, though "The Bachelor" can get away with exploiting the sexual twin fantasy in early episodes by virtue of its marriage-based trajectory, which gives it plausible deniability for any sort of tawdry sexual tactics. 
Now, it's not entirely fair to ask why "The Bachelor" is obsessed with sexualizing twins. The show is simply the great mirror to our most tortured-Puritanical national neuroses. So it's more like ... why is American culture so wink-wink weird about twins?
Nothing encapsulates this preoccupation like those beer ad jingles you've had stuck in your head for the last decade-plus. In 2002, Coors Light commercials shredded eardrums across the nation with a Kid Rock wannabe drawling, "I. Love. Football on TV. Shots of Gina Lee. Hanging with my friends. And twinnnnsss!" You probably remember that song, those ads. And twins! 
The sexualized fascination with twins doesn't originate with that ad campaign, which was dreamed up by ad agency Foote Cone & Belding, but that song managed to crystallize it in a powerful, all-American package. In interviews about their hit campaign in 2003, the men behind the concept, Aaron Evanson and John Godsey, almost struggle to put the appeal of twins into words. "We were trying to think of what rhymes with friends, and then it hit -- guys like twins!" Evanson told The New York Times.
Godsey chimed in, "Triplets didn't rhyme." Charming. (Worse yet, octuplets didn't even come close.)
But seriously, what is it with guys liking twins? The creative director for the group at FCB behind the campaign, Chuck Rudnick, mused to USA Today, "Nobody would argue men love women, so why not two of them? That's why twins rings so true." Indeed, why not two?
Twins aren't just two women, though, especially in this commercial and on "The Bachelor": They're a matching set. The thrill, for a red-blooded, straight man (2003 was, it seems, a time before hot takes about heteronormativity) is almost blatantly consumerist. If you were buying two throw cushions, a matching set would be visually pleasing; if you have two hot women, it would be even sexier if they also matched each other! 
Throw pillows, of course, don't have an inner life or personality. Looking at women, who very much do, with the same "what if they matched?" superficiality might be the height of objectification. Their dreams, values, senses of humor, all are flushed down the toilet in favor of salivating over the fact that you can get double the sexy in the same model. 
The softcore wink at what men "really want" allows the incestuous undertones to be glossed over. But come on, we're not stupid. If the ultimate fantasy of twins were to be fulfilled -- not just looking at them, but having them there in front of you, interested and eager -- a threesome with matching hot women would be the logical conclusion of all this swooning over, as the ad puts it, "twiiinnnsss!"
Witness the group hug Ben Higgins is treated to by Emily and Haley, or the staging of the two of them seated next to him for their "private" conversation. The girls even repeat to him that they never date the same man; he's an exception. He's special, deserving of both. It's not just that they're there, confusing him with their identicality, it's that he can have two with the looks of one. 
And yes, the insinuation that twins will want to have sex with you, a normal American man, ignores the reality that this scenario is, basically, incest. In a patriarchal, heteronormative society, two women having sex with each other, or participating in a sexual act together, often isn't treated as real sex -- but it is. And for two sisters, as close as sisters can be, participating in a threesome together means sexualizing their closest family member. In the every-dude's fantasy, these just happen to be hot, matching women, but in reality, twins are real sisters with a real family relationship.
Am I being a feminist killjoy, trying to ruin the fun of "twiiinsss" for simple, goodhearted men across America? Yes. Yes, I am. But I kinda think treating women who happen to be born as twins with respect is a bit more important, and "The Bachelor" should be the one TV institution prudish enough to at least pretend to agree.
For more on the twins and beyond, check out HuffPost's Here to Make Friends podcast on the premiere episode of Season 20:
PHOTO GALLERY
Tweets About "The Bachelor" Season 20, Episode 1
REAL LIFE. REAL NEWS. REAL VOICES.
Help us tell more of the stories that matter from voices that too often remain unheard.