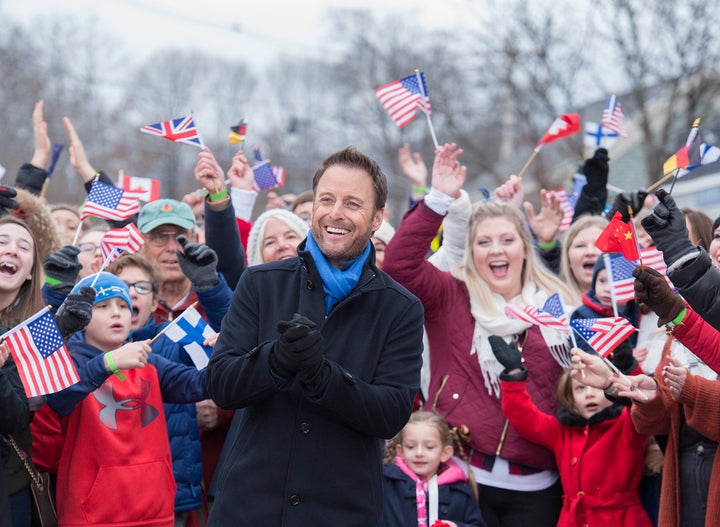 What would it look like if "The Bachelor" and the Winter Olympics got some alone time in the fantasy suite? America is about to find out ― and not just because Season 22 of "The Bachelor" will continue airing amid the hubbub of the 2018 Winter Olympics in Pyeongchang, South Korea.
If toggling channels to enjoy both winter sports and structured dating seems like too much work, ABC has helpfully combined them in "The Bachelor Winter Games," a dating and athletic competition show that will premiere Tuesday.
For months, ABC has been coy about the details of the "Bachelor" spinoff. The show, set to air Tuesdays and Thursdays for the next two weeks ― in direct competition with the Olympic Winter Games ― promises to feature snow sports, brightly colored parkas and, per promos, a great deal of crying.
But what can we really expect from the latest "Bachelor" franchise offering? How much athletic competition and how much searching for love? How would the two be combined into the perfect wintry mix of reality TV? Will it be worth missing, for example, a good chunk of the pairs figure skating short program?
On a "Winter Games" bonus episode of HuffPost's "Here to Make Friends" podcast, we got the scoop on the new "Bachelor" show from contestant Lesley Murphy, a travel blogger who also made a splash on Season 17 of "The Bachelor."
Emma Gray: What roles do love and dating play in this show?
Lesley Murphy: It's "The Bachelor" at the end of the day, come on! It's always going to be right there at the center. It's a good balance of competition, winter games, falling down hills, bad athletes on your TV screens, but also finding love. I think there's some love to be found on "Winter Games."
Emma: Can we ask if you might have found a love connection?
Lesley: Um... yeah, it's progressing into something like that. We'll see what happens.
Claire Fallon: That sounds like a yes.
Lesley: Yeah, it was... I went into it with a really open mind and came out with... with a boyfriend!
Claire: That's the best advertisement for the show!
Emma: And you don't seem to have broken any bones in the physical competition, so I think that's the best way you could leave the show.
Lesley: Well, yeah. Things heat up, but you'll have to see how it all plays out, because I think there is some drama, there's some love triangles.
Emma: What would a "Bachelor" show be without a few love triangles?
Claire: So, is the love woven into the competition? Are we going to see some sort of "win the downhill skiing and you will get a date" sort of thing?
Lesley: Yes, that's kind of how it happens. There's a women's heat and a men's heat, and whoever wins each gets a date card. That's how that happens. And then you can ask whoever you wish.
Emma: So are people encouraged to date across country lines?
Lesley: Oh, yeah, international couples are a thing.
Claire: Practicality has never been a big thing for "The Bachelor." It's like, "You're from Arizona, she's from Maine ― I think you guys could really make this work!"
Lesley: And that was really awkward/hard at the end of it, because there are a few couples that leave the show together and a lot of hard conversations have to take place. Because it's like, "OK, we live so far away from each other. How are we going to make this work?"
Claire: Would "The Bachelor" sponsor their immigration? How much are they willing to commit?
Emma: I want to see that commitment. Not just a televised wedding ― televised immigration proceedings.
Claire: It would be a quid pro quo. They'd be like, "You can be part of a five-part, quintuple wedding, and in exchange we will sponsor all your immigration paperwork and take care of you, but you have to get married on TV for us."
Lesley: I mean, twist my arm! Free wedding!
Claire: So are you going to show us any surprising skills? Are you a winter sports enthusiast?
Lesley: You will see me do pretty terribly at riflery. It's not even really a winter sport, but it was in Vermont, so... there's all kinds of crazy stuff.
Claire: Well, I think it is part of the Winter Olympics, right, because there's also the thing where they cross-country ski and then they shoot?
Lesley: Right, it's called the biathlon of the Winter Games. It is part of cross-country skiing. I thought I would do really well. But you'll have to see... but I think some other people were way, way behind me. It was actually really funny to see the guys do it, because I competed against all the women, so I [was] totally focused on getting across that finish line, not really looking at anybody else. But it's really funny to see the guys just fall face-first and go so slow that, actually, the interviewer was walking right alongside them, because they just had no skills.
Emma: I don't think it would be as fun if everyone was really good at the challenges. I want to watch "The Bachelor Winter Games" to see men embarrass themselves.
Lesley: It's going to be amazing, because we ski ― a lot of these guys haven't even put on skis before.
Claire: Did you get any coaching?
Lesley: Oh, yeah, we practiced for a good hour or two before.
Claire: Oh, that's enough!
Lesley: You can only do so much in a day, with so many people around! But yeah, I'm sure you've seen it from the "Winter Games" promo, just people flying down ski hills. It's great.
To hear more about what to expect from "The Bachelor Winter Games," check out the full episode:
Do people love "The Bachelor," "The Bachelorette" and "Bachelor in Paradise," or do they love to hate these shows? It's unclear. But at "Here to Make Friends," we both love and love to hate them — and we love to snarkily dissect each episode in vivid detail. Podcast edited by Nick Offenberg.