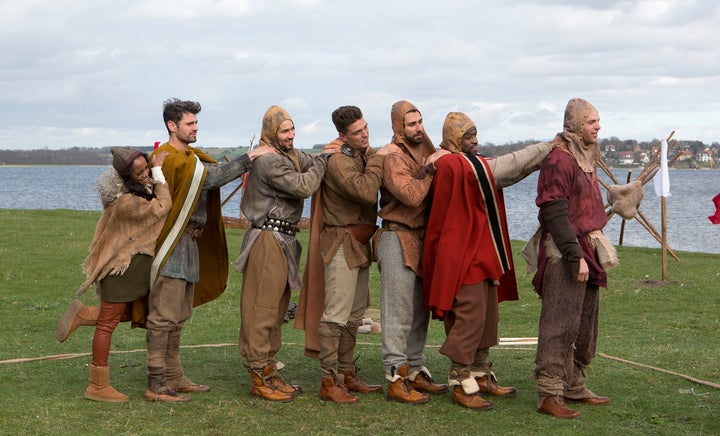 Be still our hearts: On a group date in Norway, which aired Tuesday night, Bachelorette Rachel Lindsay had several of her suitors battle it out for her affections in full Viking regalia. 
The goofy, delightful tone was set by the two instructors, Tom and Morton, who gamely tried to coach these beautiful novices into something resembling fighting form:  
Morton and Tom weren't impressed with the gentlemen initially, but once they came out in full Viking attire, their tune changed:
Twitter viewers quickly lost their collective minds over Peter, who managed to look both rugged and delicately handsome in his princely garb.
Meanwhile, the men had to compete in an increasingly ludicrous set of games, like pushing each other out of a circle without using their arms (the tool of choice seemed to be butts) and one-legged jousting. Kenny dominated, ultimately winning the date despite shedding blood in a shield clash with Adam. 
But the best part? The guys just had fun with it instead of pounding their chests. Dean didn't much take to fighting, while Alex felt he was in his element, but their adorable bromance showed through in their playful tussling and banter. 
We were in love with all of the guys by the end of this date. Take note, ABC: We need more Viking Olympics and fewer snakes in the grass. 
Do people love "The Bachelor," "The Bachelorette" and "Bachelor in Paradise," or do they love to hate these shows? It's unclear. But here at "Here to Make Friends," we both love and love to hate them — and we love to snarkily dissect each episode in vivid detail. Podcast edited by Nick Offenberg.
Want more "Bachelorette" stories in your life? Sign up for HuffPost's Entertainment email for extra hot goss about The Bachelorette, her suitors, and the most dramatic rose ceremonies ever. The newsletter will also serve you up some juicy celeb news, hilarious late-night bits, awards coverage and more. Sign up for the newsletter here.
REAL LIFE. REAL NEWS. REAL VOICES.
Help us tell more of the stories that matter from voices that too often remain unheard.
BEFORE YOU GO
PHOTO GALLERY
Tweets About "The Bachelorette" Season 13, Episode 6