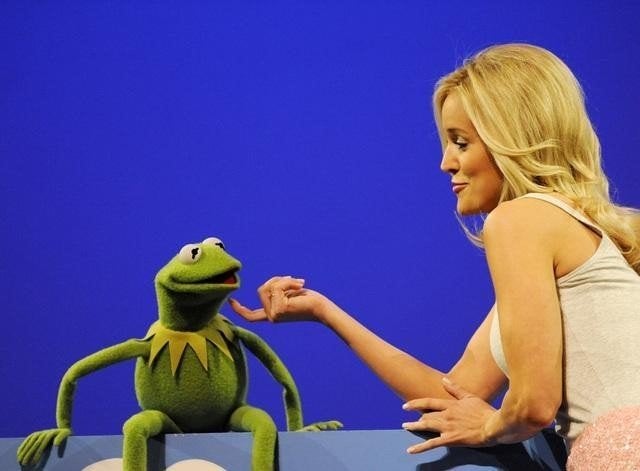 After sitting through all two hours -- which felt more like two years -- of "The Bachelorette" Episode 2, I officially agree with Erin Gloria Ryan of Jezebel: the show is "racist against interesting people." What it's NOT biased against: all things Charlotte, N.C., the Muppets and discussions about Emily's hotness. Unfortunately, not even Miss Piggy and Kermit could keep this episode from dragging.
While ABC and "The Bachelor" franchise are embroiled in a racial discrimination lawsuit, the almost all-white (Alejandro and Alessandro made the cut last week) cast of Emily's season frolicks in the pool at the dudes' mansion -- which Kalon, aka Helicopter Guy, has aptly dubbed a "frat house from hell on steroids."
FORMER FOOTBALL PLAYERS DON'T BELONG IN THE KITCHEN
Ryan, the 31-year-old pro football player turned sports trainer, is the first to get a one-on-one date. Instead of taking off on one of the franchise's signature over-the-top dates, which have involved, for instance, jumping off cliffs and "leap of faith" metaphors, Ryan and Emily go back to basics ... baking basics, that is. Because, lest you forget, Emily is a single mom and her life is totally mundane and full of cookie-baking and soccer games and grocery stores. Also, Ryan is a Southern Gentleman/sports star and therefore feels emasculated by things like aprons and kitchens. After Ryan "passes the cookie test," Emily changes out of her "mom wear" and into a lacy, one-shouldered dress and they're off to a romantic dinner.
What we learned during this date:
--According to Ryan, aprons make men look like a woman.
--He's is "willing to do anything" for Emily -- even bake chocolate chip cookies! (Whatta guy.)
--Ryan really wants to "look like a man again."
--Ryan doesn't understand colors, repeatedly refers to Emily -- wearing a pink dress -- as a "lady in red."
--Emily admits that she wants "someone else to come in and be the boss" of her life.
--Ryan says he found Em "most attractive in the kitchen." I stared at the screen in confusion wondering when we had time-warped back to 1950.
At this point in the evening I realized that we weren't even halfway done and sent the following text message to a fellow "Bachelorette"-watcher/masochist: "How does this go on for another hour plus. #Painful." (Yes, I used a hashtag in a text message. Don't judge.)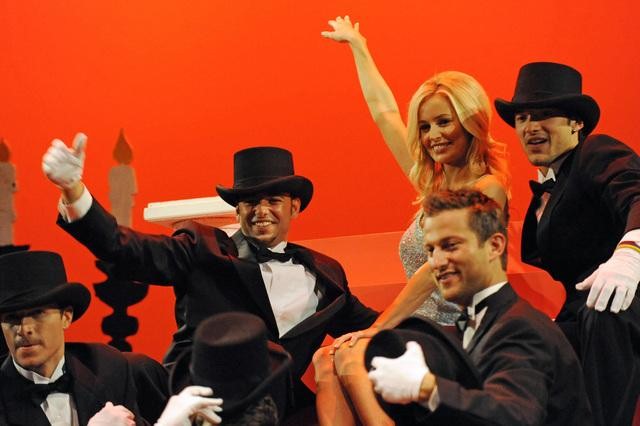 (Photo Credit: ABC)
KERMIT AND PIGGY AND FOZZIE, OH MY!
After Ryan returns to the mansion victorious, we shift gears to a 13-man group date attended by Alejandro, Nate, Alessandro, Tony, Michael, John (aka Wolf), Jef, Charlie, Kyle, Chris, Aaron, Stevie and Kalon. (If you still have no idea who the majority of these dudes are, you're not alone.) Emily takes the guys to prepare for a performance with The Muppets, all to raise charity for the Children's Hospital (in Charlotte!). Stevie from Jersey wears a god-awful hat, single dad/ Lumber Guy Tony gets really excited about Kermit and has gelled his hair in a way that reminded me of 7th grade, and Charlie is terrified of public speaking. We viewers collectively braced ourselves for the "stand-up comedy." Stand up can be awkward when actual comedians attempt it. Reality show stars? About 100 times more so.
Highlights from the show:
--During the opening number, the guys wear three-piece suits, bow ties and top hats.
--Emily wears a sparkly silver dress, awkwardly sways and proves once and for all that she wasn't lying when she claimed she "wasn't a dancer."
--Lots of uncomfortable Kermit-Emily flirting.
--In a stroke of genius, Chris Harrison replaces Statler and engages in some witty banter with Waldorf in the audience.
--Miss Piggy hosts a talk show called "Miss Piggy Live."
--Emily says she felt like a "proud mama" watching Charlie. Awkward, since Charlie wants to date her, not be adopted.
--In case anyone forgot, Emily is hot.
During the second half of the date, Emily is still good-looking. First she chats with Chris, whom she finds good-looking, and then she moves on to Sk8er Boi/One-F Jef. Emily tells Jef that he's been ignoring the lingering looks she's apparently been giving him all date long. (I assume that Jef's bouffant has simply blocked his view.) Jef "opens up" and admits he's awkward. Awwwww. In the end, this earns Jef and his four-inch-high hairdo the rose.
OH, JOE
Joe, the 27-year-old energy advisor who jumped around like a leprechaun during the premiere, got the final date card. Instead of focusing on domestic tasks, this date goes back to "Bachelorette" bread and butter and includes a private jet which whisks the couple off to The Greenbrier hotel/resort in West Virginia (not in Charlotte!), where Emily grew up and got her first makeover. After a few minutes of watching them stroll around the expansive hotel/resort, I realized I actually went there as a kid and have distinct memories of grown men in pastel polo shirts playing tennis.
Back at the house, Kalon makes the mistake of insinuating that Doug has "put being a dad on hold" by becoming a reality TV star. Doug doesn't take too kindly to this. Note to all contestants: Don't knock single parenthood.
During dinner, things between Emily and Joe get officially awkward. The conversation goes something like this:
Emily: "I want to get to know you, ya know?" Joe: "Yeah, I know, no."
Emily: "Where do you want to be in five years?" Joe: "I want to be happy."
Emily: "What does that mean?" Joe has absolutely no idea.
From that point, not even a cheesy "Love Clock" can save this date. Emily eventually sends Joe packing. Then she cries on the balcony of the Greenbrier and watches fireworks alone.
CAN WE JUST GIVE OUT THE ROSES ALREADY?
When Emily arrives at the cocktail party, Kalon's wearing a pocket protector, Aaron has donned what I suspect may be fake glasses, and Arie steals Emily away to discuss her beauty and his hometown of Scottsdale, AZ.
Things continue to drag on painfully ... I mean, get interesting, when Ryan swoops in and gives Emily a seven-page love letter (signed "Love in Christ") which she is forced to read out loud. Tony, who's been trying to speak with Emily, stands uncomfortably in the corner throughout the entire ordeal.
Kalon sits alone for awhile whining about how he's an outcast. Then he tells Emily that he's an old man in a young man's body, and the other guys accuse him of using his "vocab to show his dominance." (Seriously, he's so much less fun of a villain than Courtney.)
After Chris Harrison appears to remind the world that there are 14 roses (Chris is a master counter), the rose ceremony begins. Ryan and Jef are already safe, which means that two guys will be eliminated.
SAFE: Kalon, Arie, Michael (only known by his ponytail), Nate (has he spoken yet?), Sean, Chris, Doug, Travis (Ostrich egg guy), Tony, Alessandro, Alejandro ... and Stevie.
ELIMINATED: Aaron and Kyle (who?)
NEXT WEEK ON ...
"Best time ever"! Trains! Dolly Parton! Make-out sessions! Chris has the "top moment of [his] life"! More lightning! Tony cries about his son! Alessandra isn't a fan of fatherhood! The ostrich egg breaks! Tony contemplates going home!
LOOK: The Best "Bachelorette" Episode 2 Tweets
REAL LIFE. REAL NEWS. REAL VOICES.
Help us tell more of the stories that matter from voices that too often remain unheard.