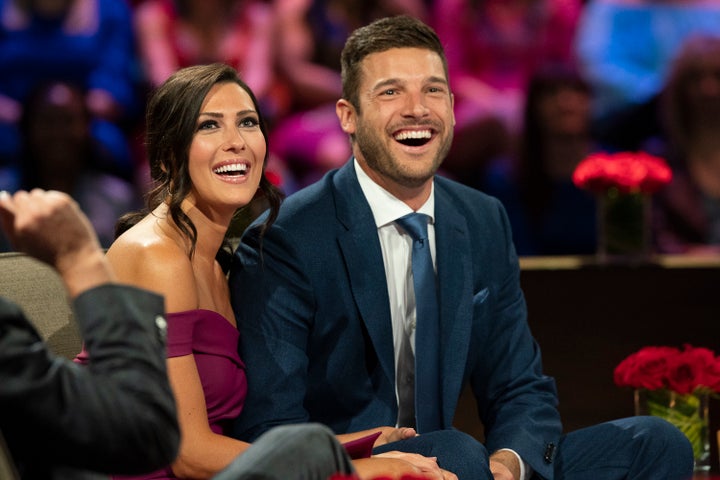 Garrett Yrigoyen is sorry.
The "Bachelorette" winner and now-fiancé to Becca Kufrin didn't mean to hurt anyone's feelings when he liked a number of bigoted memes on Instagram before filming of the show began ― memes that targeted feminists, transgender people, undocumented immigrants and the Parkland school shooting survivors. He's sorry and Becca knows he's sorry and they want the rest of us ― the 6.7 million people who tuned into the season 14 finale of "The Bachelorette" on Monday night ― to accept that he's sorry as well.
After HuffPost reported on Garrett's questionable social media history in May, there was a round of criticism of the show's social media screening policy, the substance of the Instagram posts and Garrett himself. Within days, he put out an apology saying, "I never realized the power behind a mindless double tap on Instagram and how it bears so much weight on people's lives. I did not mean harm by any of it."
And yet that apology, while welcome, did little to convince concerned viewers that Garrett had educated himself on anything other than dealing with public outrage. Perhaps, if he made it to the end, more would be said?
On Monday night, we got the answer to that question. Garrett won Becca's heart and, subsequently, a chance to make amends with viewers during the "After the Final Rose" segment. Instead of adding much of anything to what he had already said, Garrett doubled down, again offering the bare minimum of an apology without acknowledging the larger context of his likes, grappling specifically with any of the views he expressed or being transparent about where he stands on those issues today.
"I didn't realize the effect behind a double tap or a like on Instagram, so I put out an apology," he reiterated. "I didn't mean to offend anybody. I apologize for that still. ... And I'm just trying to grow as a person, be a better person on a daily basis. ... Because I feel like, when I was liking things, it was going against what she stands for, and it made it really hard on us as a couple." But, he said, "we got through together and we're growing, we're progressing and we're moving forward."
Like a pro athlete who's returned to top form after the rape investigation has been dropped, Garrett was framed as a comeback kid: His relationship with Becca is stronger than ever thanks to the "challenge" or "hurdle" of coping with the consequences of his bigotry.
Becca said as much, quite explicitly. "It definitely brought us stronger," she told host Chris Harrison, referring to the Instagram "scandal." "It's a challenge that we had to overcome and it's been a hurdle but we've pushed through and we've talked about it."
We've seen this show throw its winning couple into the wood chipper of public opinion before (Juan Pablo Galavis and Nikki Ferrell, anyone?), so the gentle unity of the "After the Final Rose" messaging was unmistakable. Whether it was Harrison, Becca, Becca's sister Emily or Garrett himself, everyone was ready to move on from this debacle, forgive the miscreant winner his transgressions and relax into the life-affirming joy of their bliss.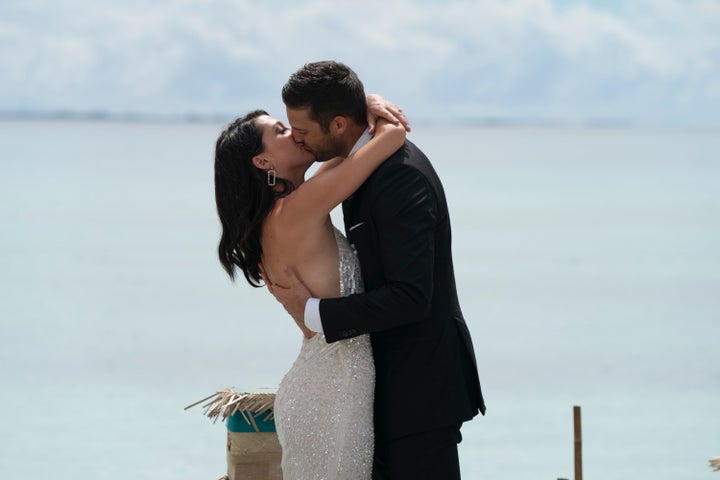 In its attempt to shift closer to the fantasy of a world where politics does not intrude on love ― or where, if it does, it is merely an impediment for two individuals to get over ― "The Bachelorette" backed viewers into a corner. Either we could choose to accept Garrett's rehearsed, half-assed apology and just be happy for Becca, whom we had grown to adore, or we could be the overly sensitive shrews who couldn't just "get over" political disagreements and had to pooh-pooh the happiness of two individuals who are madly in love.
Neither option felt good. Nor did it feel like a fair choice.
The show created a scenario in which we were left debating whether or not Garrett is "good." It reframed a debate about the real-world impact of an extremist political ideology ― one that feeds into trans women being murdered and immigrant children being held in fenced cages ― into some minor personal differences. The specifics of his offenses were erased in favor of vague, sanitized generalities ("a double tap on Instagram," he said, but a double tap on what posts he did not explain). He and Becca assured us that he is a good person. He didn't try to throw any refugee children over a wall right before our eyes. Case closed!
By the show's logic, Garrett loves his new fiancée and is nice so his disturbing social media history should be seen as just a weird outlier, a past blip that doesn't indicate his true character. We should forgive him, at least if we truly believe in love. "The Bachelorette" has ― they even gave him and Becca a nice minivan.
One could feel a palpable exhale of relief as the show steered away from Garrett's Instagram likes to discussion of the couple's plans (moving to LA! getting corgis!). Now the show was back on terra firma. The "Bachelor" franchise has always studiously avoided politics ― and anything that could smack thereof.
The show's ongoing narrative has political resonances, of course, from the whiteness of the casting to the heteronormative vision of love and marriage. The most political thing about the show, however, might be its refusal to acknowledge politics. Nothing could more clearly indicate political and social privilege than the ability of so many contestants and viewers to pretend that political realities can be neatly separated from love and dating, or that they can be excised from one's life for a few months of filming. But it's not that simple. Some political beliefs can suggest personal callousness toward vulnerable people, even as they more broadly fuel policy choices and a cultural climate that puts others at risk of marginalization and even violence.
By pretending that deep ideological and experiential chasms in America don't exist, the show has long courted a rather homogenous, if still politically divided, viewership: mostly white, generally well-off and educated, mostly women, both Republicans and Democrats. Despite the show's deeply traditional archetypes, left-wing women gravitated to it ― we even started a podcast, "Here to Make Friends," dedicated to recapping the show with feminist flair.
"The Bachelor" was the pop culture equivalent of Thanksgiving at a white family's table, pre-Trump. We knew some of our faves from the show were voting for anti-abortion candidates at the polls, but we could ignore it for the sake of enjoying our mashed potatoes and Neil Lane diamonds. Now, much like many a post-Trump Thanksgiving table, Bachelor Nation is riven by its previously submerged political divides.
The demographic that populates and watches the show ― college-educated white women ― has been politicized to a striking degree by Donald Trump's presidency. While exit polls showed that 52 percent of white women voters picked Trump in the 2016 election, research shows that it is now college-educated white women over 30 who are leading many of the local organizing efforts against Trump in so-called "Trump country." A recent Washington Post generic-ballot poll showed college-educated white women breaking hard for Democratic candidates ― by a 47-point margin.
Thanksgiving tables have become battlegrounds because of this awakening, and so have dating sites and marriages. Many liberal women have begun to ask whether their relationships with Trump-voting men can and should survive, or whether they should even consider dating men who support wildly different ideological agendas. Trump staffers have reported being unable to find a date in D.C. In America, politics aren't just relevant to finding love these days; they're practically central to it.
The "Bachelor" franchise's key demographic ― of which we, the two authors of this post, are solidly a part ― has awoken politically after long enjoying the privilege of not having to be awake. That means the way these women, we women, consume pop culture and configure our romantic fantasies will inevitably change too. "The Bachelorette," which sits squarely at the intersection of those two things, has not evolved as quickly as its viewers have.
To avoid alienating any segment of its audience, "The Bachelorette" demurred when faced with a substantive issue. It gave its viewers the bare minimum and then passed the buck. We're left to decide what to do with a show that once felt escapist, perhaps even when it shouldn't have, in a political moment that no one can or should be able to escape without a reckoning.
For more on the "Bachelorette" finale, listen to "Here to Make Friends":  
Do people love "The Bachelor," "The Bachelorette" and "Bachelor in Paradise," or do they love to hate these shows? It's unclear. But at "Here to Make Friends," we both love and love to hate them — and we love to snarkily dissect each episode in vivid detail. Podcast edited by Nick Offenberg.
Calling all HuffPost superfans!
Sign up for membership to become a founding member and help shape HuffPost's next chapter