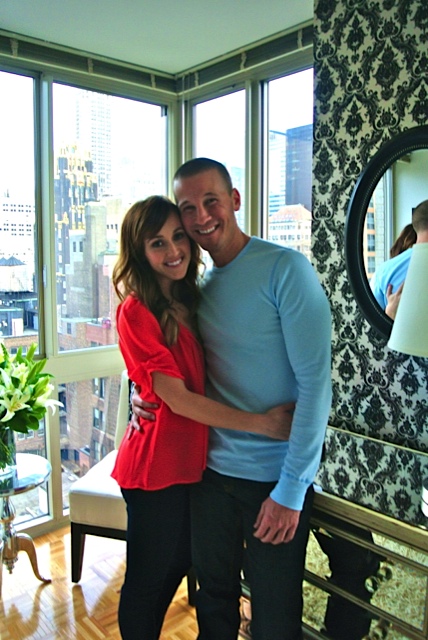 Recently I was asked to revamp the NYC apartment of reality show darlings Ashley Herbert and JP Rosenbaum of The Bachelorette phenomenon. Smack dab in the middle of shooting a bunch of luxury lifestyle segments in Italy and another NBC home makeover, I wasn't sure I was up for any diva-like demands or annoying requests of the "Um, we only sleep on 5,000 thread count organic sheets" variety. I was in for a pleasant surprise!
Upon meeting JP and Ashley, I instantly that knew we would get along perfectly and they would be great to work with, and I was right. Out of all the famous people (and not so famous but sort of think they are) I've worked with on decorating their homes, Ashley and JP are unquestionably my favorites thus far. They are sweet and kind and gracious. And more importantly, they let me do my thing, resulting in a fabulous space where they both feel comfortable and happy. So, if you were expecting me to dish some other kind of gossip, it's not going to happen. I've got nothing but good things to say about this couple. Besides, anyone who can put together furniture like a full time staffer at Ikea with an engineering degree, is soo my new BFF!
Ok, so enough gushing about JP and Ashley. Let's talk design...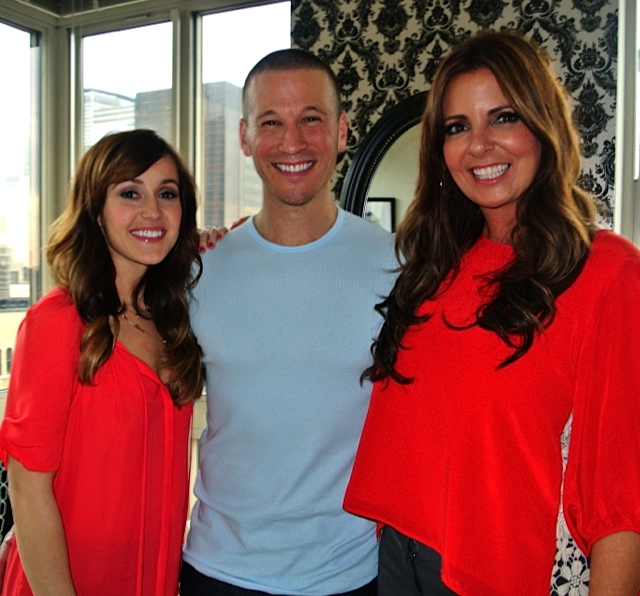 The apartment started out as JP's. To say it was a Typical Young Single Guy's Apartment in Manhattan, is an understatement. You know, beige couch, huge TV, striped beige comforter, the works. But it's a great space, with sweeping New York views and, at only about 800 square feet, it's not hard to pull off something fabulous! Ashley, busy graduating dental school (yeah, dental school) didn't have the time to devote to making it feel like a home where a girl lived, too. No worries, that's my job! I called on the Furniture Gods at Hayneedle to help make my life a whole lot easier and turned it into a cool, young couple's retreat. Modern, clean furnishings in the living room with pops of color throughout. In the bedroom, we went from Bed In A Bag to a glam and sexy black, ivory and metallic vibe. We added storage and decorative accents for warmth and flowers in every room. It looks amazing and I'm thrilled they love it.
For the full spread on Ashley & JP's new Love Nest, pick up Us Weekly Magazine and check it out!
With their sexy new digs, it wouldn't be the biggest shocker if the next phone call I got from them was to do a baby nursery... just saying. Either way, I hope their new and improved space brings them lots of joy. Keep rockin'!
Check your local TV listings and international magazines for more of Celeb Designer, Courtney Cachet's style ideas and tips! You can catch her frequent appearances nationwide on TV, where she dishes out all the latest in home and lifestyle! Keep up with her on www.courtneycachet.com or Facebook and join the conversation!