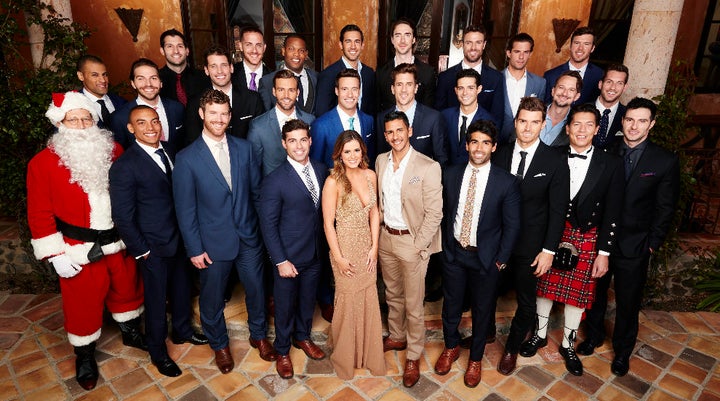 This season's bachelors opened up about their biggest dating fears, relationship deal breakers, and their worst date memories, revealing that the darkest depths these guys' imaginations can conjure when it comes to romance are… pretty tame. Highlights include such chilling worst date memories as "getting lunch with a girl and listening to her talk about Harry Potter for 20 minutes," and nightmarish fears such as "she doesn't look like she does in pictures." (Hope it doesn't scare him TOO much!)
Below are 12 deep concerns the bland men of America have when it comes to finding true love. Take note, ladies:
1. They worry they will be TOO attracted to you.
Brandon's biggest date fear is "being so attracted to her that I don't know how to approach her or be myself." Sounds like a best case scenario for an online date to us.
2. They're afraid you'll be too in love with THEM.
Chase's biggest date fear is "The girl falling in love... and you're not so into it." Aw buddy, we wouldn't worry about that.
3. They fear falling in love will mean giving up their most prized possessions.
It doesn't matter how into you he is… Chase will never give up his truck. Ever. (Everything else is on the table, including butt stuff.)
4. They're worried you will -- gasp! -- have chipped nail polish.
This is a real deal breaker of Evan's. Fresh manis only for this fine gentleman.
5. They're concerned you'll talk too much.
When will Evan fit in a word edgewise to point out that you could really use a fresh coat of O.P.I.? Plus, if you talk about your own life, will you really be able to pay attention to everything he has to say about his illustrious career as an Erectile Dysfunction Specialist?
6. They're afraid you have serious food allergies.
"You need what? Your EpiPen? Again? Ughhhhhhh, so annoying."
7. They're frightened you won't look the same as your pictures.
8. They're terrified you'll embarrass them in a restaurant.
Are you so hideous in person that he'd be embarrassed just to be seen with you in public? Maybe this is related to Daniel's other fear... (see above).
9. They're scared you'll like something they're not personally invested in.
Grant's worst date memory ever is "getting lunch with a girl and listening to her talk about Harry Potter"... for 20. Whole. Minutes. (He's probably a Slytherin.)
10. They're worried you'll make them feel sad emotions.
Will hates it when his date "talks about heavy subjects too soon." Hope nothing seriously bad has ever had a major impact on your life!
11. They're very nervous you might try to contribute financially on a date or be independently mobile.
James S. has a deep love for women who don't try to pay for the bill or open doors. Or even "touch" the bill or the doors. Watch your hands, ladies.
12. They're afraid of your lady brains.
Nick B. would like to be his future wife for a day to find out what's in her head -- but just one day, because "I'm pretty sure I could only last a day being inside a woman's head. :)" AHHH GET ME OUT OF HERE IT SMELLS LIKE FREAKIN' HONEYSUCKLE AND THE GEARS JUST WON'T STOP TURNING!
To hear more about this season's contestants -- and their... interesting bios -- listen to HuffPost's "Here To Make Friends" podcast:
Do people love "The Bachelor," "The Bachelorette" and "Bachelor in Paradise," or do they love to hate these shows? It's unclear. But here at "Here To Make Friends," we both love and love to hate them — and we love to snarkily dissect each episode in vivid detail. Podcast edited by Nick Offenberg.
Calling all HuffPost superfans!
Sign up for membership to become a founding member and help shape HuffPost's next chapter