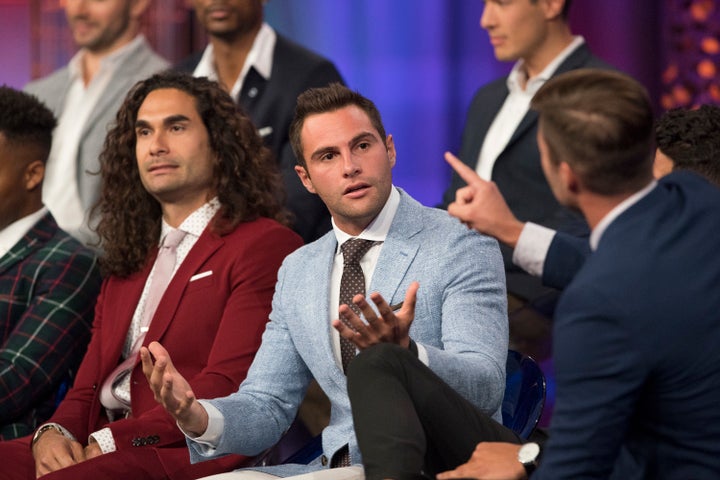 On "The Bachelorette's" Men Tell All special ― which gathers many of the castoff contestants from the current season of the show to open up about their rivalries, feelings and drama that got left on the cutting-room floor ― the men said a lot, but told us very little. Throughout two hours of cross-talking, macho posturing, praising Becca and campaigning to be the next Bachelor, audiences gained little other than a potential migraine.
But one thing that became abundantly clear very quickly was that two of the most controversial, talked-about contestants from this season ― Lincoln Adim and Garrett Yrigoyen ― were not going to be addressed at all. Yrigoyen, who has been criticized for liking a series of offensive Instagram posts, is still on the show vying for Bachelorette Becca Kufrin's heart/hand in marriage, so perhaps his off-screen behaviors will be addressed on next week's After the Final Rose special.
However, last night would have been the moment for the show to address Adim's transgressions. Adim, who has been charged with "indecent assault and battery" based on an incident that occurred before "Bachelorette" filming, was (understandably) not invited to participate in the Men Tell All Taping. But should the show still have found a way to address, on air, that their standard background checks failed to turn up this charge, and thus subjected their lead to dating an alleged sex offender? How did the other men feel upon hearing the news? And what do ABC and production company Warner Brothers plan to change, if anything, about their background checks as a result?
The hosts of HuffPost's "Here To Make Friends" podcast, Emma Gray and Claire Fallon, discussed this with former "Bachelorette" contestant and current attorney Michael Garofola. He had some thoughts on why it may have benefited ABC and Warner Brothers to say as little as possible on the subject.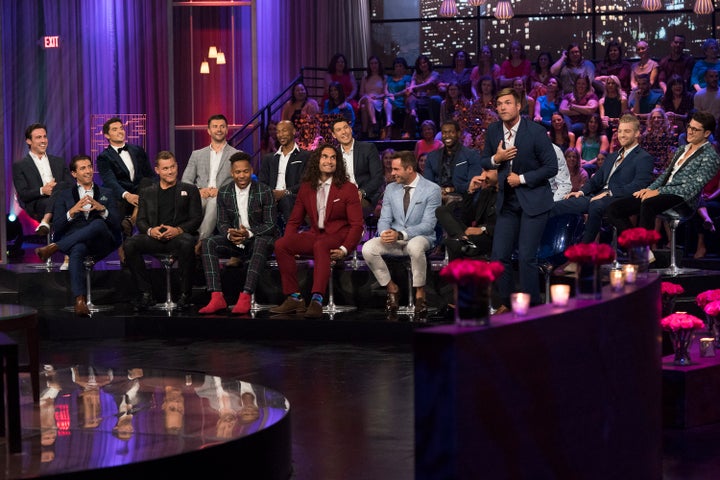 Emma Gray: I guess at some point we should talk about the invisible Lincoln.
Claire Fallon: Do we think that it would have been better for them to bring Lincoln on and confront him?
Gray: No, I think they just should have mentioned something about it. I think there was a way to say, "Of course we're not going to give this person a platform but also ... " Just even have Chris Harrison make a statement. "As all of you know, Lincoln is not here. He was convicted of something criminal. We are going to do better."
Michael Garofola: I have learned, and I have not read the court filings, but I've learned that he has since withdrawn his guilty plea and that it is proceeding on a trial track now. There was an issue, an error, with the sentencing given by the court, his GPS tracking, and therefore, rather than deal with issues on appeal, because of that error, the judge decided to allow him to withdraw his guilty plea.
So what that could mean is, either he's going to go to trial ― and the people are ready, I'm hearing, for trial ― or he will work out another plea deal and plea again, to maybe something a little bit lesser, and the sentencing will be correct.
Fallon: So that might complicate the statement a little bit, but ...
Garofola: Yeah, but ... certainly, he was charged, accused ...
Gray: They don't even have to be so specific.
Garofola: Pending criminal case.
Gray: I think they could have really easily addressed this and said, "The safety of people on this show is the thing that's most important to us. We're still in the process of reviewing our background checks, and we are sorry that we failed our task."
Garofola: Clearly there was a failure.
Gray: There was a failure. I just wish they had said something.
Garofola: Although it's hard, because they're also probably being advised by lawyers not to make that kind of statement, because it's an admission, and that would help in any future lawsuit. Potentially, they could say, "Well, look, they admitted guilt. It's case closed. They admitted guilt on national television." That is like, exhibit A.
Fallon: I mean, they've been very careful to be like, "We did everything that we could be expected to do, and for these freak reasons it wasn't caught by standard measures."
Garofola: They use a number of third party services to do background investigations which are staffed by highly trained professionals, former FBI agents, former prosecutors. And they use a number of them.
Fallon: It really makes me realize that even people I think of as being all-knowing, like FBI agents, can just miss something really big like that!
Garofola: Yeah, the arrest should have shown up. Sometimes these cases are sealed to protect the victim, but there should have been at least a notation of an arrest somewhere. That should have shown up.
Gray: I understand their calculation for just trying to sweep this under the rug and hope that, you know, "We put out a statement to news outlets; that's all we're going to say." But I think it does both the cast and the audience a disservice to not address that this is a thing that happened. Mistakes can be made! I'm not even saying that they failed in some fundamental way here. I do think they have pretty good third-party background checks. Sometimes, things are missed. But just own it.
Garofola: Stop saying, "Lincoln lied to us." Anyone that is fame-hungry, that wants to be on the show, is not going to check the box that says, "Have you ever been convicted or charged or arrested for a sex offense?"
Gray: There's an incentive to lie.
Garofola: They're never going to be honest. They're never going to go through that process and fill that out and be like, "Oh, guess I'm eliminated! Goodbye!" If they fill that out and turn it in, you can assume that you still need to do the ... trust but verify. This company line of, "Lincoln lied to us, so we had no idea ... " come on.
Do people love "The Bachelor," "The Bachelorette" and "Bachelor in Paradise," or do they love to hate these shows? It's unclear. But at "Here to Make Friends," we both love and love to hate them — and we love to snarkily dissect each episode in vivid detail. Podcast edited by Nick Offenberg.
REAL LIFE. REAL NEWS. REAL VOICES.
Help us tell more of the stories that matter from voices that too often remain unheard.
BEFORE YOU GO