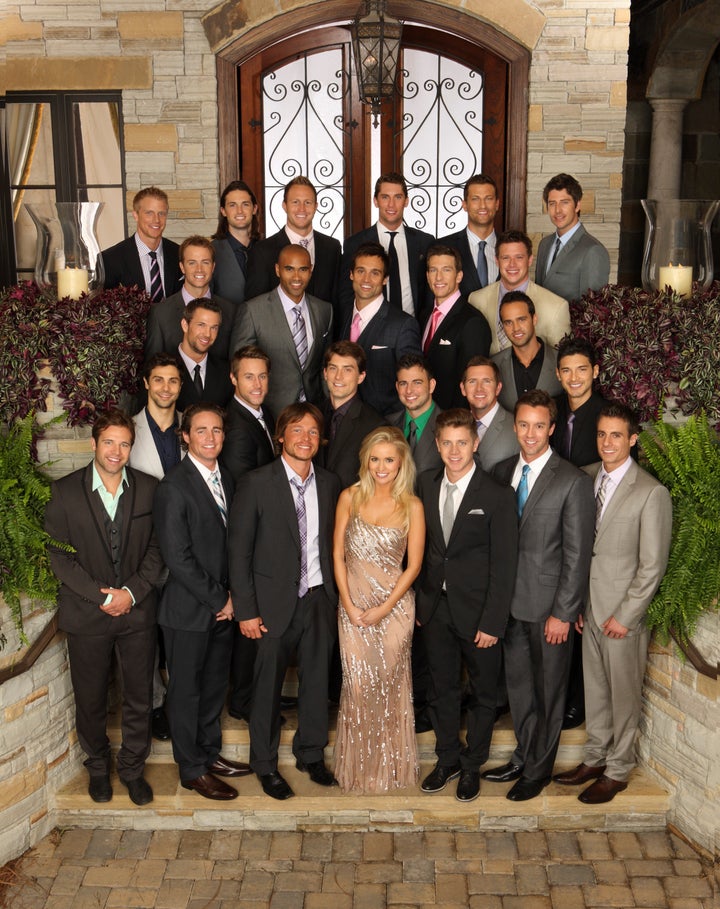 In case you didn't know, "Bachelorette" Emily Maynard and her daughter are ready to find love after a devastating courtship with Hotter-Than-Crap Brad Womack. A shimmery gold cocktail dress, the smooth swipe of pink lip gloss and a pep talk with Our Host Chris Harrison is all the dainty girl needs before facing 25 guys lucky enough not to land in the pool of gentleman callers in Ashley Hebert's season who are vying for the heart and affection of our bachelorette and her mini me. Some of the suitors obviously gave little thought to what they would do or say when first meeting Emily. These bachelors fall under the "somewhat normal" umbrella. Others, sadly, spared no expense to make their memorable first impression something that none of us will ever (as hard as we try) forget.
TOP FIRST IMPRESSION AWKWARD MOMENTS
Don't Leggo My Eggo
At first glance, Travis looks like a normal, viable candidate for Emily. Then he pulls out a dragon egg and compares said egg to our bachelorette and her offspring. That was mistake No. 1. He promises to guard and protect that dragon egg just like he would guard and protect Emily and Little Ricki. Note to Travis: Haven't we learned our lesson when uttering the phrase "guard and protect" on this show? Say hello to mistake No. 2. Since Emily graciously extended him a rose, I hope that he was confident enough to pack a Baby Bjorn carrier for group dates and a Moses basket for hot tub adventures, or someone's waking up to an Olympic-sized omelet in the morning.
Prince Charming Apparently Shops at Payless
We're not sure of Prince Charming's real name because he introduces himself as Prince Charming -- or perhaps he actually did share his given name and I was too busy being distracted by the clear acrylic shoe he was carrying on a tacky silk pillow. Apparently, the good Prince shops at Payless. Not that there's anything wrong with that. I love a good BOGO. Who doesn't? I bet the entire west wing of Emily's mansion is dedicated to footwear. Even though PC received a rose, my advice would be to bust out the impressive abs next week because it appears that Cinderella is totally smitten with charming race car drivers.
Grandma Got Run Over By Harrison's Entourage
What's the quickest way to a woman's heart? I'll give you a hint. The answer is NEVER dressing up like an old lady. I bet Randy is STILL regretting that decision. But let's look on the bright side: At least they can park in a handicap space as he films his exit interview in the back seat of the rejection limo. That lining is as silver as his fake Granny wig.
Born from a Boombox
Stevie searched high and low for days and FINALLY found the perfect jambox from a reliable seller on Craig's List. Word to your mother, Stevie! He kicks it old-school, dancing and rockin' the beat with his fly entrance in the mansion courtyard. Luckily, Emily appreciates the classics and has actually seen "Breakin' 2: Electric Boogaloo." She pins a red rose on Stevie's green shirt and we all feel that we have truly witnessed a Christmas miracle.
He Blinded Me With Science
Aaron scored a fake pair of glasses, confidently strolled up to Emily and told her that even though he was a biology teacher, he wanted to see if they had any chemistry. Perhaps he can tell me why I have the urge to throw up right now? I hope the other Dalton Academy Warblers weren't mad he failed to meet up with them in the auditorium to practice the mash-up of Toto's "Africa" and the song from "St. Elmo's Fire."
Sk8er Boi
I have two words for you: Marty McFly.
Popular in the Community