Note: Do not read on unless you have seen Season 9, Episode 4 of ABC's "The Bachelorette."
In week 4, the dreams of eleven boys who are pretty came true in Atlantic City. That's right, readers. Our favorite reality show traveled to the birthplace of the Miss America pageant. Instead of forcing them to get shirtless at a random pool party back in Los Angeles, ABC decided to showcase the remarkable physiques of our contestants in a more dignified manner. The dudes were oiled up, given a pair of tiny Spandex and strongly encouraged to find a talent. Although there was only one crowned, they were all winners in some form or fashion. Well, almost all of them.
Mr. Bachelor
After sailing through the interview round, #Kasey told an enchanting story of how, when he was little, he cut and stapled some metal on the bottom of his sneakers and then shuffled outside to tap on the concrete in the back yard. Even though my analytical side was having trouble figuring out A: how young #Kasey was physically able to staple metal and B: how sad it must have been to have a "yard" made of concrete, the audience rejoiced in his sporadically thrown together tap dance. He was declared the winner and I gave him immediate bonus points for wearing his crown and sash the next day when Des came to pick James up for their one-on-one date.
Mr. Photogenic
Drew looks like a character from a 50s television show. I feel like he should be following the Beaver around or getting advice from a father who knows best. There's a wholesomeness about him that was further proven when he chose to recite Shakespeare as his talent. You can imagine my surprise when Drew then took the stage in his swimsuit to reveal an impressive set of abs. I may have paused the DVR. If that doesn't scream Mr. Photogenic, I don't know what does.
Best Smile
Since Zak is sponsored by Crest White Strips, he was obviously the clear winner in this category. His teeth were further displayed as he sang an acoustic version of a song he wrote for Des. Of course, the talent portion of the evening only allowed him enough time to sing one verse. Luckily, he was able to secure a spare six string during the after-pageant pool party and serenaded Des with three more verses. They say that love don't come easy ...
Most Talented
Chris wore high heeled shoes and twirled hula hoops on his arms. Deal with it.
Least Likely this Seriously
Brooks owned the fact that he can't make his pecs dance like Mikey T. What he does have is a wee ukulele and quick wit. A sense of humor will get you far, folks. Especially when you smash your wee uke with the force of a thousand lead singers in a hair band.
Interview Bomb
Even though Brad wasn't an official pageant contestant, he sure did bomb the boyfriend interview during his one-on-one date. Des found that her glass of chardonnay and beef tenderloin outweighed Brad in the interesting department and decided the best place to tell him that "the spark just wasn't there" was at the top of a lighthouse. After schlepping up 100 winding stairs, Des uttered two words ("cool" and "pretty") to describe the scene. Shortly after catching her breath and checking her pulse, Des sent Brad back down after arriving approximately two minutes before.
Mr. and Mrs. Congeniality
James was chosen for the second one-on-one date and Des took him to fly around the Jersey Shore in a helicopter to see the damage done by Super Storm Sandy. Manny and Jan are an adorable couple who have been married for almost 40 years and essentially lost everything in the storm. They credit the Red Cross of America for helping them through a very tough time. After hearing their story, Des and James agree to let them have their fun night in Atlantic City. A limo picked them up, they had an amazing meal and they ended the night with a private Darius Rucker concert. Even Hootie looked choked up a little to see the couple so in love after all they had been though.
What did you think, "Bachelorette" fans? Is Ben still the villain? Do you think James is there for the right reasons? Will Bryden crack under the pressure and go home next week? Sound off in the comments.
"The Bachelorette" airs Mondays at 8 p.m. ET on ABC.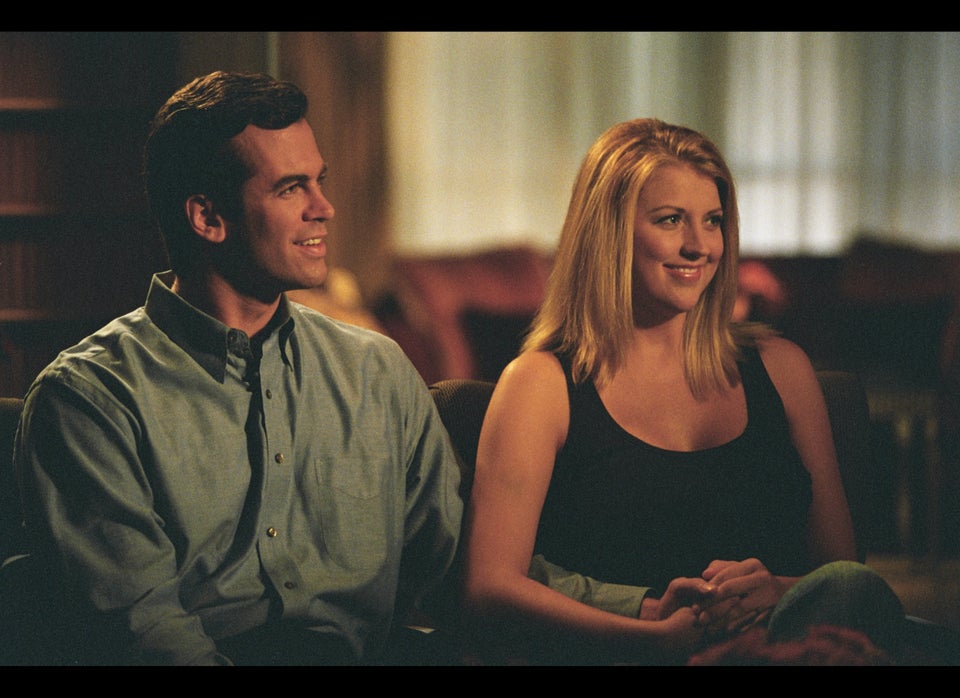 The Bachelors Of 'Bachelor' Past