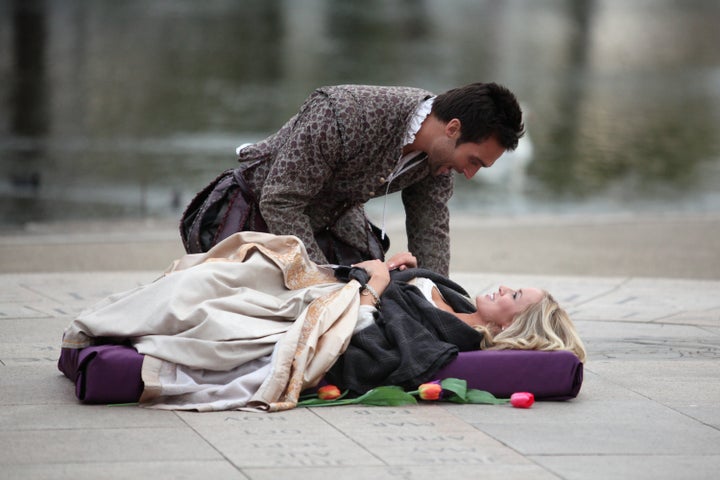 Week five of "The Bachelorette" finds Emily in foggy London Town dressed in darling trench coats, floppy neck scarves (including one that she allowed Ryan to borrow on rose ceremony night) and enough sequined and leather outfits to costume the entire cabaret show down at Madame JoJo's.
Inspired by the romantic works of Shakespeare, our bachelorette spares no expense in making sure that the remaining 10 star-crossed lovers are there to climb up the balcony to begin a life with her and Little Ricki.
Act 1 Scene 1
Shakespeare is huge in Madison, Mississippi
I have to give Travis major props for bringing some pizzaz to a rather boring group date. I know what most of your are thinking right now ... who is Travis? It's a fair question. Travis is the egg boy. Humpty Dumpty. He's the one who wouldn't leggo his eggo until a few weeks ago when he WISELY allowed Emily to smash the thing to smithereens on the freshly washed pavement. He's been low key (another great move buddy) since the official "cracking" until this week when he truly brought the entertainment. Travis was forced to perform scenes from "Romeo and Juliet" with the rest of the guys on a group date in front of a live audience. Who says Shakespeare has to be recited in a British accent? I found that playing the pivotal role of Mercutio with a dialect that somehow combined both a Scottish accent and a Mississippi drawl was a jolly good idea. Other than Ryan sticking his tongue down Emily's throat ... twice ... the rest of the thespians were forgettable.
Act 1 Scene 2
"Oh bread crusts ... parting is such sweet sorrow."
One F Jef finally scored a one-on-one date with Emily. I'm sure spending the afternoon drinking tea in the English countryside was not on the top of his to-do list, but any time spent with Emily at this point is a bonus. That is until Jean enters the picture. Apparently, she's the cockney, overbearing version of Emily Post who forces the couple to drink hot tea from dainty china cups while lecturing them on the finer points of acceptable finger sandwich etiquette. Emily and One F Jef laugh at her dogmatic tea time rituals and then decide to leave the old girl high and dry before heading down to the local pub for a few pints and some fish and chips. Their napkins were carelessly left on the table instead of their chairs. Jean was not pleased and has written a strongly worded letter to the ABC producers.
Act 1 Scene 3
"Thou dost taketh forever to kisseth me."
After the pub crawl, One F and Emily board the London Eye ferris wheel for dessert and coffee squished up against the glass in order to fit the entire crew in the small space. During the remainder of the date, Emily talks about how she wants Jef to kiss her and Jef talks about how he missed his chance in Bermuda, but he won't miss this opportunity in London to make his move. The moment keeps building and building until he stands, promptly moves away and then pulls her in for a hug. JUST KISS HER ALREADY! Denied, Emily disembarks from the confines of the glass pod and wanders over to a bridge overlooking the city. Jef finally makes his move and gently kisses Emily. He tries to pull away but she grabs his face and goes in for some serious lip action. What would Jean say?!
Act 2 Scene 1
"Oh happy dagger!"
Kalon placed a luxury moccasin-clad foot in his mouth when he referred to Little Ricki as baggage in front of Arie and One F Jef. Someone told Chris who told Doug who confronted Kalon who didn't deny the statement. Doug made a smart move by pulling Emily aside to reveal the ugly truth. Mama Bear comes out to play as Emily removes her leather jacket and promises to go all West Virginia, hood rat, back woods on his ass, vowing that she will rip him of his luxury limbs and then beat him. She walks into the room full of guys as Doug channels his inner Harrison and shouts for everyone to shut up and listen. She notes that Little Ricki is a blessing, not baggage, and asks if he has anything to say for himself? After a lame attempt explaining, the West Virginian demands that he gets the "BLEEP" out. She accompanies the explicative with a hand gesture that can only be thrown by someone who is a legitimate hood rat.
Act 2 Scene 2
"Wherefore art thou Romeo?"
The last half hour was completely dedicated to several different scenes in which Emily reveals, complains, agonizes and broods about how none of the men have her back. She wished that someone would have told her about Kalon's comments sooner. She especially holds Arie responsible since he was at the table when the luxury consultant first called Little Ricki baggage. He chose to wrap her in a blanket and make out instead of sharing this bit of deal-breaking information. To drive her point home, Emily saves the last rose for Arie to prove that he needs to step up his game in the coming weeks or annoying Ryan and his frivolous scarves and Bump-It hair will be the stronger contender.
Popular in the Community