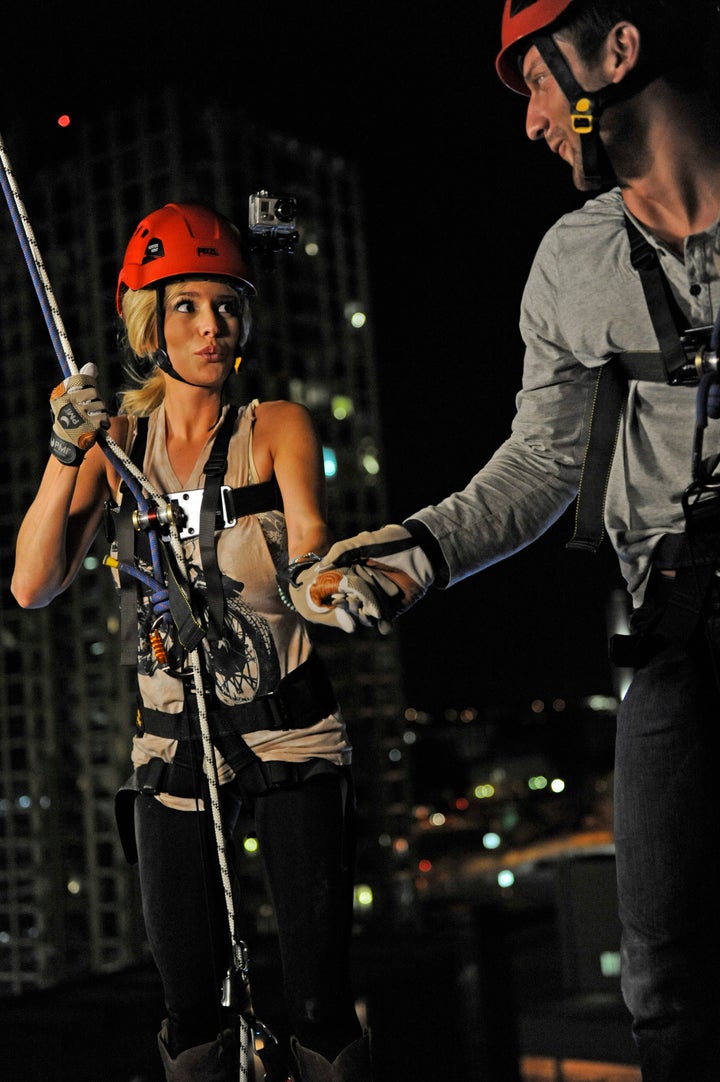 I have to give it to Emily for being straightforward and honest with "her boys" on "The Bachelorette." Each one-on-one time is filled with, shall I say, normal conversation with her intentions clearly laid out on the table. If the bachelors don't prove that they can fit into her life as a future husband and father, she has no problem escorting them to the door in her tight-fitting gold sequined ball gown and black Ugg boots. After seven seasons of "The Bachelorette," you'd think the show would become stagnant, but Emily has no problem making her own rules to help thin the herd. There were many moments in this week's episode that were uncharacteristic of this show we've all come to love and loathe. You break dance? You're kicked out. You continue to carry around a ridiculous egg? You're kicked out. You compromise? You're out. All with the grace and charm of a true southern lady, of course.
Five Examples of How Honesty is the Best Policy
1. Boy vs. Man
Young Chris drew the first one-on-one date card and we were once again forced by ABC producers to witness a pair of strangers scale a building and talk about facing fears and conquering obstacles together. After defeating the climb, Emily was thrown a curve ball when she learned that Chris is 25-years-old even though he acts and looks much more mature. Unfortunately, a suitor who graduated a year later than her in high school is not on a check on the "pro" side of the column and she lets him know it. These negative feelings are mitigated with the gentle crooning of Luke Bryan and a swarm of people who just happened to be in downtown Charlotte gathered around the lucky couple as they swayed back and forth, eighth-grade dance style. Even though Chris received the rose, he's going to have to man up. This is not achieved by confessing to the camera that you want to kiss her, but are too chicken to go through with it.
2. Play Date Reconnaissance
It's week three and Emily give her friends permission to help thin the herd while Little Ricki's entire class played around them in a community park playground. These women took their responsibility seriously. For the most part. It is my hope that Emily's friend Wendy hit the sauce earlier than usual that day because she was nervous about being on national television. That is the only logical reason that she behaved the way she did. Sure, I was fully engaged when she insisted that Sean remove his shirt and do push-ups for her, but was it really necessary for her to sit on his back while he performed the request? With that said, I think the show needs a little more Wendy in future episodes. Bring on the crazy. And tell the ABC intern not to forget the shot of Vodka in her juice box.
3. Fat Bottomed Girl
Ryan appeared to have an upper hand in the competition from last week's one-on-one date, but quickly fell down a few notches when he crashed girl talk during the "see who can hang with elementary kids" scheduled play time. One of Emily's confidants noted that Ryan was "put together in a pretty, but manly way" (OK, it was slurred and it was Wendy) and it somehow came about that Emily was apologizing for not being dolled up at the park. Obviously, she was fishing for a compliment. Daftly, Ryan confided that he wants a woman who is always put together. Five women eyed him carefully as he explained he would love Emily if she chose to "get lazy," but he wouldn't love on her. Emily: "He has the guts to tell me that I better not get fat. I don't know how I feel about that." Much like the bump-it in his hair, Emily, I'd suggest you proceed with caution when it comes to Ryan's questionable motives.
4. All the Kings Horses and All the Kings Men
You probably don't recognize Travis' name because you affectionately refer to him as The Egg Guy or Humpty Dumpty. Of course, Emily's entourage peppered her with questions regarding the strange dude who carries around a dragon egg like it was a security blanket. Travis got the message and ceremoniously escorted Emily out into the courtyard to free himself from further embarrassment (and the responsibility of making sure the egg was kept safe from harms way). The best decision he made was to allow Emily the honor of smashing the egg to smithereens before the ABC intern was sent to clean up the mess. One moment that will go down in "Bachelor" history is when a handful of men raised a glass to "Shelly" and toasted her over easy demise. I love this show.
5. Home is Where Your Kid Is
In case you didn't know from the 30 minutes dedicated to this story arc, Tony is a single dad who really misses his kid. ABC led us to believe that Emily would have pity on this guy and really bond over the fact that she can relate to his anguish. She did. He continued to cry. She returned and just when I thought he was either milking it for the camera or just needed to get over the fact that he signed up for a dating show that could quite possibly take him away for several weeks if things went well, Emily decided for him. He was too emotional and there was not enough attraction for him to stay. She escorted him directly to a taxi and continued her group date. Nice! Later, she did the same with one of the Andros who point blank told her that marrying her and raising Little Ricki would be a compromise to his gypsy lifestyle. There were no hard feelings as she escorted the Latino Brad Pitt to his exit suburban.
Next week looks just as interesting. Doug will wear a tight tee. Arie will prove once again that he's the best kisser on the show and Kalon will help his fellow bachelors choose the most appropriate luxury items for their group date. I can't wait.
Popular in the Community