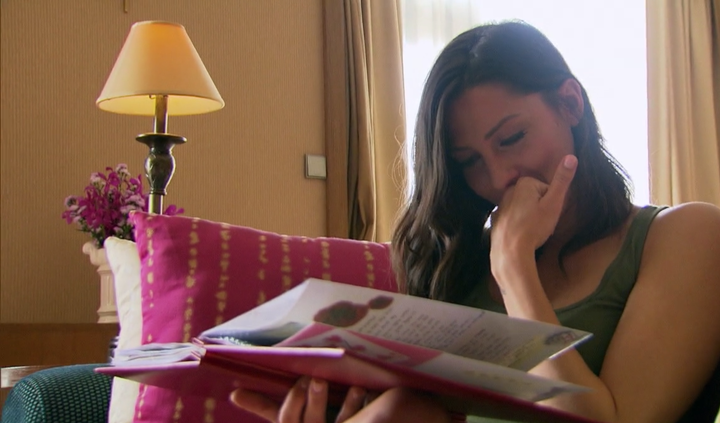 Can a season of "The Bachelorette" really be complete without the addition of a personalized poem, scrapbook or bottle of cologne? The answer seems to be a resounding no.
On Monday night's episode of "The Bachelorette," the third to last of the season, contestant Jason Tartick made a graceful exit. Bachelorette Becca Kufrin sent her third-place gentleman home early during what was expected to be an overnight date, without offering him a ticket to the fantasy suite.
But before Jason left her with wishes of future friendship, he paid a surprise visit to her hotel and presented her with a token of his love: an intricately decorated and text-filled scrapbook, which brought Becca to tears as she flipped through its pages. 
"It's a meaningful story," he said, referring to his DIY book.
"This is so thoughtful," Becca responded quietly.
These sort of mementos have become mileposts of "Bachelor" and "Bachelorette" journeys. But ... why? Are they forced to make these dumb gifts? Do producers craft them for the contestants? Do they truly believe a scrapbook/painting/personalized bottle will be the key to everlasting love? Or do these last few contestants simply just have too much downtime without any internet access?
To investigate, the hosts of HuffPost's "Here to Make Friends" podcast went to someone who has been through it, "Bachelor" alumna Caila Quinn, who was eliminated after an overnight date on Ben Higgins' season of "The Bachelor."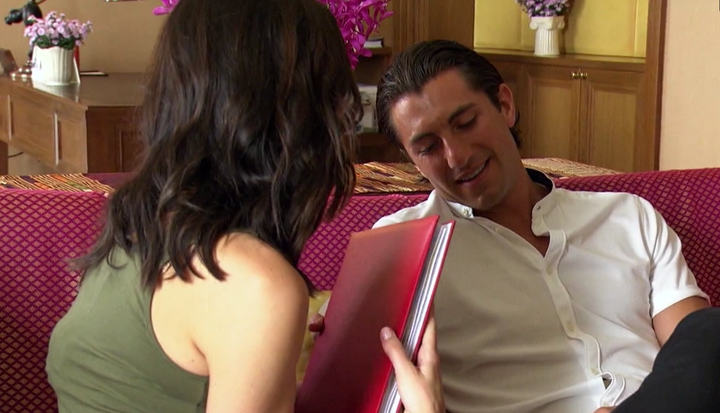 Caila Quinn: Everyone makes a big deal that [Jason] made her a scrapbook, which I do think is great. I'm sure they just didn't show it, but the other two guys got Becca gifts too, before the overnight.
Claire Fallon: Every fantasy date, there's a gift?
Quinn: Every fantasy date, there's a gift, and the other two gifts must have just sucked or something.
Emma Gray: Also, are you so bored that you're like, "I'll spend seven hours making a scrapbook because I have nothing else to do right now"?
Quinn: Oh, exactly! You have no idea. I painted a painting for Ben.
And I was like, "Could you just give this to his mother?" After I was broken up with, I literally said that to a producer. I was like, "I painted this small, foot-size painting of their house in wherever he lived ― Indiana. Can you just give it to his mom as a thank-you for hosting us?" And the producers are like, "Of course we will."
I know they didn't! They threw that away. They probably have a closet of memorabilia from Bachelors past. 
It's so funny that he gave it to her, because I remember being in that moment, being like, "I just wish, maybe this would have been the last gesture."
Fallon: Yeah, he would have gotten the painting and been like, "Well, I can't say goodbye to someone who made me a painting of my childhood home. That's what I'm looking for in a spouse!"
Quinn: But in that moment, Jason should just have not given it. 
Gray: But I can totally see him being like, "But I put so much effort into this. Just take it."
Fallon: Yeah. Like, "I don't want it anymore."
You say it happens on every [fantasy] date. They really don't show it that much anymore, but I remember the first seasons of the show, the gift giving was very ritualized, and every gift would be shown. It would be like, "Today is Trista's birthday, and each of you is going to give her a gift, and you're going to come in individually and present her the gift, and she's going to open it, and you're going to talk about it, and then you will wait to be judged."
Gray: They also used to do those weird video messages at this point, which was very odd. I'm glad they cut that.
But he does give her the scrapbook. There was a lot of text in that scrapbook.
Fallon: I think they don't even call it a scrapbook. I think he calls it a book.
Gray: He wrote her a book.
Fallon: It just goes to show you that anyone can write a book, if you just set your mind to it. We all have a book in us. 
For more on "The Bachelorette" overnight dates, listen to "Here to Make Friends":  
Do people love "The Bachelor," "The Bachelorette" and "Bachelor in Paradise," or do they love to hate these shows? It's unclear. But at "Here to Make Friends," we both love and love to hate them — and we love to snarkily dissect each episode in vivid detail. Podcast edited by Nick Offenberg.
Calling all HuffPost superfans!
Sign up for membership to become a founding member and help shape HuffPost's next chapter