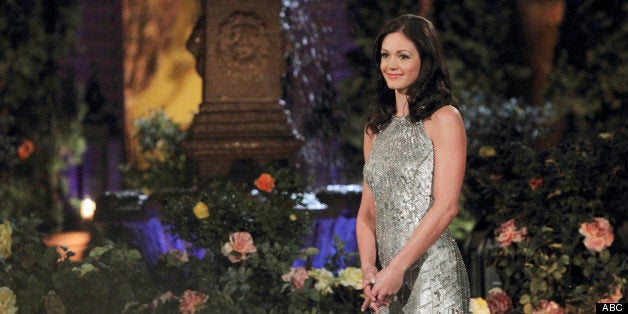 Note: Do not read on unless you have seen Season 9, Episode 1 of ABC's "The Bachelorette."
"The Bachelorette" is back! It seems like it was just yesterday that we witnessed Desiree clinging to Sean's neck, begging him not to let her go, before emphatically claiming to the rejection SUV camera man and ABC Psychotherapist that Sean had made a huge mistake. Five months later, she's trading in her Honda Civic for a powder blue convertible Bentley, which everyone knows is the most appropriate mode of transportation when beginning one's journey to find true love.
And it looks like Des is going to have to kiss a lot of frogs before she finds her Prince Charming. ABC spared no expense searching high and low for the perfect 25 candidates. Their hair was coiffed, the teeth were gleaming white and apparently most took advantage of the free spray tan with every dorky entrance. Allow me to elaborate.
The Social Media Guru
Kasey's job has something to do with social media. As a result, he loves to hashtag with the enthusiasm of a 13-year-old girl who just received permission from her parents to create her own Twitter account. Kasey commentated the entire two hour episode with three word statements. It wasn't annoying at all. #imbeingsarcastic #hashtagstophashtagging #rose
The Dipper
Our bespectacled friend took a chance with his grand entrance by spinning Des in towards him and then attempting to dip her romantically. There's no way Larry could have anticipated her long train becoming tangled in her heels, resulting in a rip on the bottom and a tear in the back. Poor Larry publicly shared the humiliation with the rest of the contestants and looked for comfort in his only friend in the mansion -- bourbon. Feeling that the only way to diffuse the awkwardness was to call it out, Larry took the precious few minutes he had alone with Des to "talk about the dip." Confused, Des could not recall a limo exit bit featuring Copenhagen. In her defense, Larry had removed his glasses and once he returned them to the end of his nose, it all came back to her. Too bad the whiskey had taken over all of his faculties and decided at that moment to shut Larry's body down, complete with blurred vision, speech and heavy eyelids. #noroseforyou #imgonnamissthisguy
The Magician
Sadly, we'll never know The Magician's name when we think back to this season. He will forever go down in "Bachelor" history alongside the likes of The Weatherman and The Wrestler. He started out with a solid illusion by turning a paper rose into a real one! Things quickly went downhill from there. There was no hat. There was no rabbit. I'm unsure if anyone checked the freezer for a dead dove in a paper sack, but at one point things were looking up when he magically made a beer appear as if from nowhere. Then the cards came out and no magic in town could keep the eyes from rolling. #pickacardanycard #theresnothingupmysleeve #noroseforyou
The Six Pack
Zak thought it would be funny to step out of the limo without a shirt and ask Des if she would like to accept his set of abs. #barf Opting to remain shirtless the entire cocktail party, he further humiliated himself later by stripping down to nothing and jumping in the pool to showcase his zany personality. One of the 17 contestants wearing a grey suit and purple tie swooped in and escorted Des away before Zak broke through the surface near the grotto. #brilliant Later Des felt sorry for the chach and gave him a rose. He immediately pinned it to his belt. #putashirtonit #really
Fantasy Suite Boy
Jonathan thought it would be funny to present Des with a fantasy card date. She thought it was skeevy and told him through both body language and her words that she didn't think it was funny. Jonathan decided that he should bring it up again because clearly she didn't understand the first time that he just wanted to make out a little. Des politely refused. Jonathan took this as a personal challenge and asked the ABC intern to gather all the spare candles he can muster, a few dozen throw pillows and the Jodeci CD he left in the limo so he could physically show her how "not here for the right reasons" he is by creating a fantasy suite in the under the stairs bathroom of the manse. He stole her away, again, and began leading her to his sultry den before she stopped him, explained in great detail how uncomfortable he made her and demanded that he leave the journey immediately. She was rewarded by a huge round of applause from the remaining men, a courtesy flex from Zak, #yougogirl from Hashtag Kasey and a miniature explosion from a trick gone rogue by The Magician. #dbagsunite #canigetanothercandle
The Father
Ben brought his adorable son Brody with him, explaining to Des that family is the most important thing ever. Through context clues from various promos, we learn that Ben is the resident villain and all are concerned for Brody's well being. With that said, #brodyforbachelor2025 #rose
Juan Pablo
Des was unable to catch the pronunciation of Juan Pablo's name due to his thick Venezuelan accent. After about three tries, she gave up and decided to surrender to his smoking hot good looks. #comosellamajuanpablo? #muyguapo #rose
Knight in Shining Armor
Poor Diogo took about 30 extra seconds to exit the limo in full knight gear. He creaked up to Des, pulled off his face mask and claimed to be her knight in shining armor. He was unprepared for anything else other than making it into the mansion before the cocktail party was over. We all knew that he would be on the first plane back to Colorado. Let's hope he flew Southwest. #checkthearmor #bagsflyfreeonsouthwest #WD40 #noroseforyou
"The Bachelorette" airs Mondays at 8 p.m. ET on ABC.
What did you think of the season premiere of "The Bachelorette"?
PHOTO GALLERY
The Bachelors Of 'Bachelor' Past
Calling all HuffPost superfans!
Sign up for membership to become a founding member and help shape HuffPost's next chapter