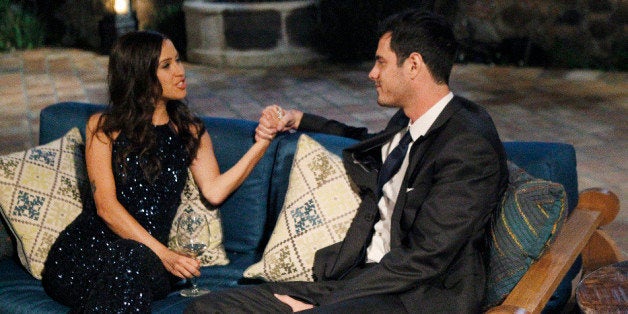 The two-Bachelorette drama may be over (mostly -- we're expecting to see more of Britt and her new suitor Brady), but during Tuesday night's season highlights, ABC amped the anti-woman sentiment way up. Seems like the franchise's "weird sex issues" are here to stay.
Preview clips are always cut to misdirect, but it's clear that Kaitlyn has sex with one of the men and gets called out for her physical intimacy by some of her suitors. The preview (see below, starting at around 2:30) shows Kaitlyn sobbing, berating herself for making a "mistake," while bachelors accuse her of just going on TV to make out with a bunch of guys. The producers play this up even further by cutting in Kaitlyn saying that sexual chemistry is vital to a relationship.
The slut-shaming overtones of the preview alone were deeply disturbing. Here's hoping the actual arc of the season won't be all about raking Kaitlyn over the coals for engaging in normal adult behavior.
In case ABC needs a little reminder, here are some simple guidelines to help them portray Kaitlyn's search for love in a way that doesn't hearken back to the Victorian era:
1. Having consensual sex with another adult is not wrong.
2. You are not a broken woman just because you make out with men. (Or with women for that matter.)
3. A woman has no obligation to confess every detail of her sex life to men she's casually dating.
4. Sexual chemistry is totally a "right reason" to date someone.
5. Not having a physical spark with someone is a totally reasonable dealbreaker for any woman.
6. A woman should not feel ashamed for sleeping with someone.
7. Making out with people on television is essential to a dating show. Accept that and move on.
9. Being sexual does not make you a bad person. Being sexual does not make you a bad person. Being sexual does not make you a bad person. (Repeat this again 100 times.)
For more on the most recent episode's "Bachelorette" fails, check out our new podcast, "Here To Make Friends":
Also, check out the HuffPost Here To Make Friends podcast on iTunes and make sure to rate and review the show, too.
REAL LIFE. REAL NEWS. REAL VOICES.
Help us tell more of the stories that matter from voices that too often remain unheard.