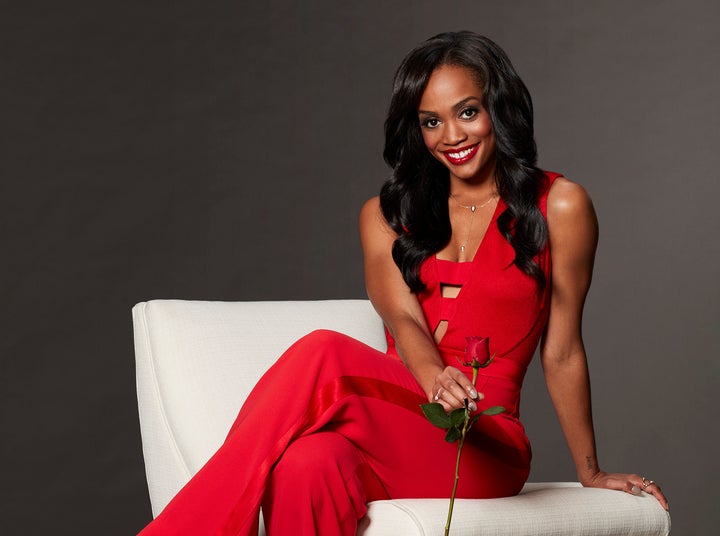 Rachel Lindsay, the star of "The Bachelorette" Season 13, starts her quest for love on Monday night. But whom will she be dating? On Wednesday, ABC revealed the 31 men who will be jockeying for her roses this season ― a group host Chris Harrison described as "the most successful, most diverse, and of course, the most dramatic cast we have ever had on this show."
The bar for diversity (and successfulness) has been set fairly low by past seasons of "The Bachelorette," which has been critiqued in the past for casting predominantly white men (and disproportionate numbers of fitness trainers) to romance its leading ladies. To date Rachel, an accomplished Texas attorney with dazzling good looks and easygoing charm, the franchise tapped a posse of more serious contenders, including several doctors and attorneys.
For those who enjoy more whimsical "Bachelorette" jobs, don't worry: We spy one man whose job is listed as "Tickle Monster" and another who says his occupation is "Whaboom." Harrison takes a stab at explaining this job, describing it as "a lifestyle... an essence." Oookay, then.
At first glance, the cast of 31 appears to include 14 men of color ― including 11 black men ― as prospects for its first black Bachelorette. Certainly not a remarkable degree of diversity, except considering the franchise's own alabaster-oriented casting proclivities.
Check out the full presentation on Facebook Live:
For more insights on the upcoming season, check out HuffPost's Here to Make Friends podcast:
Do people love "The Bachelor," "The Bachelorette" and "Bachelor in Paradise," or do they love to hate these shows? It's unclear. But here at "Here to Make Friends," we both love and love to hate them — and we love to snarkily dissect each episode in vivid detail. Podcast edited by Nick Offenberg.
Want more "Bachelor" stories in your life? Sign up for HuffPost's Entertainment email for extra hot goss about The Bachelor, his 30 bachelorettes, and the most dramatic rose ceremonies ever. The newsletter will also serve you up some juicy celeb news, hilarious late-night bits, awards coverage and more. Sign up for the newsletter here.
Popular in the Community