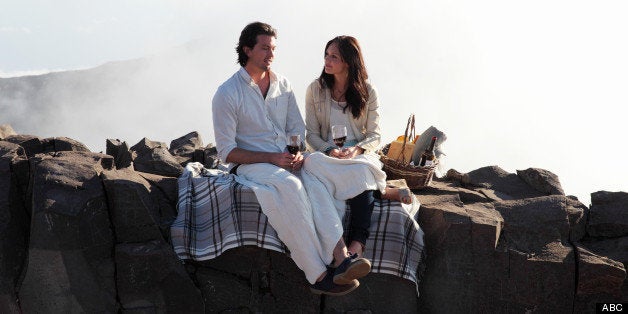 Note: Do not read on if you have not yet seen Season 9, Episode 9 of ABC's "The Bachelorette."
After a nine week journey to find her one true love that took her to amazing destinations around the world, Des unfortunately got the rug swept out from under her in Antigua by Brooks. Clearly her "I'm running to the finish line" metaphor fell on deaf ears as a defeated looking Brooks confessed to Chris Harrison that he just didn't feel anything in his heart for Des.
To quote our bachelorette, "This just sucks."
Drew, on the other hand, had no problem telling Des he loved her an average of five times per hour. He loved her while exploring the island in the Jeep. He loved her while buying trinkets that they would display in their future home. He loved her mid-limbo. And he loved her sitting cross-legged at a picnic and then later on a rose sprinkled fantasy suite bed.
Chris was a bit more subdued during his day time date. Of course, he later expressed his emotions through poetry while sitting under the stars and then later in a hot tub. Surprise, surprise.
But it was the final 45 minutes of the show that culminated into what is probably the most drawn out on-camera break up in the history of the world. Instead of an exotic date, Brooks drags Des over to a bench and proceeds to gently tell her that he's just not that into her. Since the moment lasted roughly the amount of time as a sociology 101 class at your local college, I thought I'd break down the break up to see if there are any life lessons we can take away from the torture.
RIP THE BAND-AID
After seeking wise counsel from Chris Harrison, his mother and his sister, all mentors encouraged Brooks to just tell Des the truth. Make it quick. Know that she's going to be hurt. Just do it and deal with the results. I appreciate the fact that he didn't make Des go on the entire romantic date before dropping the bomb in the fantasy suite, but his decision to shower her with adoration for 20 minutes before getting to the "but" of his soliloquy was extremely painful. She was crying within seconds of his speech. She knew. Which made it even more weird when he asked ...
DON'T ASK, "WHY ARE YOU CRYING?"
What a moron. I may have shouted at my TV. Des throws caution to the wind and answers, "Because I love you!" to which Brooks follows up with the head scratching inquiry, "Then why didn't you tell me?" Dude. It's the ONE RULE in Bachelor Nation. You're not allowed to share your feelings!
WATCH YOUR BODY LANGUAGE
Des's emotions were all over the map (as they should be), ranging from shock, heart break to a bit agitated. I can understand why Brooks was confused because her leg was crossed over his leg, gently resting in his crotch region. You can't say "NO" with your eyes and "YES" with your calf muscle. Des realized this and assumed a vertical fetal position, thereby balancing the physical with the emotional display.
REFRAIN FROM HUGGING THE INJURED PARTY
I was proud of Des for rejecting Brooks' affection. Once the vertical fetal position was achieved, she would shrug off his attempts to hug and console her. She did go in for the death grip after the walk back to the cabanas, but I think that was more of a final goodbye than an attempt to change his mind.
DON'T SAY YOU'RE SORRY
Brooks said he was sorry about nine times. Although I felt it was genuine, it actually makes the moment worse. Saying you don't want to leave is even more confusing.
WALK AWAY
Rip the Band-Aid, say your peace and then move on. Brooks didn't need to hold her. He didn't need to offer her a shoulder to cry on. Instead of removing himself from the situation, he lingered. Then he ugly cried.
ALWAYS WEAR WATERPROOF MASCARA
Des weathered the devastation beautifully. Brooks did not. After running his fingers through his hair in frustration, he ended up looking like a mad scientist. When Des rushed to the pier for some alone time to cry it out, he completely lost all composure and let the flood gates open. I believe he genuinely felt bad for hurting her and will probably turn down ABC's offer to make him the next bachelor.
Were you expecting Brooks to go home? Do you think he feels as if he made a mistake now that he knows Des had chosen him? Will she send Drew and Chris home? And if not, how awkward will THAT conversation be after tonight's episode? Sound off in the comments!
The Bachelorette" airs Mondays at 8 p.m. ET on ABC.
PHOTO GALLERY
Former Bachelor/Bachelorettes
REAL LIFE. REAL NEWS. REAL VOICES.
Help us tell more of the stories that matter from voices that too often remain unheard.