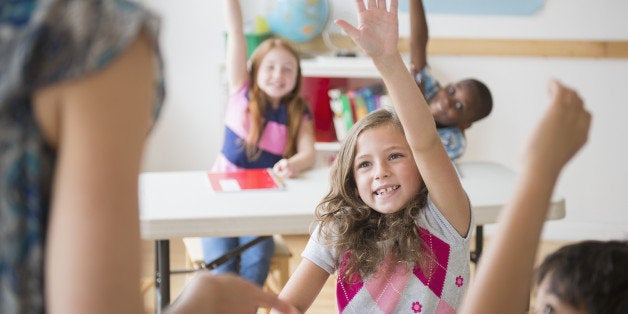 Its that time again -- the yearly ritual of prepping our kids to go back to school. The lazy days of summer are giving way to bustling mornings, panicked breakfasts and the tracking of lost homework, uniforms, balls and more.
Every August, I try to mentally prepare myself for my children's return to school and every year, parents ask me for help with prepping their children. We all get lots of back to school information -- reading lists, supply lists and names of new classmates -- but I realized that most parents don't get a guide to help them prep for the weeks leading into school. Here are my top back to school tips this year.
Sleeping Your Way Back to School
If your kids are like mine, summer meant sleeping late and waking up later, both of which are no longer options in a busy school year. This week -- assuming your children have not already started school, work on moving bedtimes up -- most school-age children need 10 hours of sleep, including adolescents. For the 10 days prior to school starting, work on shifting bedtimes by 30 minutes every night. If you still cannot get your little one to fall asleep, try these quick tricks.
Sometimes, you will find your child still too wired or anxious to sleep. My favorite tricks include using essential oils like lavender, sandalwood and lemon balm. You can have your child smell them or use an aromatherapy diffuser in their rooms.
Magnesium has always been one of my favorite minerals to replace, since so many people are deficient in this important micronutrient, but getting children to take supplements can be tricky. Topical magnesium oil, rubbed into their shoulders, temples or feet is a quick and easy way to get even your most nervous little one to relax and start counting sheep. Magnesium oil is available at many health food stores and grocery stores.
The Back to School Pantry
As a mom, I also have struggled with what to pack for lunch, the best after-school snacks and the endless staring at the refrigerator to figure out what to make for dinner. I soon realized that it begins with the pantry, and creating a stocked pantry that can offer endless possibilities when making breakfast, lunch or dinner. Create a master plan for your pantry -- one that can be replicated every week to minimize thinking and planning time in the weeks to come. Here is my quick cheat sheet -- keep in mind we are gluten-free!
Gluten-free cereal -- two types
Gluten-free oatmeal
Grits
Nut thins
Gluten-free pretzels
Nugo Bars
Kind bars
Almonds
Almond Butter
Gluten free Muffin mix
Gluten free cookie mix
Tortilla Chips
Gluten-free bread -- usually from local bakery
Gluten-free noodles -- quinoa, buckwheat
Gluten-free mac and cheese
Rice noodles
Rice -- brown, white, black
Black beans
Garbanzo beans
Lentils -- two varieties
The Back to School Medicine Cabinet
Often, back to school means back to being sick. As children come together, colds, viruses and other infections spread rapidly, challenging even the best immune systems. Many parents also get sick and search for last-minute ways to keep themselves healthy. Before the cold and flu season hits, stock your medicine cabinet to keep your children and yourself healthy.
Used extensively in Chinese medicine, astragalus is still my favorite natural antiviral. Everyone in the family should take this daily. I usually recommend one dropper per day or a tablet/ capsule dose of 500 mg. Once sick, you can double or triple the dose for the first three days of the illness.
The new darling of research, probiotics, do help boost the immune system by keeping digestion regular. Put your children on a product with at least 5 billion cfu, but as an adult, we often need up to 20 billion CFU.
Finally, safety has been on all our minds as we send our children back to school. Work with your local school to evaluate entry and exit from the school. Make sure the school officials and teachers know exactly who is to pick up your child. I don't think teenagers and adolescents should be walking back from school and bus stops alone. Assign an adult to supervise the drop off and pick ups, so that your child returns home safely. Every child, regardless of age, should know their phone numbers and addresses.
Return to school prepared this year with you and your children well rested, healthy and safe!
Related