We are excited to introduce "The Hidden Histories," a new series in which we revisit the stories behind our favorite landmark works of art. (For your added enjoyment, we are trying to make it sound as much like a Lifetime movie script as possible.) Today we are looking at Claude Monet's "L'Enfant A La Tasse, Portrait De Jean Monet," a painting currently worth $1,450,000. The following was helpful in our research: "Early Masters of Modern Art" by the New Orleans Museum of Modern Art (1968) as well as Richard Kendall's book, "Monet by Himself," and Paul Hayes Tucker's biography, "Claude Monet: Life and Art," on Yale University Press.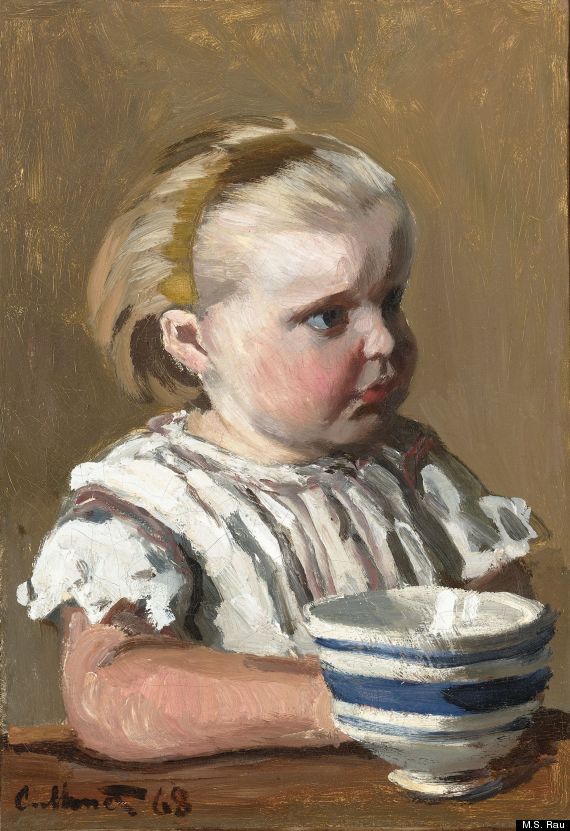 Monet's "L'Enfant" depicts his son, Jean Monet, who he conceived with his then-mistress and later wife Camille Doncieux. Doncieux consistently modeled for Monet's paintings, and although they were lovers their affair was not serious. Until Jean was born. Jean's birth occurred at a turbulent moment in Monet's life; his art career had not yet taken off and his main source of income was his wealthy aunt's support. When Monet impregnated Camille his father was furious, making him choose between his old family's wealth and his new family. Claude, of course, chose Camille.
Despite the economic difficulty Monet faced and the stress inflicted upon him as an artist, he paints his son with only tenderness and admiration. "L'Enfant" is the third painting Monet made of Jean, when he had not yet solidified the Impressionist style that would later define him. Yet the lightness of brush stroke and the slow but ever-moving pace of paint show Monet's signature moves burgeoning into being.
Unfortunately Jean's cherubic face was not enough to keep Monet from falling deeper into depression. His debts were rising and his artistic efforts were suffering as a result. When his family was evicted from their home it was the last straw; Monet threw himself into the Seine River just months after this touching tribute to his young son.
If you are thinking that you never knew Monet committed suicide, that is because he didn't. His swimming skills got in the way of his dark motivations, and upon realizing his strength the iconic painter had a change of heart. In a letter to Frederic Bazille dated June 29, 1868, which is included in Richard Kendall's book, "Monet by Himself," the artist wrote, "I was so upset yesterday that I was stupid enough to hurl myself into the water. Fortunately, no harm was done." Four years later Monet painted "Impression, Sunrise," the work from which the term "Impressionism" was born.
If you want to see the drama in the flesh, "L'Enfant a la Tasse, Portrait de Jean Monet" will be on display in M.S. Rau's exhibition gallery in New Orleans from November 16, 2012 - January 4, 2013.
Popular in the Community