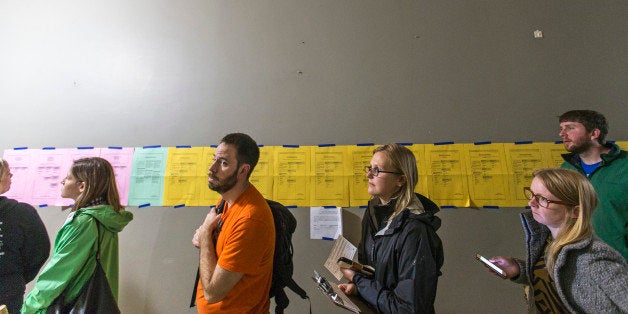 The so-called "ballot selfie" is testing the boundaries of modern voting regulations, the legal limits on social media and the First Amendment.
As the country limps into Election Day, a federal court in New York City will be the latest court to weigh in on the question of whether a voter can take a selfie in the voting booth and then disseminate that photo on social media. This controversy has been brewing over the past few years and spilled into the national spotlight recently when Justin Timberlake took his ballot selfie, and likely broke Tennessee's election laws by showing his completed ballot to millions of his followers on social media.
This modern conundrum was likely not envisioned when states drafted election laws, some more than 100 years old. The First Amendment implications of laws banning the ballot selfie have been argued in federal courts in New Hampshire, Indiana and Michigan in recent months.
A similar challenge by three voters in New York City is currently in the hands of District Court Judge P. Kevin Castel following a hearing Tuesday. Those voters are asking the court to protect their First Amendment rights by freezing New York's election laws which criminalizes showing others a completed ballot.
While the New York law written in 1978 and amended in 1991, does not expressly speak of selfies or social media, its application could attach criminal penalties to the photographic craze under the provision barring voters from showing a completed ballot to another person. This misdemeanor could result in up to a year in prison and up to a $1,000 fine.
It is not clear how aggressively this law is enforced or whether anyone has even been prosecuted.
Election laws, the purview of the states, do have a valid purpose. They are intended to maintain the integrity of our elections, preventing voter fraud, corruption, outside or undue influence, intimidation or chicanery at polling places. These laws legitimately prohibit certain behavior in and around polling places. Polling places are hallowed ground, safe spaces where politicking ends while voters engage in their democratic right.
While these bedrock policies help maintain the integrity of the system and ensure our elections are not "rigged," these laws are now running head on into modern forms of self-expression.
Thus, we have a significant conflict.
Political speech is perhaps our most valued and protected form of speech in our democracy and the ballot selfie is simply a modern extension of these cherished rights. The selfie craze is a modern form of speech, expression and self-fulfillment.
In September, in Rideout v. Gardner, the First Circuit Court of Appeals, affirmed that a state law was unconstitutional under the First Amendment because it intruded on a modern form of self-expression. The court analyzed the purpose of polling place laws, tracing the origin of New Hampshire's initial laws back to 1891 with its intent to prevent vote buying or coercion. The court also noted these concerns were somewhat nebulous, if not outright questionable.
"New Hampshire may not impose such a broad restriction on speech by banning ballot selfies in order to combat an unsubstantiated and hypothetical danger. We repeat the old adage: 'a picture is worth a thousand words,'" the court wrote.
Whether the district court in New York follows this rationale, will remain an open question. I look forward to reading the court's opinion. Or, we will just find out on social media.
Roy S. Gutterman is an associate professor and director of the Tully Center for Free Speech at the S.I. Newhouse School of Public Communications at Syracuse University.
Calling all HuffPost superfans!
Sign up for membership to become a founding member and help shape HuffPost's next chapter