 Banksy gave up spraying freehand graffiti back in the early 1990s when he discovered that stencils were more "quick, clean, crisp, and efficient," as he once told an interviewer. He didn't care that other artists in his Bristol crew considered it cheating. "As soon as I cut my first stencil I could feel the power there. The ruthlessness and efficiency of it is perfect."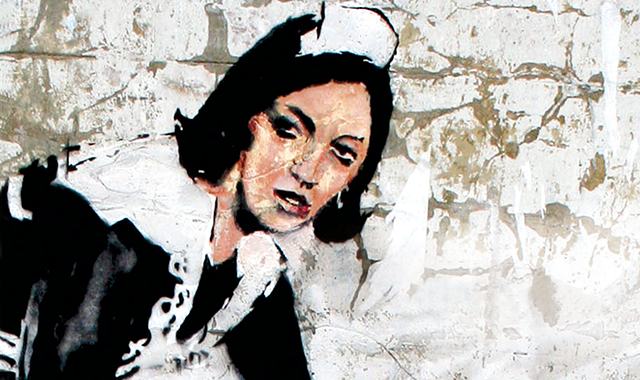 "Banksy: The Man Behind the Wall" by Will Ellsworth-Jones / Courtesy St. Martin's Press Publicity
Banksy's language here is telling. It is precisely the kind of strict, economical approach the anonymous artist has applied to his entire career, which has taken him, if not from rough working-class roots -- his street cred is widely debated -- then at least from suburban Bristol malaise to international stardom. His studio-painted canvases now command upwards of $1 million, his popup exhibitions draw hundreds of thousands of visitors without any advertising, and collectors pay to carve out stone walls, bus stops, water towers, and just about any other structure on which Banksy has left his mark.
This is all thanks to the mystery-machine that Banksy and his tight inner circle have used to lure legions of fans. But the urge to pierce the mystery should not be what attracts readers to Will Ellsworth-Jones's book "Banksy: The Man Behind the Wall," coming to the U.S. this month from St. Martin's Press. Despite the somewhat misleading subtitle, it never seeks to unmask its subject.
His fans "don't want to know" his identity, Ellsworth-Jones argues, and he therefore deliberately omits the findings of the 2008 Daily Mail story that published the name and photo of a man believed to be Banksy -- an editorial decision that suggests the paper was right. Agreeing to protect Banksy's anonymity was also probably the only way Ellsworth-Jones could get even limited access to the artist's friends and colleagues, even though Banksy himself still never granted him an interview.
"If I approached anyone for an interview the first question I was nearly always asked was: 'Has Banksy authorized this request?'" he writes. His answer again and again was "no," and lots of doors shut in his face. The author is a devoted fan of the artist's work, but also a meticulous reporter and unafraid to call Banksy out on hypocrisy.
So, instead of revealing "the man behind the wall," Ellsworth-Jones explains how the man built the wall. It's a more interesting story, it turns out, illuminating how a tagger once known as Robin Banx wove anonymity with celebrity, irony with accessibility, and street art with high art to create the global Banksy brand.
It started with the idea to capitalize on an untapped demographic of young, would-be collectors who didn't visit art galleries. Banksy and his former manager Steve Lazarides reached out to them by posting pictures of the artist's street works on his website before authorities or taggers painted them over. When interest built around a work they'd turn it into a print, which Lazarides might sell out of his car for as little as £10. Eventually galleries and even the department store Selfridges began buying the works.
But where this white-cube affirmation might be the end of most success stories, it is where Banksy's story begins. As his sales grew, Banksy and Lazarides stopped selling to art dealers, even shunning them. Instead, they regained control of distribution and marketed the works at Lazarides's new gallery and on Banksy's website, turning the release of new prints into a kind of game. They'd hype the drop date and soon fans were crashing the website and camping out at the gallery overnight to buy a print.
"What Banksy and Lazarides had done together was create a market for street art where none had existed before," Ellsworth-Jones writes. Since 2002, prints from Banksy's first official edition, "Rude Copper," have gone from £40 apiece to as high as £13,000 today. Ultimately Banksy and Lazarides parted ways, and his new sales and authentication company, Pest Control, has proved even more profitable, reporting £1.1 million in assets in 2010.
But these days the forces of fame have started to overpower Banksy. "So far he has managed to straddle the two worlds, although his subversiveness diminishes as his prices rise," Ellsworth-Jones says. "[H]e appears to have reached the awkward point where he wants to remain somehow part of that subculture while his very success makes it almost impossible for him to do so."
Banksy can't determine the fate of his art once it has sold, for instance. He has had some success quashing the market for his street works by refusing to authenticate them, but there is little he can do to stop once reasonably priced works from popping up overnight on eBay, at posh secondary-market galleries, or at auction houses.
Even worse, Banksy can't manipulate the way he is seen by his peers; if he was a cheater before to them, no doubt he's a sellout now. "I'm not so interested in convincing people in the art world that what I do is 'art,'" he once said. "I'm more bothered about convincing people in the graffiti community that what I do is really vandalism."
His 2010 documentary "Exit Through the Gift Shop," which won him an Oscar nomination, certainly didn't help either. Working street artists tend to despise the main character, Thierry Guetta, an unsuccessful cameraman who decides to become a pop artist by throwing himself an ostentatious Hollywood exhibition. Devoting a two-hour major motion picture to the man, however mocking, made Banksy "extremely unpopular in my community" he has said.
But, in many ways, the film is Banksy's masterpiece, the ultimate exercise in manipulation, in which he conjures a famous artist (Mr. Brainwash) out of a nobody (Guetta), all the while maintaining his own role as both a subject and director.
Banksy's remarkable ability to micromanage his surroundings is also why one is hard-pressed to find pictures of his earliest work, like the old freehand graffiti that he has since deemed "crap." Ellsworth-Jones points out that Banksy deletes these images from websites and leaves them out of his books, handily whitewashing whatever doesn't fit the tightly controlled brand that he has built.
More of Today's News from BLOUIN ARTINFO:
Calling all HuffPost superfans!
Sign up for membership to become a founding member and help shape HuffPost's next chapter